Below find a full review of this week's China data. Apologies for the lateness. Had some "issues".
First out was August credit which has had its ears pinned back with TSF at an impressive 3.58tr yuan. Banks made up a lousy 1.2tr of that: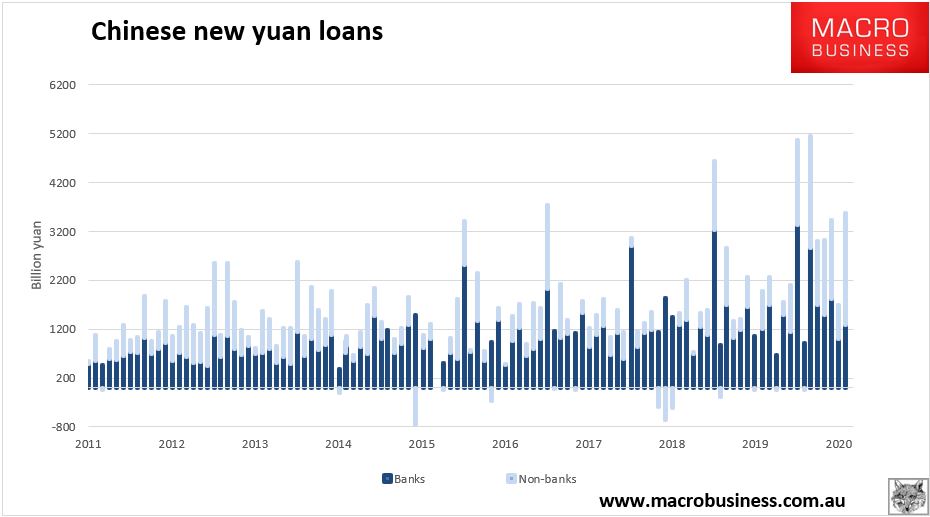 Meaning that shadow finance is roaring ahead again, though this now contains local government bonds so is not a fair label any more: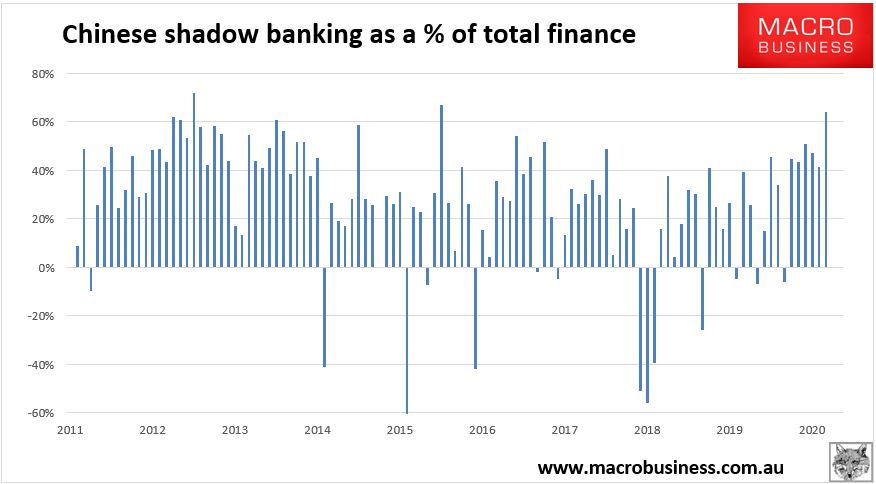 Indeed, local bonds boomed:

So are federal deficits: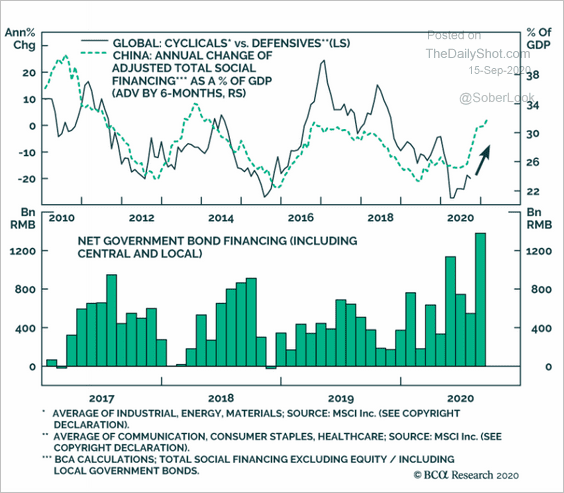 M2 slowed to 10.2%: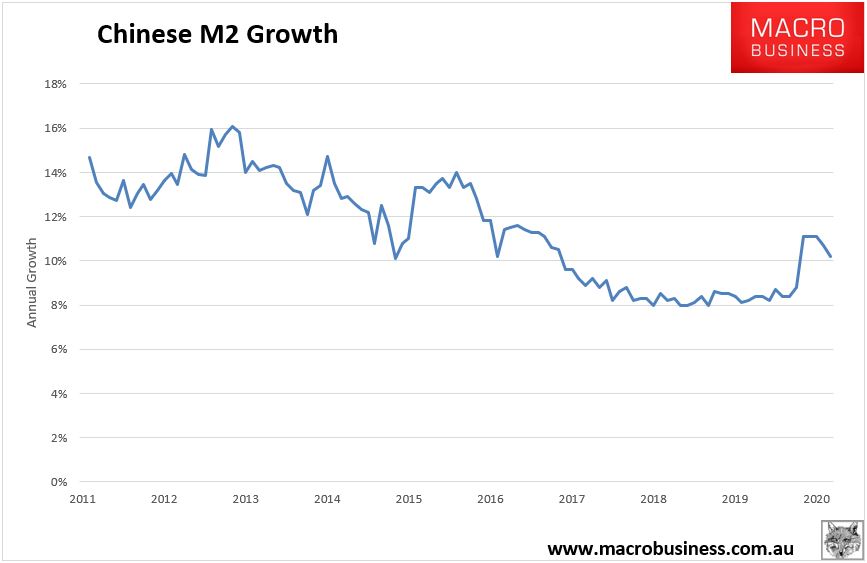 But the three month moving average of new lending is powerful: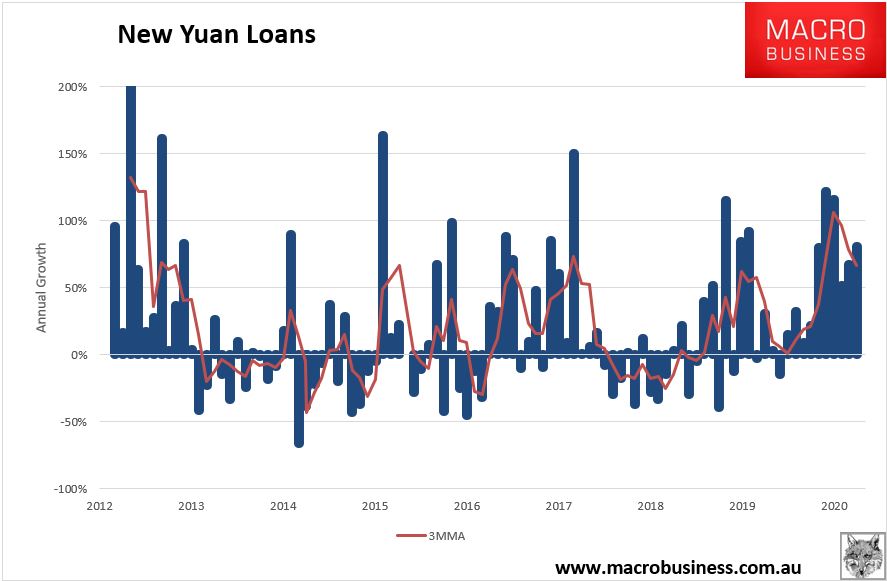 As is the rolling annual: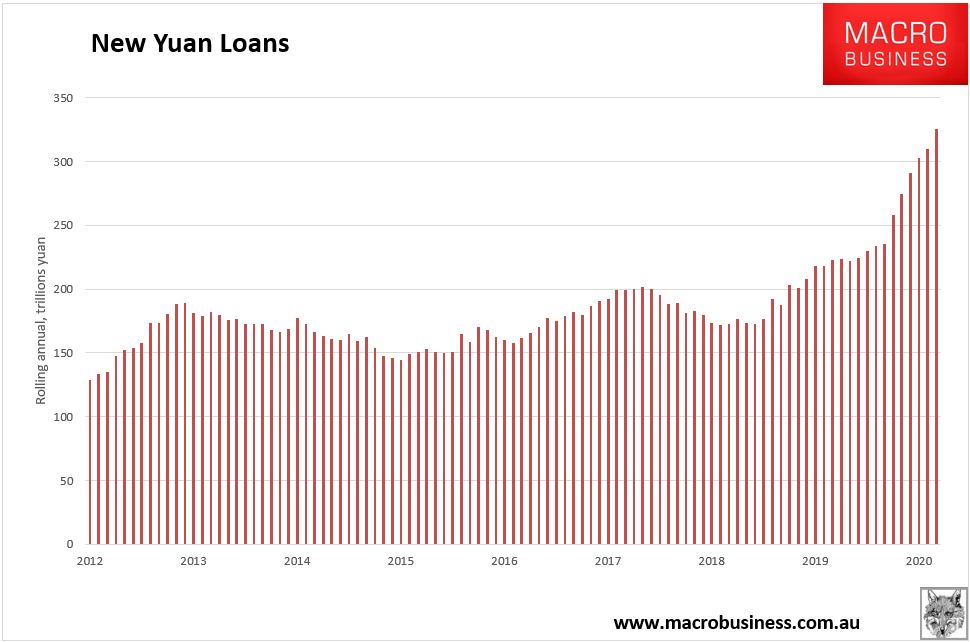 Broad credit is off to the races for a new cycle: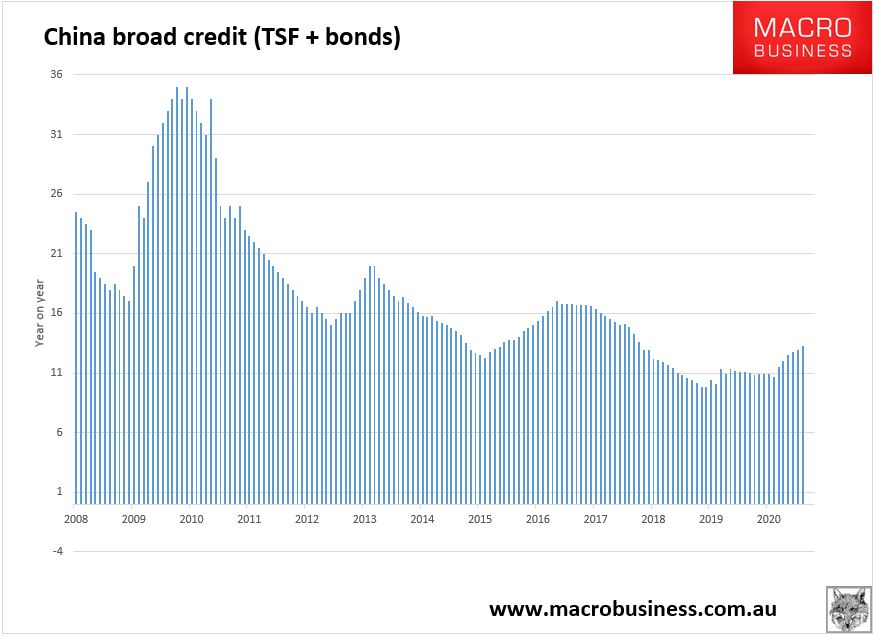 I guess it won't stop until the world is through WuFlu, which looks more like 2022 to me.
This means that China has fully reverted to its old pattern of growth of building empty apartments plus bridges to nowhere. August growth partials told the tale with industrial production up 0.4% YTD, fixed asset investment down 0.3% YTD and retail sales still down 8.6% YTD though is did finally grow a bit YOY: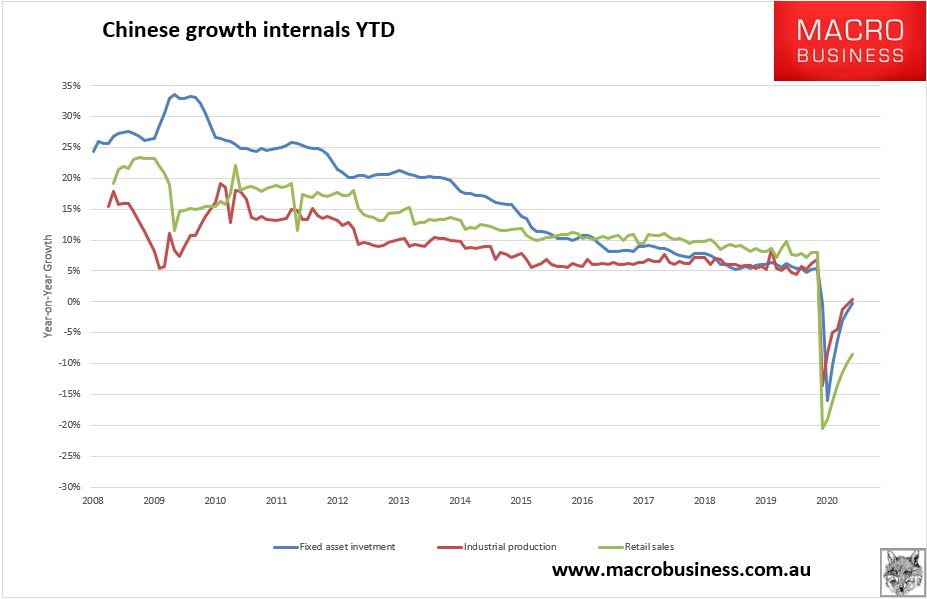 The ominpresent empty apartments sector is still booming. Sales are still strong:

Starts remain at records for August: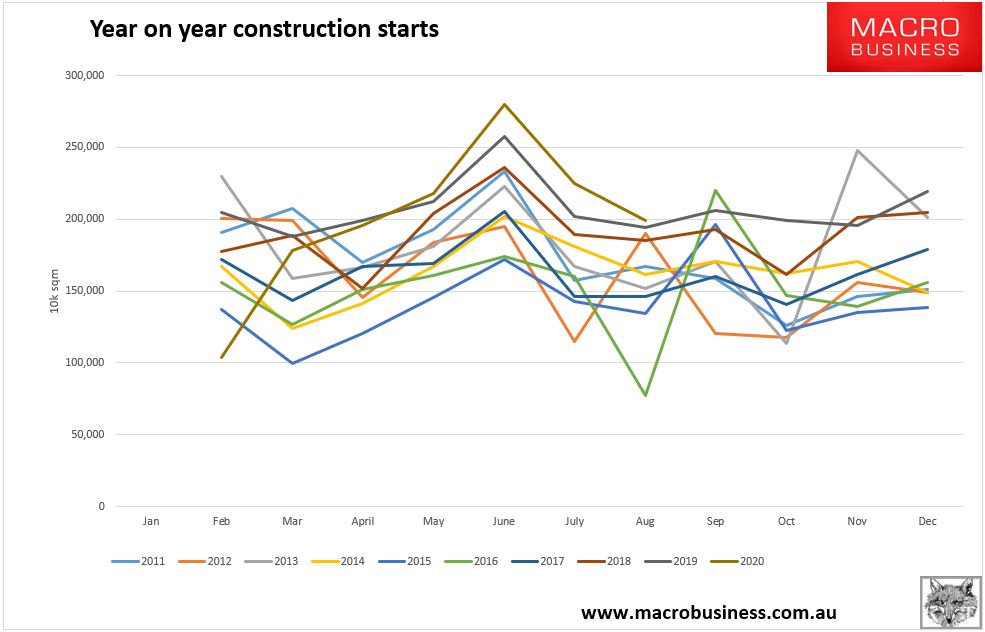 And are quickly closing the YTD gap: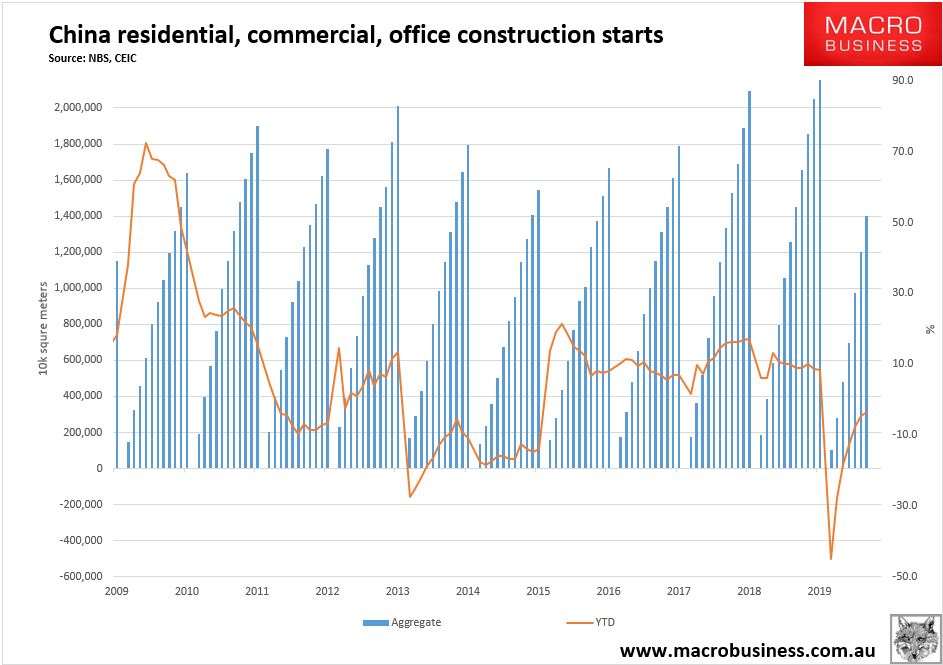 Total floor space under construction is still up 3.3% YOY, presumably because WuFlu also delayed completions: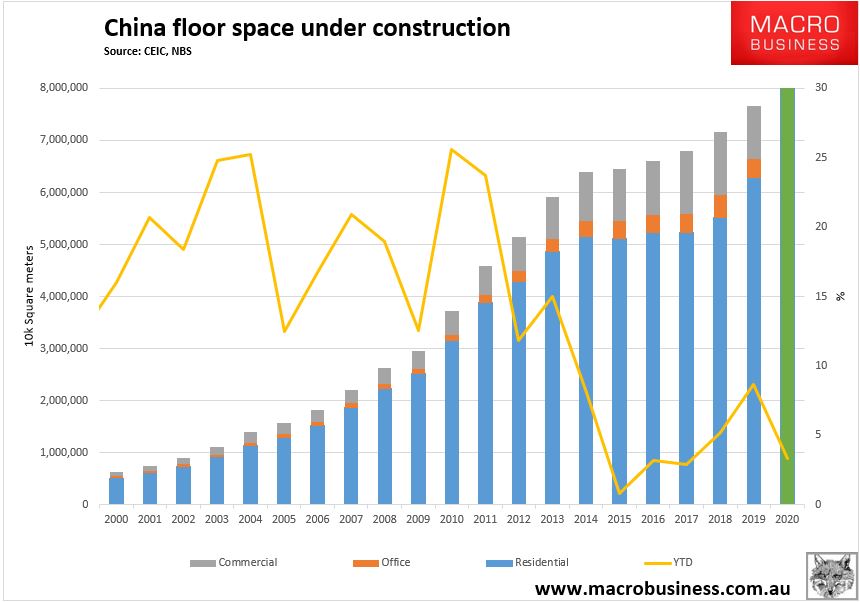 As well, infrastructure is revving: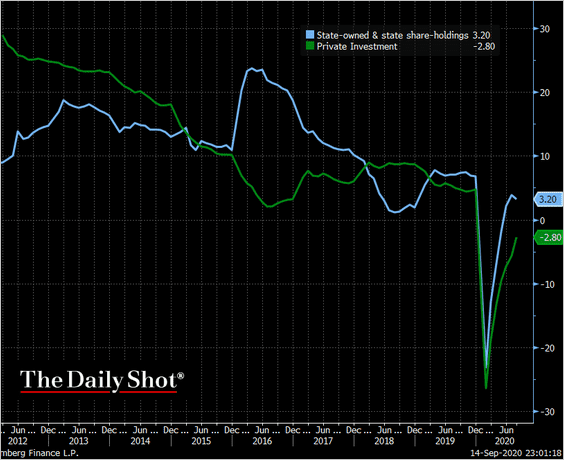 With much more to come (see bond issuance in credit section).
This has triggered immense steel production: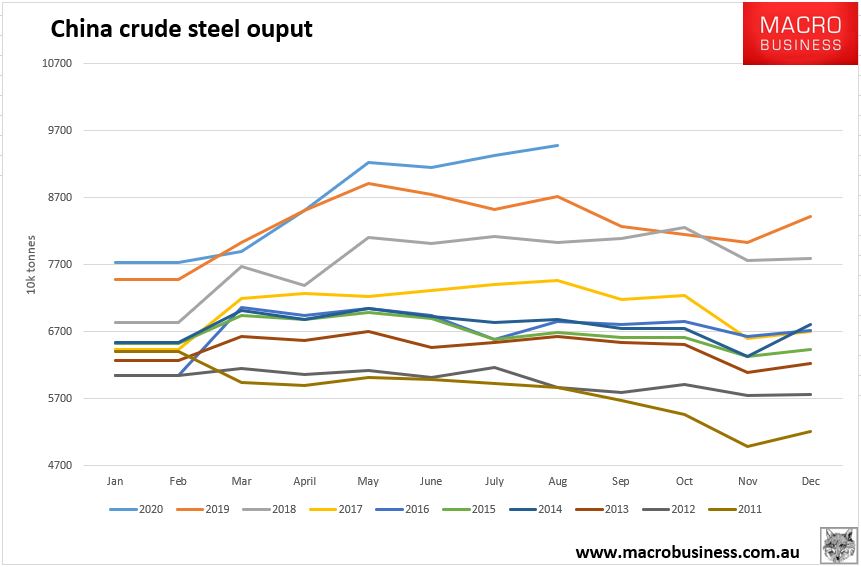 And record cement output: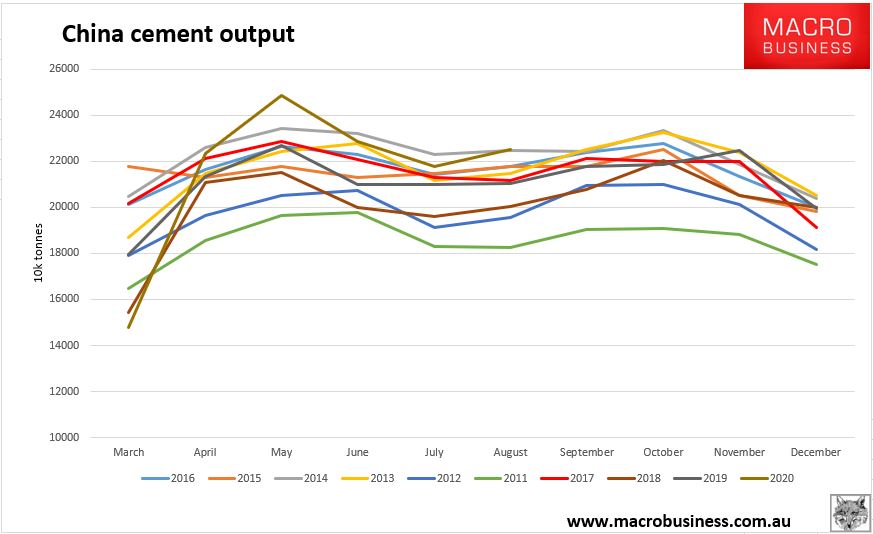 In a warning to those expecting stronger for longer iron ore prices, the scrap share has begun to rebound and can do so more: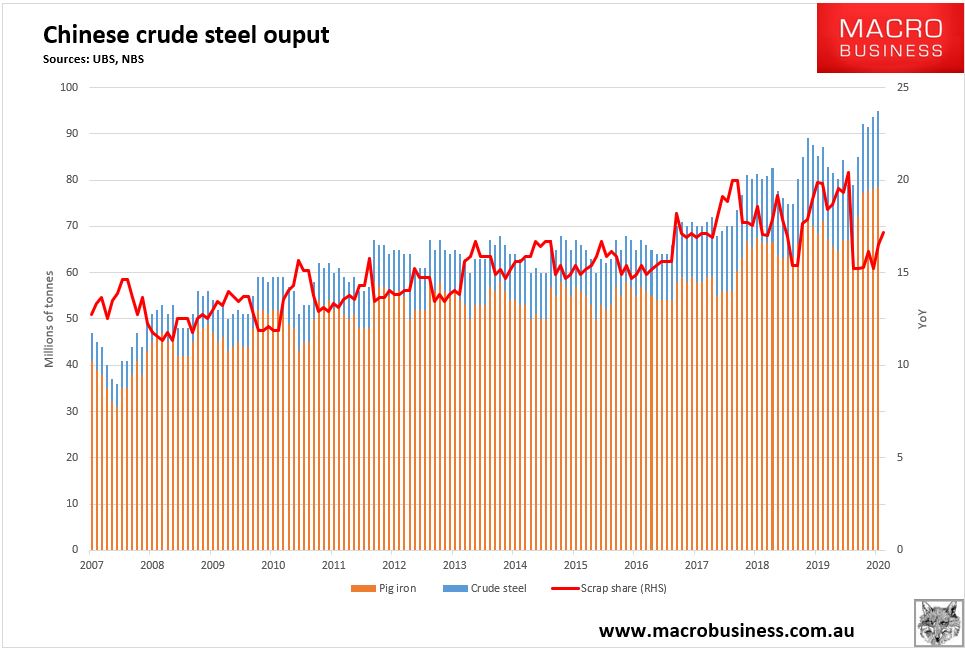 But that's about where the good news ends. Yes, China is still building out its supply-side frantically, loading the world with deflation, but it's clearly struggling to get the demand side of the economy into gear.
Retail sales still sucked the big one. Sure, we finally saw minor YOY growth but a glance inside the details shows the difficulty:

Staples and technology are the winners as folks build out the home office and hide in it on the piss. Cars look like pent up demand. Bloomie has an easy to read chart:

Large items are still off the menu and so is any form of conspicuous consumption. This is not a pattern of flourishing households.
China is furiously issuing credit towards its own stagnation. Deglobalisation will follow the virus in extracting its global supply chains. The consumer is struggling. The reversion to 'building stimulus' is clear and will be sustained for all of next year as the globe struggles to recover as well.
It's making all of China's and the world's problems worse because the pattern of development continues the drive into wasteful debt and empty buildings at the expense of productivity reform and rising incomes to drive consumption. In short, the middle-income trap. Plus, it will enrage both the US and Europe as the supply-side focus suppresses consumption but boosts exports.
Long term, the CCP is building an empty fortress of solitude in which to imprison its aged and demoralised peoples:

Avagoodweekend.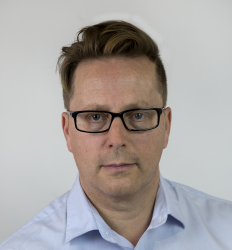 Latest posts by Houses and Holes
(see all)