Amendments to the Corporations and Bankruptcy Acts – including the relaxation of insolvent trading laws for six months – have delayed business insolvencies and related personal bankruptcies during the COVID-19 crisis.
These rules, alongside massive emergency income support and debt repayment deferrals, have seen personal insolvencies plunge to record low levels: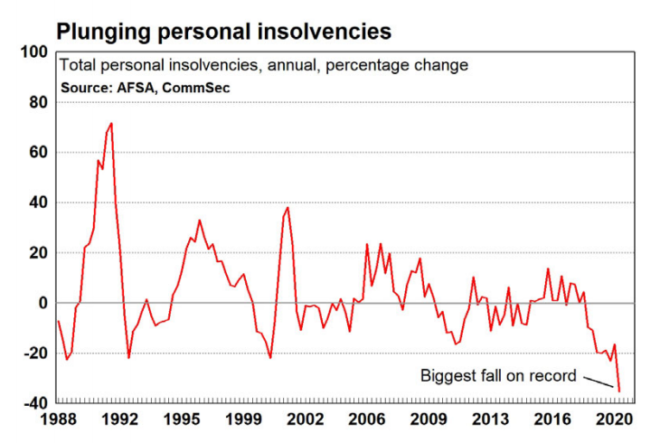 Whereas the number of companies entering administration also plunged to less than 50% of 'normal' levels: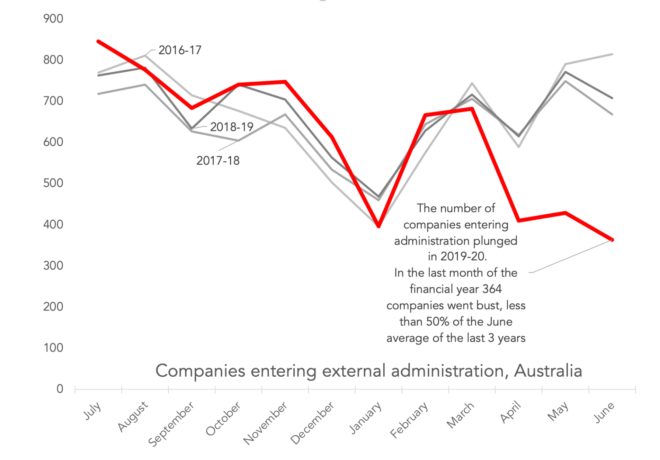 Insolvency firms are now bracing for a tsunami of business failures from the end of this month when safe harbour rules introduced in March to help businesses hibernate through lockdowns are due to end. However, the Morrison Government is considering pushing back the deadline to allow companies to trade while insolvent beyond 30 September:
The shielding of businesses, including billions of dollars in government stimulus and wage subsidy spending, has resulted in a dramatic drop in insolvencies on CreditorWatch data.

While some employers that have been protected will recover, CreditorWatch chief executive Patrick Coghlan warned there were about 2500 businesses that were no longer viable being kept afloat by the rules.

"And that's before taking into account we're in the worst recession in 90 years," Mr Coghlan said.

Under the insolvency law changes, creditors are unable to issue statutory demands or bankruptcy notices unless the debt totals $20,000 or more, up from $2000 and $5000 respectively. Directors are also protected from personal liability under insolvent trading rules if debts are incurred, except where they break the law.

"Ultimately, all these businesses need to go into administration plus those that have been severely affected by the coronavirus," he said…

Mr Frydenberg said on Wednesday the government was "now considering an extension of those temporary [insolvency] arrangements, recognising that they have supported the economy through a difficult time".
Clearly, Australians are living in an artificial bubble right now and insolvencies are likely to surge once:
Emergency income support is unwound from October;
Mortgage and rent repayment holidays are unwound over a similar timeframe; and
Australians can no longer withdraw their superannuation early (or have exhausted their funds), with the expiry date on early withdrawals set at 31 December 2020.
On the first point, the Grattan Institute estimates that income support will fall from $18 billion a month (10.7% of monthly GDP) to $3 billion a month (1.9% of GDP) for the six months beyond:

In turn, insolvencies will balloon once temporary safe harbour rules for companies expire.
Last month, Alan Kohler noted that:
"Insolvencies caused from the GFC peaked in 2012, four years later. And that's what always happens. The average time between a business going insolvent and admitting it is 18 months…

"There's gonna be a long, catastrophic wave of insolvencies that will lead to higher unemployment and pressure on the banks".
In other words, this is the calm before the insolvency storm. The Morrison Government can delay, but not prevent, the economic pain.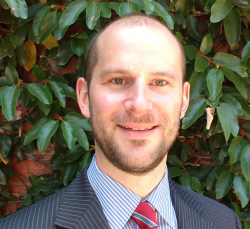 Latest posts by Unconventional Economist
(see all)