The Westpac-Melbourne Institute Consumer Sentiment Index was released yesterday, which showed sentiment collapsing back towards April's low:
The Westpac-Melbourne Institute Index of Consumer Sentiment fell 9.5% to 79.5 in August from 87.9 in July.

The scale of the fall comes as a major surprise. At 79.5, the Index is back near the extreme low of 75.6 seen back in April when Australia entered a national lockdown.

Since the July survey we have seen Victoria enter Stage 4 restrictions and evidence of some 'hot spots' in New South Wales. Under those circumstances it is certainly reasonable to have expected a sizeable fall in Consumer Sentiment.

However, collapsing to only 5.1% above the lows we saw in April when consumers were first confronted with a national lockdown may well prove to be a significant overreaction.

The biggest surprise was in NSW where sentiment collapsed by 15.5% – well in excess of the 8.3% fall in Victoria. Remarkably, the index in NSW has reached 77.8, below Victoria's read of 78.

Even in Queensland, where cases have been largely eliminated, there was a fall of 8.1% putting the index in Queensland at 79.7, only slightly above NSW and Victoria.

The index in South Australia fell by 5.8% to 81.8 while only Western Australia was stable, falling by 1.5% to 85.9.

While some of the weakness in NSW and Queensland will reflect the direct economic drag from Victoria's lockdown and the closure of interstate borders, the overall response seems disproportionate to the evidence on developments around the virus.

This emphasises the fear of the unknown. Consumers across the nation appear to have been rattled by the developments in Victoria and fear that other states may also succumb to the 'second wave' outbreak…

All five component indexes recorded declines in August although the largest falls were around expectations for the economy and assessments of 'time to buy a major item'.

The 'economy, next 12mths' sub-index recorded the biggest decline, slumping 19% to be down over 30% since June. Remarkably, at just 53.6 the sub-index is even below April's 53.7.

The 'economy, next 5yrs' sub-index also recorded a substantial 8.7% fall, following a 10.3% drop last month. The second wave outbreak has put a much heavier dent in medium term expectations for the economy.

That 18% decline over July-August compares to the much milder 5.1% decline seen when COVID-19 first impacted in March-April.

What looked likely to be a brief disruption back then is now feared to be much more prolonged.

Medium term expectations are most likely capturing concerns that the new outbreak in Victoria may be a sign that the virus will be more difficult to control. That raises the risk of periodic flare-ups and tighter ongoing restrictions on some forms of activity such as travel, tourism and recreation which consumers may now fear extending even beyond 2021.

The hit to sentiment on family finances centred around expectations. The 'finances, next 12mths' sub-index fell 7.3%, consistent with the more difficult path ahead.
As noted by CommSec, Victoria's consumer sentiment has plummeted to all-time lows on the back of the stage 4 lockdown in Melbourne: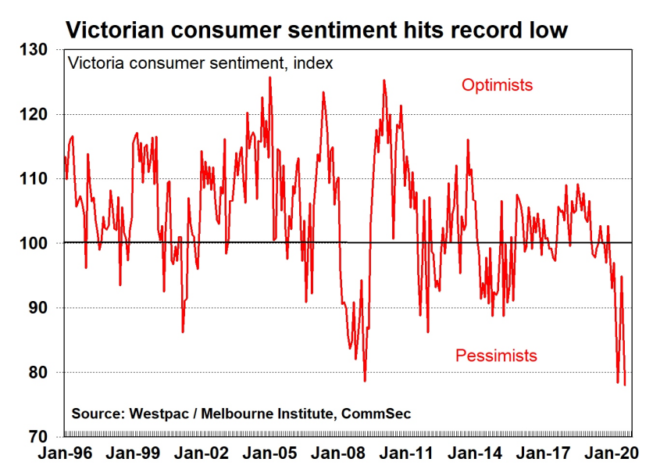 The separate ANZ-Roy Morgan Consumer Confidence Survey also shows that confidence is lowest in Melbourne; although consumer confidence is below average across all the major capital cities: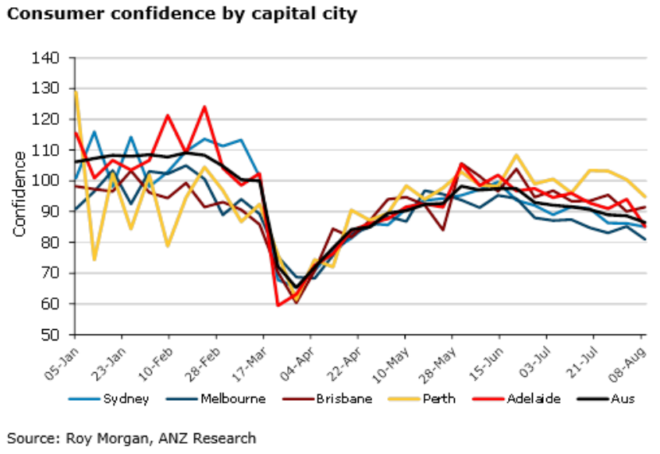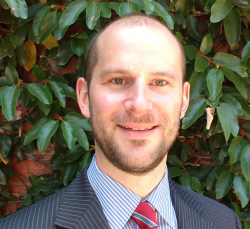 Latest posts by Leith van Onselen
(see all)