Cbus chief investment officer Kristian Fok says the impact of COVID-19 on the construction sector could be worse than that of the 2018 slowdown.
Whereas the Master Builders Association (MBA) has stated as many as 440,000 of the Australian construction sector's 1.2 million workers could lose their jobs as a result of the economic slump caused by COVID-19:
Under a worst-case scenario, Master Builders Australia estimates up to 440,000 of the construction industry's 1.2 million-strong workforce could lose their jobs due to the coronavirus-induced economic slowdown as new house construction plummets 27 per cent this year.

But those projections predate the six-week shutdown in Victoria, painting an even grimmer picture for the pressured industry.

"There's a three-month book of work where (the residential construction industry) has got visibility, and then there's nothing. It's just been stopped," Mr Fok said.

"Whether that will come back as people get a bit more confidence in the outlook around managing COVID returns, that's hard to know."
Last week, CBA forecast that Australian dwelling commencements would plunge to 134,000 in 2021, down from 175,000 in 2019: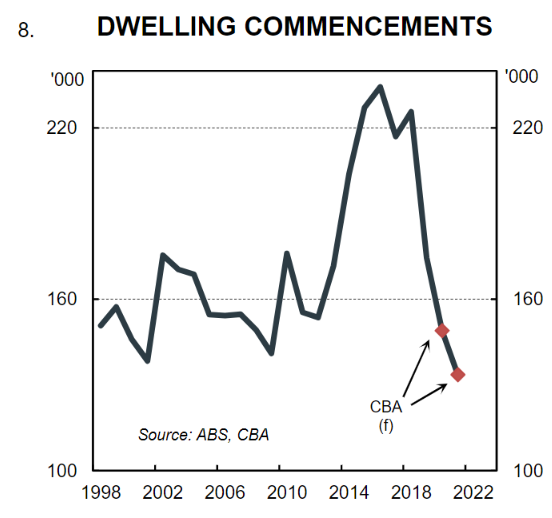 However, CBA seems less concerned about the employment impacts from the downturn in residential construction, forecasting job losses of 50,000 to 55,000 over an eighteen month period:
Taking a GDP weighted measure of construction services and adding the direct ABS residential construction jobs estimate leads us to conclude that around ~510k jobs are directly linked to residential construction. We therefore think that direct job losses as a result of the contraction in residential construction are likely to be ~50k-55k spread over an eighteen month period.
My view is that construction job losses will fall between MBA's and CBA's forecasts given business investment will likely also tumble.
Regardless, the states and federal government need to get cracking on infrastructure and public housing investment to soften the blow.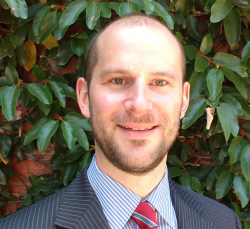 Latest posts by Unconventional Economist
(see all)