Shane Oliver – chief economist at AMP Capital – believes that significantly lower immigration arising from the COVID-19 pandemic will weigh on Australia's property market for years and could ultimately solve Australia's chronic housing affordability problem:
The coronavirus shock… has brought lots of pain and suffering on a human level but also on an economic level. And it has caused much disruption to the property market in the short term with more likely to come. But it may have a lasting positive legacy in relation to property – that is more affordable housing in Australia…

Since 2006, annual population growth averaged about 150,000 people above what it was over the decade to the mid-2000s. This required the supply of an extra 50,000 new homes per year. See the next chart. Unfortunately, this was slow in coming. But with an insufficient supply response to surging demand, prices were able to stay elevated. And so poor housing affordability got locked in…

The coronavirus shock has the potential to change this dynamic of cyclical fluctuations around ongoing poor affordability… We now see average capital city prices falling 10-15% from their April high out to mid-next year with Melbourne most at risk and likely to see a 15-20% decline.

…immigration has been a big driver of property prices and it's taken a huge hit and may take a long while to recover. Thanks to travel bans, net immigration is likely to have fallen to just below 170,000 in 2019-20 and to around 35,000 this financial year from 240,000 last financial year. This is a huge hit which will take population growth in 2020-21 to just 0.7%, its lowest since 1917. See next chart.This will reduce annual underlying demand for homes to around 120,000 dwellings, compared to underlying demand last year of around 200,000. This could result in a significant oversupply of dwellings, and in turn could reverse the years of undersupply that has maintained very high house prices since mid-last decade. (See the population versus dwelling completions chart above.)..

But with unemployment likely to remain high for some time, it will be hard politically for the Government to quickly ramp up immigration to previous levels, even once it is safe to do so from a coronavirus perspective. After the early 1990s recession net immigration stayed low at around 90,000 pa until the mid-2000s. All of which points to a long period of constrained housing demand and hence more constrained house prices…

We are still fighting the war against coronavirus but it's likely, as we have seen with various shocks in the past, we will get over it, and go back to something more normal. But not everything will go back to normal. A lasting impact could be more affordable housing in Australia. It's not our base case that this will come in the form of a property crash (and that would be a bad outcome for the economy anyway via negative wealth effects) but it could come in the form of much softer property price gains over time (after the initial hit into next year).
Let's be honest. Australia's housing affordability problem is really a Sydney and Melbourne issue. These are by far Australia's most expensive cities and they, unsurprisingly, have also been the key destinations for migrants (2018-19 net overseas migration shown below):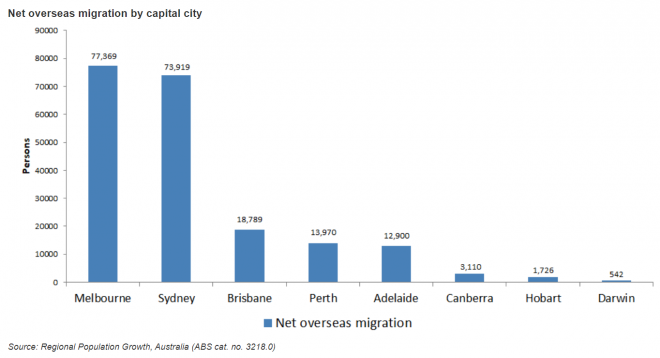 It stands to reason, then, that property prices in these two cities stand to lose the most value from lower immigration, especially given the strong pipeline of supply yet to come online: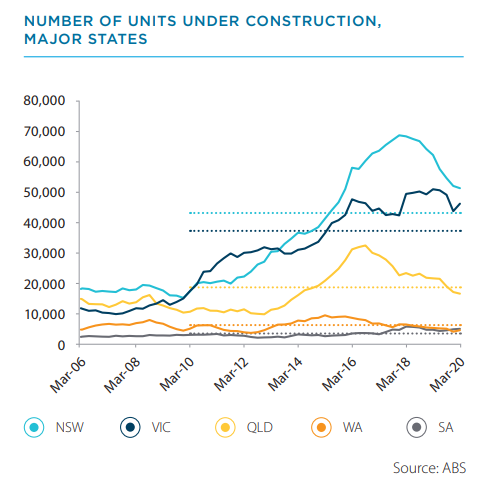 As an aside, it is interesting to watch the narrative around immigration's impact on property prices shift.
For years the property lobby told us that mass immigration was not a driver of Australia's unaffordable housing.
But now that immigration is collapsing, we are frequently being warned that Australia's property market faces decimation.
Finally, the truth is revealed.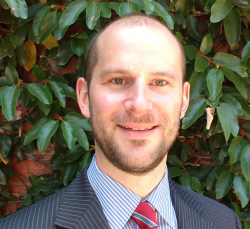 Latest posts by Leith van Onselen
(see all)