We are happy for stimulus to prioritise speed over precision given that is its job. But there are limits.
Last month, K&S Corporation posted a five-fold increase in net profit on the back of $12.4 million in JobKeeper subsidies: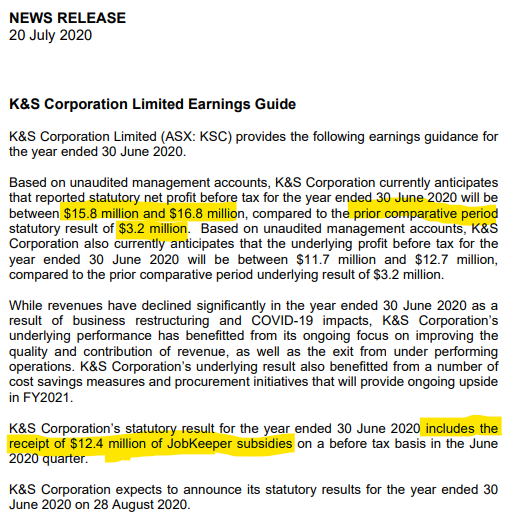 Today, The AFR reports that retailers receiving millions of dollars in JobKeeper subsidies are earning higher profits and paying significantly increased dividends to shareholders:
Manchester and homewares retailer Adairs reported a 19 per cent increase in net profit to $35.3 million after a boom in online sales in Australia and New Zealand during the COVID-19 lockdowns.

Adairs joins fellow JobKeeper recipient, furniture retailer, Nick Scali, in increasing shareholder payouts…

Adairs received $11.3 million in wage subsidies from JobKeeper and the equivalent New Zealand scheme… Adairs lifted its final dividend by 37.5 per cent to $18.6 million, or to 11¢ a share…

Nick Scali said it received $3.9 million under JobKeeper and the New Zealand scheme. In addition, it received rent relief from more than 85 per cent of its landlords, worth another $2.3 million…

Nick Scali increased its dividend 12.5 per cent to 22.5¢ and its share price hit a record high last week…
Labor and the Greens have rightly ridiculed the situation:
Labor MP and shadow assistant treasurer Stephen Jones said on Tuesday the significantly higher dividend payout by retailers Nick Scali and Adairs " does not pass the pub test".

Mr Jones told The Australian Financial Review that Labor supported JobKeeper but the increased dividends paid by recipient companies to shareholders "undermines confidence in the whole system".

"JobKeeper [was] designed to help business retain workers not boost dividends," Mr Jones tweeted on Tuesday morning. "Business investment has fallen off a cliff. Unemployment is forecast to grow by another 400,000 by Christmas.

"Taxpayers won't cop this"…

"Australians will see this as a rort and they are right – this is simply corporate welfare, which is neither fair nor affordable," [Greens Treasury spokesman and former investment banker Peter Whish-Wilson said].
My personal view is that JobKeeper should have finish on its legislated late-September expiry date.
Instead, JobSeeker should have been maintained at its current elevated level of $1,100 a fortnight until the labour market returns to 'normal levels', and then be lifted permanently by at least $95 a week (as advocated by ACOSS).
However, those working in a limited capacity (such as independent contractors) should also receive income support, but at a tapered down rate. That is, as hours and incomes increase back to pre-COVID levels, Jobseeker support is tapered.
Maintaining JobSeeker at a base level of $1,100 would provide an adequate universal social safety net that catches anyone left unemployed. It is also far less distortionary than JobKeeper, which misses a wide variety of businesses and can be manipulated.
JobSeeker is a genuine non-distortionary social safety net, whereas JobKeeper is a convoluted program that benefits some businesses over others, can be gamed, and hides the true extent of unemployment.
JobKeeper also supports industries and firms that have no long-term future, thus preventing the Australian economy from restructuring via the process of 'creative destruction'.
Displaced workers need emergency income support, but they shouldn't be supported in jobs that have little chance of recovering.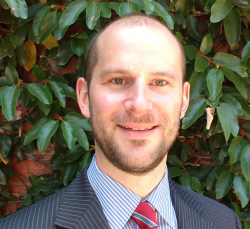 Latest posts by Leith van Onselen
(see all)