Even before COVID-19 hit, Aussie households had become more prudent.
Personal loan growth had plummeted into negative territory: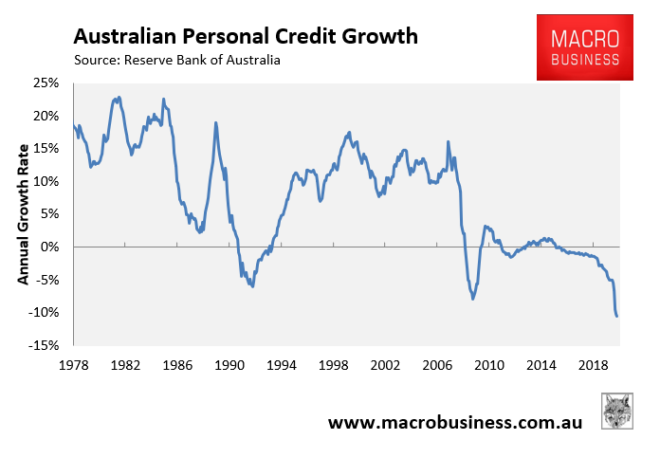 Mortgage equity injection was running near the highest level in living memory: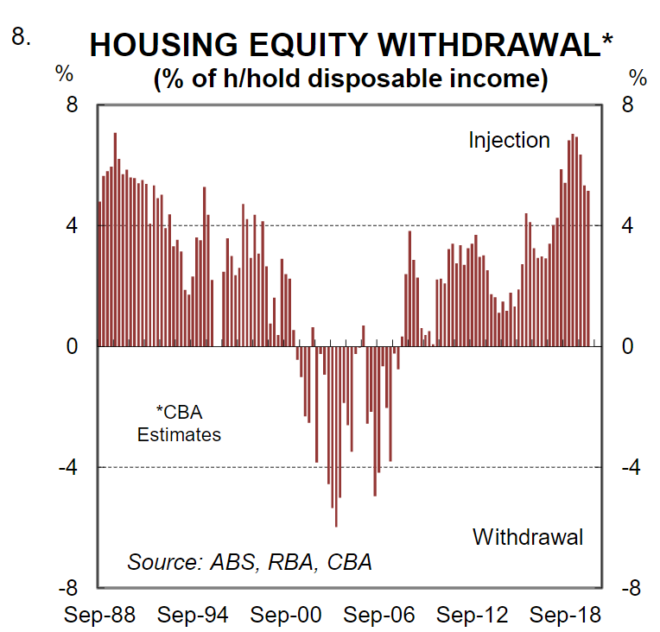 Household consumption had registered its sharpest fall since the Global Financial Crisis: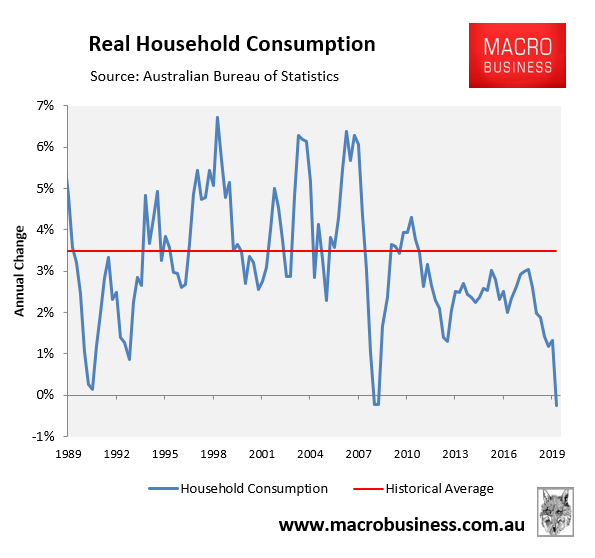 And the household savings rate spiked to its highest level since 2016: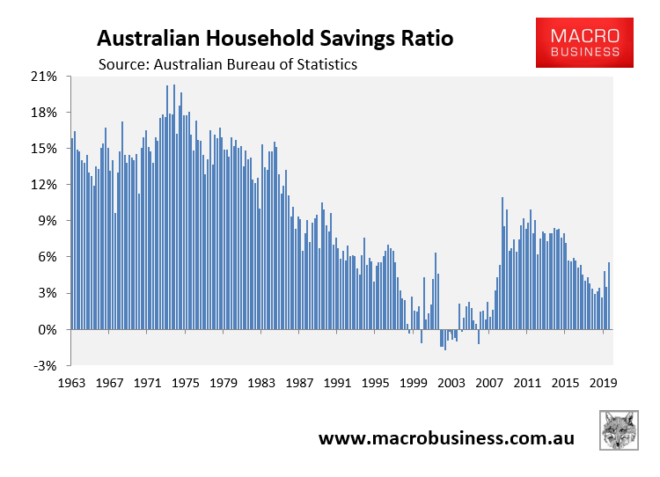 Now with Australia officially headed into recession later this week when the Q2 national accounts is released, household savings rates are surging:
The average total balance of Commonwealth Bank savings accounts and term deposits, which accounts for a large portion of the market, is up 5 per cent over the January-July period. That would be boosted by the $33.3 billion in superannuation withdrawals under the federal government's emergency early-access scheme.

Commonwealth Bank chief economist Stephen Halmarick said… the overall numbers showed that so far, many people had maintained or increased their incomes during COVID-19 and were making precautionary savings.

Before the coronavirus pandemic, total household income grew 4 per cent a year according to the Commonwealth Bank's figures. It has grown 11 per cent a year between January and August 21, 2020. Low growth in salaries and wages, including the JobKeeper payment, was offset by increased government benefits.

But purchases on CBA credit and debit cards are only up by 8 per cent a year over the same time frame.
The CBA data is shown below. Average household disposable incomes have grown over the past year, thanks to emergency income support and early superannuation release, but expenditure has fallen: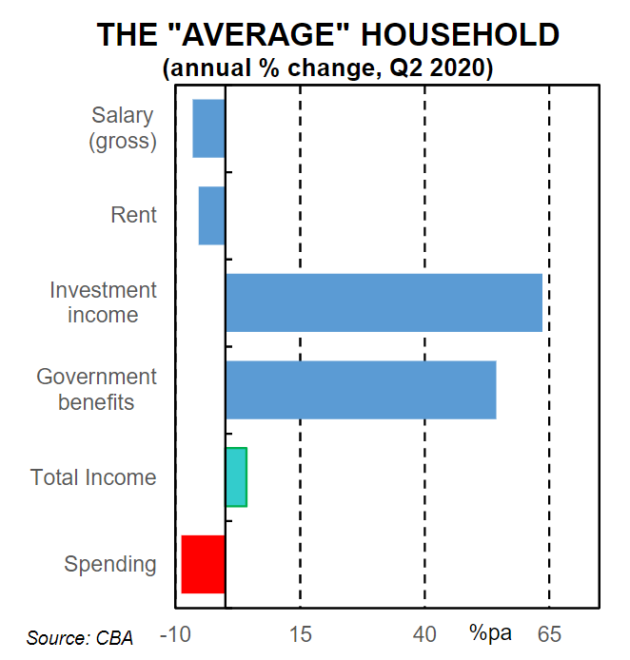 Analysis from AlphaBeta shows similar findings, at least with respect to household incomes: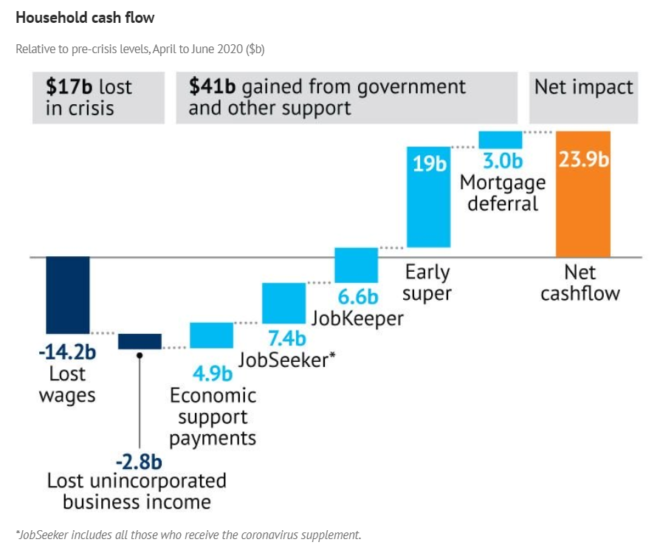 Obviously, household income will fall once emergency income support is wound back from October:
JobKeeper reduced from $1500 to $1200 ($750 part-time); and
JobSeeker reduced from $1100 to $815.
The Grattan Institute estimates this tapering will reduce income support from $18 billion a month (10.7% of monthly GDP) to $3 billion a month (1.9% of GDP) for the six months beyond: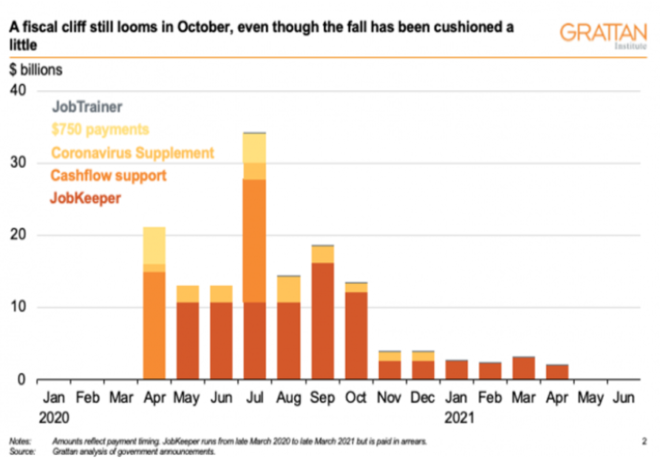 On top of this, the deadline for Australians to withdraw their superannuation early expires on 31 December.
So, we are in the calm before the storm. And rebooting consumer spending will remain a difficult task with household confidence in the gutter.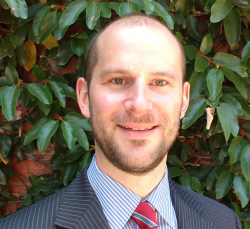 Latest posts by Unconventional Economist
(see all)