Reserve Bank governor Philip Lowe suggested on 14 August that responsible lending restrictions implemented in the wake of the banking royal commission are impacting on credit growth.
Lowe's comments before federal parliament's Standing Committee on Economics have been used as ammunition by the the Housing Industry Association (HIA) to argue for eased restrictions on mortgage lending to assist first home buyers (FHBs) get a foothold in the market:
"A decade of reactive regulatory restrictions have made it significantly harder for First Home Buyers to obtain a mortgage for purchasing their first home," stated HIA's Chief Economist, Tim Reardon.

"A raft of restrictions imposed by APRA and ASIC since the 2007 Global Financial Crisis has seen the number of home loans issued with a 10 per cent deposit fall from 21 per cent of all loans to just 7 per cent," added Mr Reardon.

"Analysis by HIA shows a direct correlation between each additional 'reform' and a further step down in lending for the purchase of a home.

At the Standing Committee on Economics on Friday, the Governor of the Reserve Bank, Phillip Lowe, reinforced this concern:

"What has happened is that those principles have turned into hundreds of pages of guidance. Once the compliance people, the lawyers, the regulators and the media get involved, these high-level principles put in law get turned into a lot of guidance, because people don't want to offend these kinds of regulatory requirements."

"I think the principles in the legislation are sound, but I think the way we've translated those principles into reality needs looking at again."

"A decade of reforms in residential mortgage lending have been successful in creating an 'unquestionably strong' financial system. The problem is in the pursuit of this 'unquestionably strong' financial system, the regulatory squeeze has forced the banking sector to eliminate much of the flexibility in the mortgage market that made home ownership accessible for households of variable credit quality," added Mr Reardon.

In the same address, Governor Lowe also stated:

"The pendulum has probably swung a bit too far to blaming the bank if a loan goes bad, because the bank didn't understand the customer; if it had done proper due diligence—this is the mindset of some—the bank would never have made the loan. So some of the banks have had this mindset, 'Well, we can't make loans that go bad.' I would have to say, though, that in the past three or four months I've heard fewer concerns from the banks about the responsible lending laws. ASIC introduced new guidance. Institutions are gradually coming to grips with those."

"Having an 'unquestionably strong' financial system is essential to the future of the building industry, but home ownership must remain an attainable goal for all Australian households," concluded Mr Reardon.
Sure, lowering credit standards will suck in more sub-prime buyers. But in doing so, it will bid-up prices (other things equal) and actually make the affordability situation worse.
The collapse in home ownership rates among 25 to 34 year olds as interest rates have cratered is bonafide evidence of this: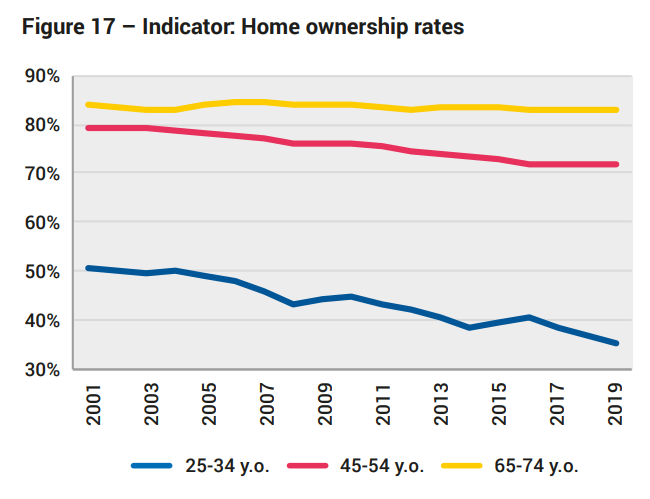 The secret to improving housing affordability is lower prices.
Thus, if the HIA genuinely wanted to 'fix' the housing affordability issue, it would argue for demand and supply-side reforms, including:
Permanently normalising Australia's immigration program back to the level that existed before John Howard ramped-up it up in the early-2000s – i.e. below 100,000 [reduces demand];
Tax reforms like unwinding negative gearing and the CGT discount [reduces speculative demand];
Tightening rules and enforcement on foreign ownership [reduces foreign demand];
Extending anti-money laundering rules to real estate gatekeepers [reduces foreign demand];
Banning borrowing into property by SMSFs [reduces speculative demand]; and
Providing the states with incentive payments to:

undertake land-use and planning reforms, as well as provide housing-related infrastructure [boosts supply];
swap stamp duties for land taxes [boosts effective supply];
reform rental tenancy laws to give greater security of tenure [reduces demand for home ownership and reduces rental turnover]; and
forcing developers to supply housing for lower income earners via inclusionary zoning [boosts supply of affordable rentals].
Obviously, the HIA has no intention of actually fixing the housing affordability problem and instead resorts to policy band aids, like loosening mortgage credit, which is designed purely to boost demand and act as a new profit centre for the rent-seeking property industry.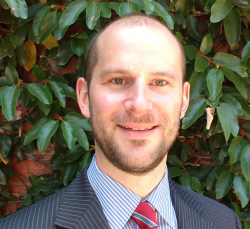 Latest posts by Leith van Onselen
(see all)