The Morrison Government's HomeBuilder policy has hit the right note with Housing Industry Association (HIA), driving up new home sales:
"With two months of data since the introduction of the Australian Government's HomeBuilder scheme it is increasingly clear that HomeBuilder has arrested the decline in New Home Sales and will protect jobs in the sector into 2021," commented HIA Chief Economist, Tim Reardon.

"Housing data has been ricocheting through the COVID-19 period.

"New Home Sales is highly reactive to changes in consumer confidence and collapsed in the three months to May 2020. The announcement of HomeBuilder, together with the easing of restrictions across most jurisdictions, has seen confidence in the market improve.

"In the two months since June, New Home Sales have increased to be 64.4 per cent higher than the preceding two months.

"While we are cautious of over interpreting data from only two months, this is a clear indication that HomeBuilder will help protect jobs in the sector in the second half of 2020 and into 2021. Additional sales data in August will be required before drawing accurate conclusions.

"The strength of New Home Sales is not consistent across all jurisdictions. Western Australia has seen an exceptional bounce in sales due in part to the addition of the State government's building bonus.

"Sales in New South Wales were already slow at the start of 2020 and fell away dramatically in March. NSW sales in June and July 2020 are only 9.6 per cent higher than the previous two months and remain lower than levels prior to the pandemic.

"The Victorian market has remained resilient despite the state's COVID-19 challenges and the re-introduction of restrictions during July. The data, however, pre-dates the introduction of stage four restrictions which occurred at the beginning of August.

"Nationally, we expect that New Home Sales will settle in the coming months to a more sustainable level but the number of new homes commencing construction will continue to slow for at least the next 12 months," concluded Mr Reardon.

Across the country, Victoria increased by 1.5 per cent in July compared to June 2020, followed by Queensland which increased by 1.3 per cent. South Australia (-8.1 per cent), New South Wales (-8.9 per cent) and Western Australia (-27.8 per cent) all declined during the month.

Over the two months since HomeBuilder, sales have increased in Western Australia by 170.6 per cent followed by South Australia with an increase of 142.1 per cent. Queensland (+42.4 per cent), Victoria (+39.5 per cent) and New South Wales (+9.6 per cent) also increased during this period.
My view from the outset was that taxpayer funds would have been be far better spent on building public housing, given:
There is a massive homelessness problem in Australia; and
Stimulus would not be wasted on people that were going to buy a new home or renovate anyway.
As illustrated in the next chart from the Grattan Institute, the Rudd Government's Social Housing Initiative delivered 19,500 new social housing units and another 80,000 refurbished over two years; albeit at a cost of $5.2 billion: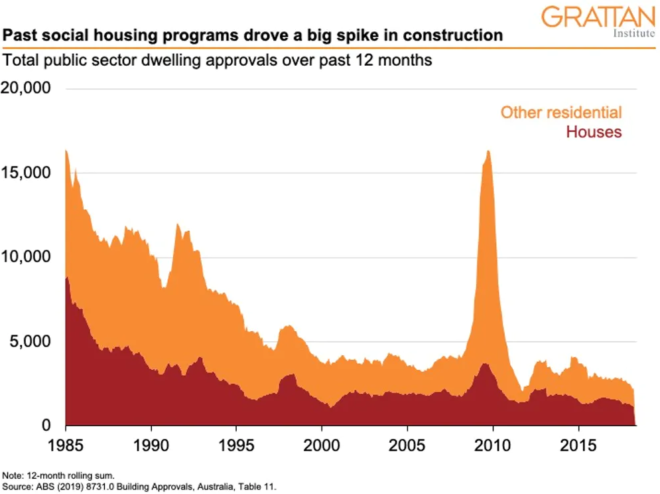 Ultimately, the big winners from HomeBuilder are the HIA's members, who will be able to inflate the cost of their house-and-land packages, while also clearing their inventory.
While it has successfully brought forward demand, HomeBuilder's tight 2020 deadline will ensure the construction industry falls into a deep hole in 2021 once the subsidies expire. This will pressure the government to extend the scheme into 2021 and possibly 2022 as well.
Then there's the question of why the government is seeking to boost new home construction when Australian housing is already well supplied?
According to ABS data, housing supply was already running well ahead of population growth as at March 2020:
With COVID-19 travel bans in place and Australia's international border effectively closed, NOM is anticipated to collapse by 85% in the two years from 2019. This means that extra new home construction will not be needed.
By contrast, social housing is most certainly needed, as evidenced by the growing homelessness problem.
Thus, boosting the stock of social housing and eliminating homelessness should have been the government's priority. This would both juice construction and help those most in need.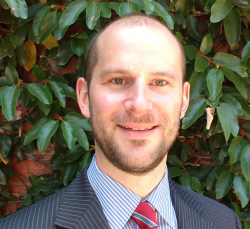 Latest posts by Leith van Onselen
(see all)