The Grattan Institute has jumped back on the 'Big Australia' train, claiming that strong immigration is required to grow the economy, lift productivity and improve living standards:
"Over time, population growth is also really important both for sustaining businesses but also for helping to sustain the services that we all rely on," Grattan Institute chief executive and economist Danielle Wood explained.

"Migration has been incredibly important for supporting growth in the economy.

"We've had a lot of studies showing that, particularly Australia's skilled migration program, has been important in allowing Australian businesses to get the skills they need to continue producing output, but also boosting demand across the economy and improving the living standards for everyone."
This contradicts research from Grattan in 2018, which noted that the major states are under immense pressure from mass immigration, which has crush loaded infrastructure, driven down home ownership rates, and driven up homelessness:
State governments – particularly NSW and Victoria – face population pressures… Australia's total population is growing rapidly. Sydney and Melbourne, in particular, are booming… Australia is becoming even more urbanised. Around 80 per cent of the population occupy less than 1 per cent of the land mass…

Nevertheless, governments have been building a lot of new infrastructure. Over the decade to mid-2018, construction work on new transport projects for the public sector cost more than $180 billion. But much of this money was not well spent… the level of congestion in cities is still a community concern. There is overcrowding on public transport at certain times in some cities, and commuting times can be unreliable…

Over the 15 years to 2016, Australian governments spent $28 billion more on transport infrastructure than they told taxpayers they would. The cost overruns amounted to nearly a quarter of total project budgets… Cost overruns are a significant problem in transport infrastructure….

Spending on infrastructure has ramped up as states cope with increasing population and concerns about congestion, but higher interest and depreciation costs will weigh on state budgets in the years ahead…

Australian housing is becoming increasingly expensive, and public anxiety about housing affordability is rising. House prices have grown much faster than incomes, and rents have also risen, especially for cheaper homes. In part, housing prices and rents have risen because interest rates fell and incomes rose, while tax and welfare settings and rapid migration fed demand. But housing costs would have risen less if there had been more housing.

Australian cities have not built enough housing to meet the needs of Australia's growing population, so there is less housing stock per adult… Lower income households are spending more of their income on housing, which increases income inequality…

Rising housing costs contribute to increased homelessness. About 50 Australians out of every 10,000 were homeless in 2016. Rates of homelessness have increased in the past five years in all states except WA, ACT and the NT…

… today's record level of housing construction is the bare minimum needed to meet record levels of population growth driven by rapid migration (Figure 5.2); and the backlog of under-supply remains. If the population grows as projected, future rates of construction will need to be even higher than current elevated levels…
Doesn't sound like "improving the living standards for everyone" does it?
And let's not forget John Daley's evidence delivered last year showing that "Australia is now running a predominantly low-skill migration system" that is lowering wages:
As shown below, the shape of Australia's migration system14 has shifted significantly over the past six years, towards younger, less-skilled migrants…

Many believe that Australian migration is highly skilled and has nothing to do with the underpayment of minimum wages. That might have been true in the past, but it's less true now… the number of temporary migrants (other than New Zealanders) in Australia has almost doubled since 2007 to almost 1 million (Figure 1).

New migrants to Australia are disproportionately 18-40 years old… Consequently, temporary migrants are about 10 per cent of the younger-aged workforce…

Of those temporary visa holders who do work, most (59 per cent) are in low-skill occupations. Of those with student and working holiday visas who work, even more (about 75 per cent) are in low-skill occupations…

If we look at the flow of migrants, the story is even starker. Net overseas migration for 2017-18 was 237,000 people. Of these, 105,000 (of the net migration) were students, 27,000 were working holiday makers, and 58,000 were visitors…

About three quarters of net migrants to Australia today are not high-skill, at least when they arrive… The stock of temporary students remains relatively low-skill…

As the Productivity Commission noted, where migration does displace existing populations, it tends to affect people with low skills and youth most. That seems to be happening in Australia. And because international students and backpackers are primarily looking for part-time work, they may affect under-employment more than unemployment…

Low-skill migrants might also put downward pressure on wages (if accurately measured). The measured wages of those aged 20 to 34 have not risen as fast as the wages of older workers for some time (Figure 7)…

Summing up

Australia is now running a predominantly low-skill migration system. People from this system form a material proportion of the younger workforce. Because of visa conditions, many of these migrants have incentives to work for less than minimum wages, and there is anecdotal evidence that many do. It is impossible for data sources on the Australian labour force to pick up all of this phenomenon. It is possible that the scale of this influx to the labour market is depressing wages and increasing under-employment specifically for low-skill younger workers.
The fact is, Infrastructure Australia's projections for Sydney and Melbourne show that traffic congestion and commute times are projected to soar whereas access to jobs, schools, hospitals and open space will all decline by 2046, irrespective of how these cities build-out to cope with populations of 7.4 million and 7.3 million people respectively: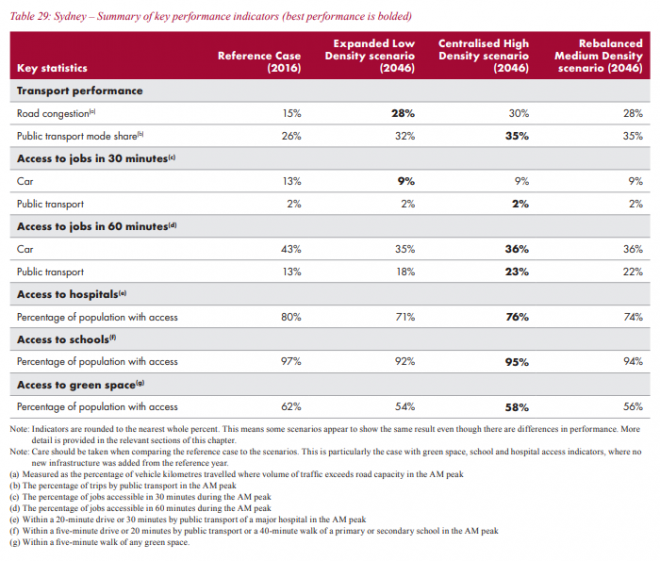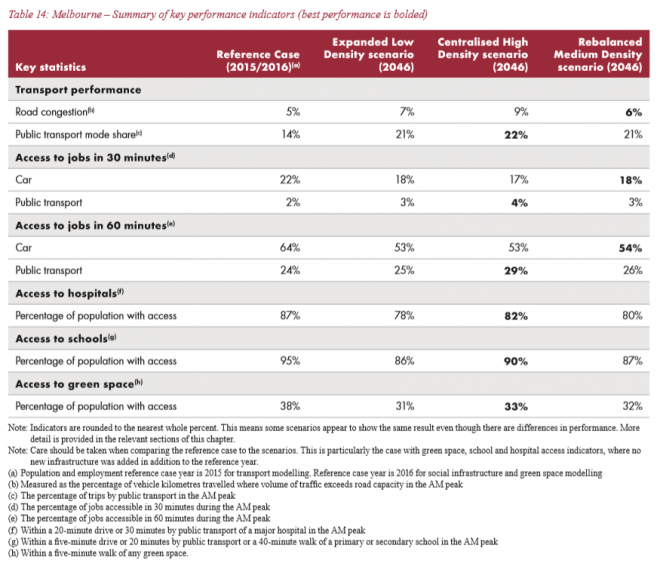 Thus, continuing to run a high immigration policy will unambiguously lower living standards.
High immigration also ruins productivity.
Allowing Australian firms to pluck cheap migrants in lieu of paying higher wages to local workers has necessarily discouraged them from innovating and adopting labour saving technologies, which would boost the economy's overall productivity. It also prevents creative destruction by enabling low productivity farms to remain in business.
Put another way, stemming the flow of low-wage migrants would force the least productive firms to shrink and go bust, transferring workers, land and capital to more productive businesses, thus raising average productivity across the economy.  Further, all firms, observing higher wages, would invest more in labour saving technologies and restructure to raise productivity.
There's a reason why construction firms, farms and manufacturers in advanced nations typically involve a handful of workers operating heavy machinery, whereas in low-wage developing countries these are manned by many workers doing manual labour. The higher cost of labour in advanced countries forces these firms to invest in labour saving machinery, which lifts productivity.
Lower immigration would also unambiguously reduce one of the major drags on Australia's productivity: rising infrastructure bottlenecks and congestion. It would lower the Australian dollar (other things equal), rebalancing the economy away from ponzi growth towards productive tradeable growth. It would help to lift wages. And it would improve Australia's current account, since Australia would import far less and the nation's mineral wealth (and exports) would be shared among less people: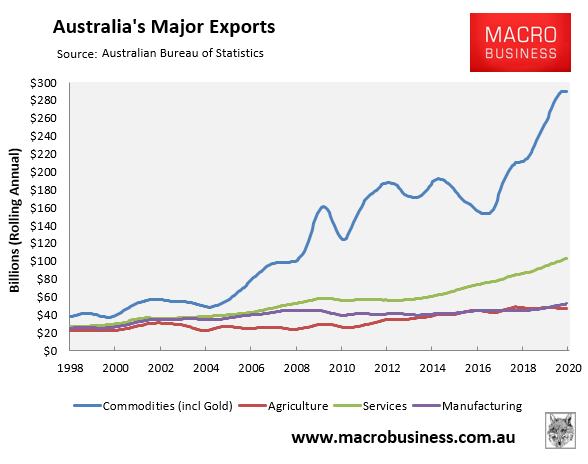 On the last point – the current account – notice below how our two biggest migrant magnets of Sydney an Melbourne have driven gigantic trade deficits?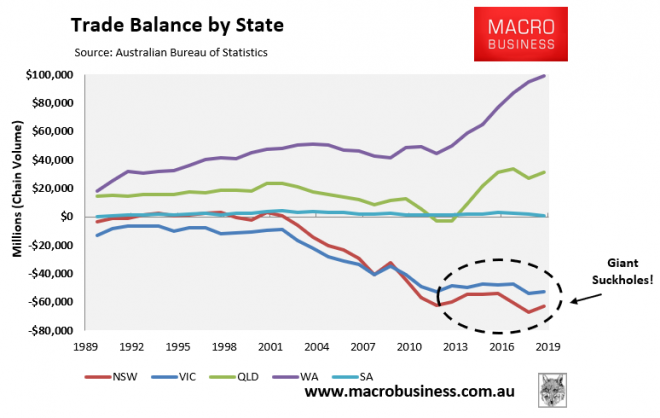 Basically, all the extra migrants that have flooded into these two cities have barely lifted exports, since these cities don't actually produce much that is tradeable. By contrast, imports have skyrocketed via more purchases of consumer goods like flat screen TVs, cars, furniture, etc. These net imports must be paid for, either by increasing the nation's debt or via selling-off the nation's assets. We've been doing both.
The truth is that the mass immigration 'Big Australia' policy promotes 'dumb' growth, concentrated in urbanisation and household debt, and associated sectors benefit (think Big Property, Big Retail and banking). This has its limits, as we are already seeing in debt stress everywhere and declining liveability, as it benefits the few over the many, increasing inequality.
But it's not the preferred model of growth. Far from it. Productivity enhancement and competitiveness are a far better model over the long run as they lower debt while boosting incomes per capita, are more meritocratic, and would send the 40% of the economy that is tradeable into overdrive.
The world has 7.6 billion people. We don't need to import them to sell to them.
Returning to the mass immigration 'Big Australia' policy post COVID will only further stifle productivity, worsen the unemployment queues and further depress wages, smashing Australia's working class.
A bit of balance from the Grattan Institute on this issue would be nice.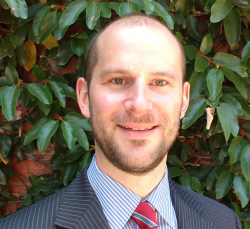 Latest posts by Unconventional Economist
(see all)