The international education industry likes to tout the myth that education exports are Australia's fourth biggest export earner, and that the collapse in international student enrolments will necessarily cripple the economy.
This myth is based on the Australian Bureau of Statistics' (ABS) International Trade: Supplementary Information, Financial Year, 2018-19 report, which shows that total education 'exports' soared by $5.0 billion in 2018-19 to a record high $37.3 billion (see next chart).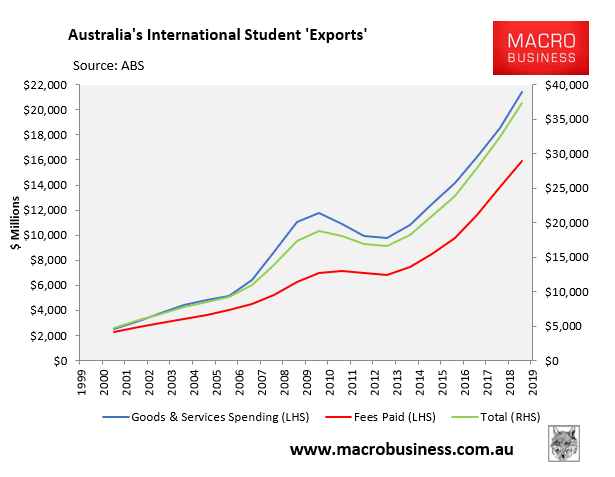 Expenditure on goods and services by international students rose by $2.9 billion to $21.4 billion, whereas fees from international students increased by $2.1 billion to $15.9 billion.
Goods and services expenditure accounted from 57% of total education exports in 2018-19, whereas fees paid by international students accounted for 43% of exports (see next chart).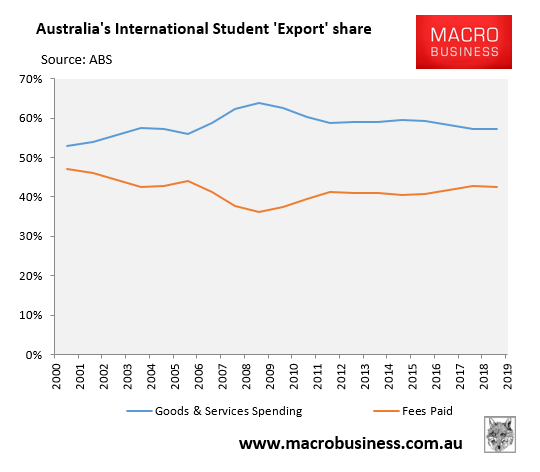 MB has frequently challenged this data, which we believe is severely overstated. The reasoning is simple: these 'exports' include both tuition fees and expenditure paid for via income earned by working in Australia.
Such expenditure is not an export. Indeed, it is no more an 'export' than expenditure by domestic students living away from home that is paid for via income earned through paid employment.
Professor Salvatore Babones' noted similar in his excellent research paper last year for the CIS:
International students are clearly important for Australia's universities, but their importance to the economy as a whole is frequently overstated. One oft-quoted statistic is that educational exports have risen to become Australia's third-largest export after iron and coal. That doesn't really capture the full story, since exports in different sectors are reported at different levels of granularity.

Figure 5 compares the size of Australia's educational exports to that of other major sectors from across the economy, using data from the Australian Bureau of Statistics (ABS). Additional historical data going back to 2002 are reported in Table 5 in the Appendix. Educational exports overtook receipts from all other travel (tourism, family, and business combined) in 2008, but are still smaller than Australia's exports of agricultural or manufactured goods. Moreover, more than half of Australia's reported educational exports (53.7% in higher education and 57.2% for the education sector as a whole) consists not of student fees, but of goods and services bought by students while in Australia. Since this spending is at least partly generated by income that students earn from working in Australia while studying, the true net value of education exports to the Australian economy is likely lower than the headline figures reported by the ABS and DET…
This 'export' farce has been further highlighted by a new survey led by University of Technology Sydney (UTS), which reveals that a huge number of international students have become destitute and unable to pay their living costs and/or tuition fees due to losing their paid employment [my emphasis]:
"A very large share – six in 10 respondents – reported they had lost their paid employment subsequent to the lockdown, and only 15 per cent reported finding a new job…

The first survey revealed major problems for a substantial subset of students even before the pandemic hit. More than one-third frequently fretted about how they would pay the rent, and over one-fifth regularly went without food to do so.

One in four respondents shared his or her bedroom with at least one other person who was not a partner, with 11 per cent sharing with two or more. More than 200 respondents said they were forced to "hot-bed" – in essence, to sleep in shifts, with the bed used by different people at different times. Despite such privations, one-sixth of respondents worried that they might face homelessness.

The situation has now deteriorated, with the second survey suggesting that foreign students have suffered "dramatic" job losses.

Respondents have lost 23 per cent of their income, on average, since the pandemic hit. One-fifth have moved to save money, one-third regularly skip meals, and more than one-half regularly worry about meeting the rent.

Eight per cent have been threatened with expulsion from their accommodation despite a moratorium on evictions during the pandemic…

Students have largely relied on friends and family for help, although almost half have appealed for assistance from their universities or colleges. Support from educational institutions ranged from reduced or waived tuition fees to emergency accommodation, hardship grants and counselling.

Nevertheless, 44 per cent of students feared that they would not be able to pay their tuition fees…
So, we are currently witnessing the bizarre situation whereby this so-called great "export" industry has hundreds of thousands of international students facing destitution after losing their jobs!
Clearly, financial requirements for international students should be lifted substantially so that they can support themselves throughout their courses and are not dependent on working to pay their bills.
Lifting financial requirements of international students would have four positive impacts.
First, it would reduce competition in the workplace, thus providing more job opportunities for young Australians hardest hit by the COVID-19 downturn.
Second, it would dramatically reduce workplace exploitation, since international students would not need to take on illegal work.
Third, it would maximise export revenues per student, given tuition fees and living expenses would be paid for by funds from abroad, rather than from money earned in Australia.
Finally, it would lift the quality of student, since most would come to Australia for the primary purpose of studying, rather than to gain backdoor working rights with the hope of transitioning to permanent residency.
Obviously, our rent-seeking education industry would oppose any move to lift financial requirements, because this would make gaining a student visa more difficult and stem the flow of fees.
It's far easier for the industry to lower the entry bar and privatise the extra tuition fees, while socialising the costs onto the Australian taxpayer.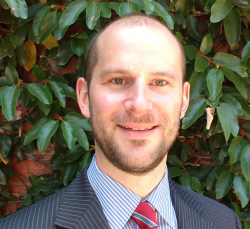 Latest posts by Unconventional Economist
(see all)