Deloitte Access Economics' quarterly Investment Monitor is out and forecasts that Australian business investment will collapse to its lowest level in around 20 years:
Deloitte Access Economics partner and report lead author, Stephen Smith, said: "COVID-19 has led to a collapse in both demand and business confidence, and many businesses are responding by consolidating their operations and making savings where they can.

"That is likely to see an increase in the number of investment projects being cancelled or delayed, while there will also be fewer new projects announced, and private business investment is forecast to fall by 15% in 2020, reaching its lowest point as a share of the economy in almost two decades.

"When the recovery starts, business investment will certainly play an important role. Investment drives growth in the economy, and without growth fewer jobs are created.

"But the timing of the recovery remains highly uncertain, as does the question of whether conditions will get worse before they get better.

"The key here is the date at which production capacity starts to be threatened by rising sales, meaning that there's an improving business case to invest. That date will differ from industry to industry, and from business to business, but may still be some time away."

"Commercial construction may experience a particularly slow recovery due to the increased adoption of work-from-home arrangements and a smaller need for retail space because of the growth of e-commerce.

"More importantly still, this sector is increasingly working through the existing pipeline of work, without that pipeline being added to at a matching pace.

"Mining investment is likely to perform relatively well amid strong demand from China. Yet there's an important caveat. Energy prices – including gas prices – have fallen sharply through 2020.

"Government spending to date has largely been focused on supporting Australian workers and the health care system. When the latest COVID-19 outbreak is contained, the focus of government efforts will shift to stimulating the economy, and infrastructure investment is set to play a fundamental role in this stimulus effort."

There are currently 555 government infrastructure investment projects underway or in planning in Australia, worth a combined $314 billion. The transport industry accounts for less than half of the number of projects, but almost three quarters of total project value…

"There are currently $155 billion worth of infrastructure investment projects underway across Australia, and a further $65 billion worth of projects are scheduled to commence construction in 2020 – many of which can be considered 'shovel-ready'.

"Almost $100 billion worth of projects are scheduled to commence construction beyond 2020 or have no announced start date…

"With interest rates at record lows and the unemployment rate at the highest level in decades, the costs of infrastructure are lower than they were, and the benefits are higher," Smith said.

"That doesn't say governments should spend frivolously, but it does say the cut-off for projects considered 'worthwhile doing' has shifted sharply.

"And while governments are expected to invest heavily in new infrastructure, Australia cannot rely on the governments alone. Private investment has been weak for several years…

Key Investment Monitor figures for the June quarter include:

The value of projects in the database rose fell by $41.5 billion to $727.4 billion – a 5.4% decrease from the previous quarter, with the majority of this decline due to the completion of the $51 billion rollout of the NBN
The value of definite projects (those under construction or committed) decreased by $54.1 billion over the quarter. A total of $250 billion worth of definite projects are currently included in the Investment Monitor database – the lowest level since mid-2009
The value of planned projects (those under consideration or possible) increased by $12.6 billion over the quarter, reaching an almost eight-year high.
As shown in the next chart, derived from the March national accounts, business investment was already falling (-0.3% YoY) prior to COVID-19: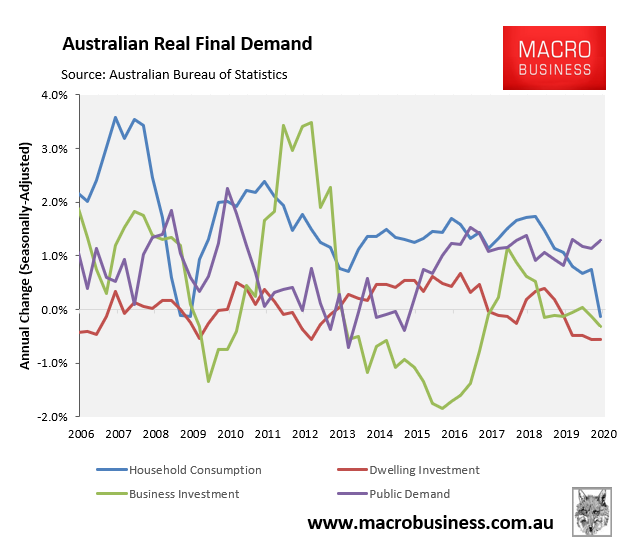 With dwelling investment and household consumption also falling, the Australian economy has become wholly reliant on public demand – both public consumption and public investment spending: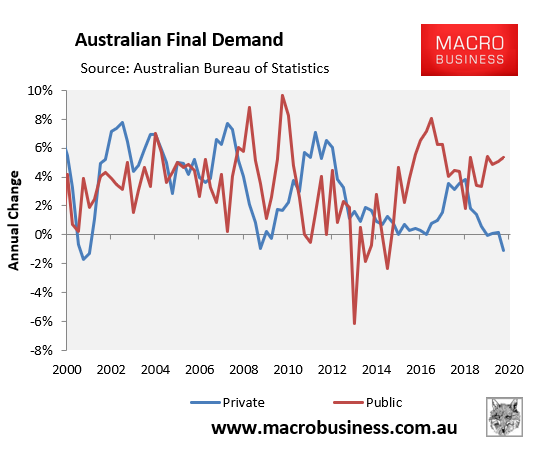 Australia's governments are going to have to borrow/print with their ears pinned back to backfill demand and prevent the economy from tumbling into a depressionary spiral.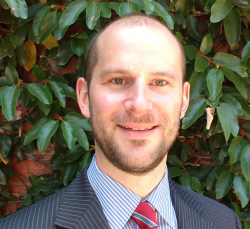 Latest posts by Leith van Onselen
(see all)