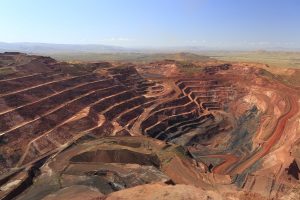 by Chris Becker
The iron ore complex is having a mixed start to the week due to the Singaporean holiday, with spot prices and 12 month Singapore futures unchanged, while Dalian futures dropped on increased US tensions: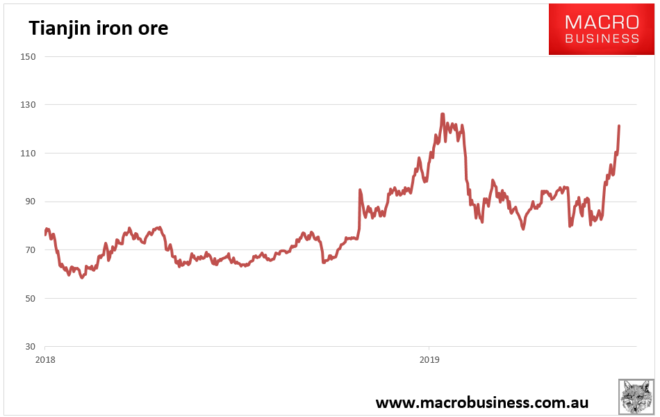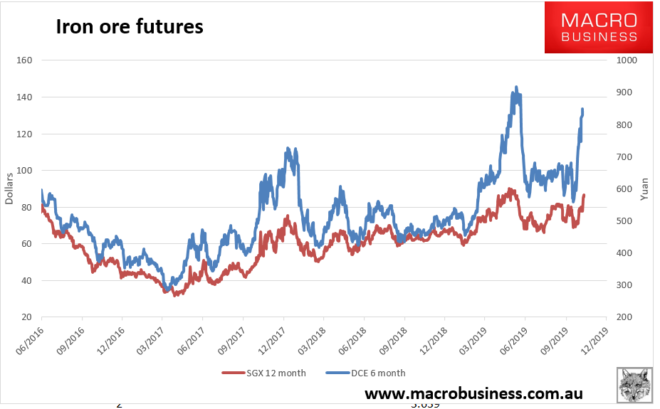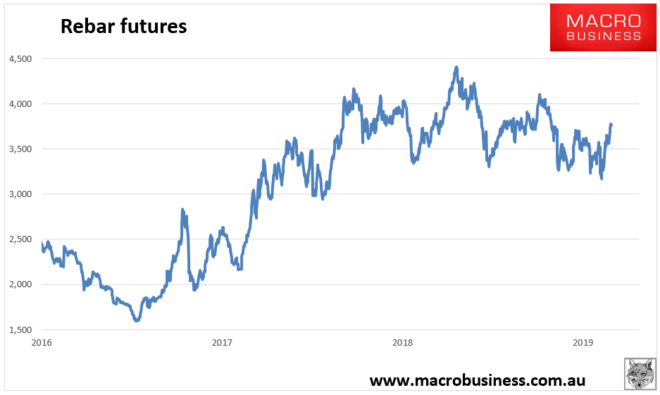 Westpac are still moderately bullish with a $100US per tonne forecast, but see a decline down to $87 by the end of 2021 as supply concerns mount:
Iron ore prices remain elevated despite multiple factors conspiring to push prices down. Supply from Australia has lifted with exports 27mt higher than the same period last year while exports from Brazil hit a 10–month high of 34mt in June. The story remains one of global iron ore supply ramping up in the second half of 2020.

This rise in imports into China has seen Chinese port stockpiles lift again particularly for the smaller producers with Australian and Brazilian inventories being relatively stable. Market participants are looking forward to a strong second half for Chinese steel demand which should maintain steel and iron ore prices above previous expectations while near–term ongoing supply disruptions will sustain upward pressure on prices.
Meanwhile Clyde Russell at Reuters contends there are signs the rally in iron ore is overstretched, but not yet time to hit the sell button:
The question for the iron ore market is whether China can successfully jawbone prices lower, or whether the rally can continue as long as the fundamentals appear supportive. It's more likely that while Beijing will be displeased by having to pay so much for imported iron ore, it will deem keeping the economy's V-shaped recovery on track a higher priority.

The next question is then whether the iron ore rally can be justified by supply and demand dynamics, or whether it's looking stretched.

On the supply side, it does appear that China has been able to source ample volumes, notwithstanding concerns about the spread of the coronavirus in Brazil, the second-largest exporter behind Australia. On the demand side, China's steel industry is continuing to churn out product, even if profit margins have been falling in recent months.

Steel output rose to 3.05 million tonnes a day in June, a record high on a daily basis and up 2.4% from May's daily output. Steel inventories are typically cyclical in China, rising in the first few months of the year, during the winter construction lull, before drawing down for summer.

What the inventories show is that there is still room for iron ore to build further, and even though steel margins have weakened, it's believed they are still positive.

On the supply side, it's possible that shipments from Brazil will continue to recover, but as long as China is importing iron ore at a rate above 100 million tonnes a month, it would be brave to turn bearish on the price.
Latest posts by Chris Becker
(see all)