by Chris Becker
Iron ore spot and future prices rose yesterday, but Dalian exchanges were volatile, falling more than 3% before recovering with a mild loss. Rebar and coking coal were steady as Bank of America lifted its forecasts for iron ore, adding to the chorus of analysts who see rosy futures for the supply struck commodity in the wake of the coronavirus pandemic.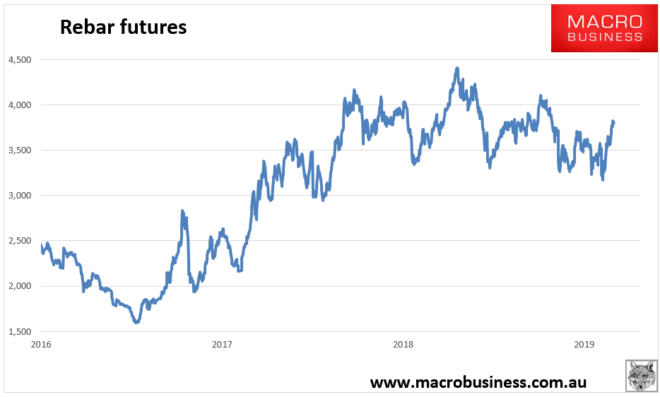 More concerns about the reliance on Chinese iron ore for the Australian economy as Jason Liang reports via Splash:
Splash's report two weeks ago on China's decision to construct a raft of new very large ore carrier (VLOC) terminals – interpreted by some analysts as part of a bigger geopolitical play to cut the nation's reliance on Australia for its iron ore imports amid a severe souring of diplomatic ties – has been read by nearly 80,000 readers, sparking considerable debate on the future of this vital dry bulk channel of business.

Beijing's National Development and Reform Commission (NDRC) last month gave the green light for four new VLOC terminals to be built in Rizhao, Yantai and Lanshan in Shandong province, and Sanduao in Fujian province to go alongside the existing seven VLOC terminals.

"Commentary on the move has speculated that Beijing is seeking to ensure greater 'iron ore security' for the future, not only by opening itself to a wider range of of markets, including Brazil, but also to countries where there is less chance of political disagreement," Alphabulk pointed out in a weekly report.

Data from IHS Markit shows Australia supplied more than 380m tonnes of iron ore to China in the first half of 2020, while Brazil, the second largest iron ore source for China, shipped less than 100m tonnes of iron ore to China over the same period.

According to BIMCO, China imported a record 112.7m tonnes of iron ore in July, just shy of 10m tonnes above the previous record. July thereby marked the fourth month in a row that the country's iron ore imports exceeded the corresponding month the year before. In the first seven months of the year, iron ore imports are up 11.8%, or an additional 69.5m tonnes, which is the equivalent of 300 extra VLOC loads.

"Geopolitics is certainly finding its way in the dry bulk business these years, and increasingly this year. Not only tankers can enjoy a freight rate upside to this lack of international cooperation/understanding – which it basically represents," writes Peter Sand, chief shipping analyst at BIMCO, in an email to Splash.

"Even though Australia is more reliant on China (+90% of exports) than China is on Australia (+60% of imports), they can't stop Australian imports overnight. This year's strong imports numbers including the record high July data of 12m mt suggest that they could be in for stockpiling ahead of a trade dispute, which would harm Australian exports," Sand reckons.

In the medium to longer term, Sand believes alternatives to the "iron ore mountain" of Australia are nowhere to be found. Higher reliance on domestic scrap metal is the best option for China, he suggests.
Latest posts by Chris Becker
(see all)