See the latest Australian dollar analysis here:
DXY rallied Friday night for once but the technical damage appears to have been done. Though, crucially, EUR is yet to break out:

The Australian dollar was bashed against DMs:

But is smashing EMs:

Gold was strong despite DXY:

Oil is stalled out:

Dirt had a bad night:

Miners were hit:

EM stocks too:
Junk is still fine:

US yields are crushed:

Apple powered stocks:

And the only chart that matters tightened: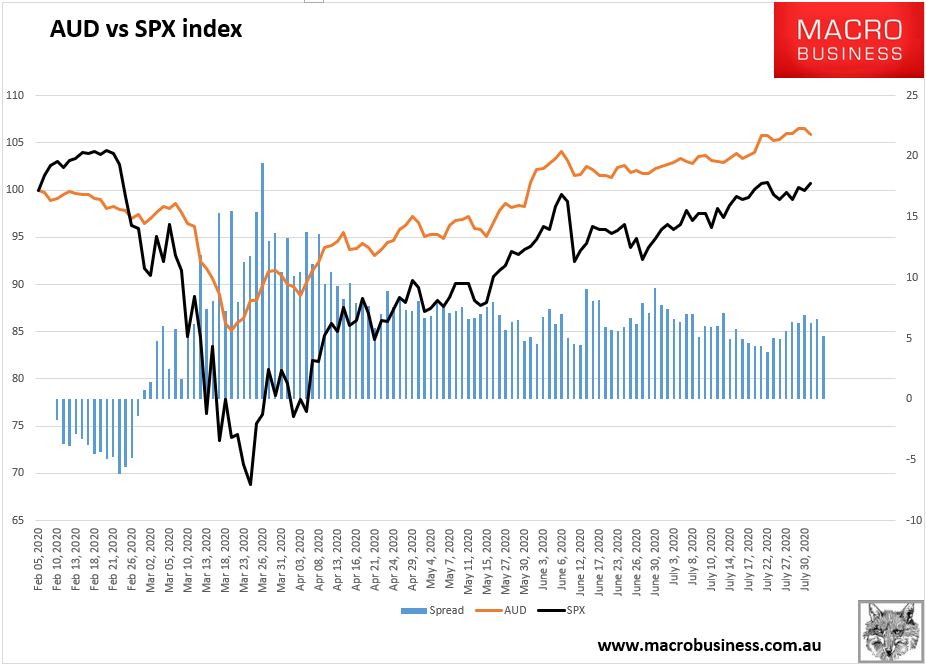 So, will DXY keep falling? The FT asks the question:
These are confusing times in markets. A decline in the dollar's value is typically a sign of global economic optimism. It generally shows that other countries have good growth prospects and that dollar-based investors are happy to put their money to work in riskier locations.

The outlook is different this time. The dollar's decline has accelerated in the past week, while government bond prices have remained close to record highs, a reflection of expectations of low growth and a desire for safe assets. That suggests investors have identified a specific American problem.

"The US government bond market is reflecting the fact that the US outlook is weakening," says David Riley, chief investment strategist at BlueBay Asset Management in London. "There's going to have to be more stimulus. This is where the gold bug view comes in, where sooner or later this is a debasement of the global reserve currency. So you go into gold."

The dollar has been dragged down by the sharp rise in coronavirus infections in the US, which have prompted fears of another round of economically damaging lockdowns.

…"The Fed is likely to be easier than most other central banks," says Michael Swell, head of global fixed income portfolio management at Goldman Sachs Asset Management. Benchmark interest rates are likely to remain at or near zero for years, he says, "even in the event that you see significant improvements in growth and employment".

Much of the dollar's decline has been against the euro, which has appreciated 10 per cent higher since May. In July, EU leaders agreed on a coronavirus rescue package for the bloc that hinges on pooling debt across member states for the first time with a large series of new collective bonds. This solidarity stands in sharp contrast to the political paralysis in the US and opens up the possibility that, eight years after the peak of the eurozone debt crisis, the EU and euro area may be able to start offering a more institutionally robust and liquid currency to conservative long-term investors such as central banks.

But that will not happen overnight. "The euro has been missing a deep low-risk bond market and now there is a possibility that this will change. But even so, it will take a long time to develop and become as mature and liquid as US Treasuries," says Jeffrey Frankel, a former economic adviser to the White House and a professor at Harvard University.

"There really are not sufficiently large alternatives to allow [reserve managers] to shift en masse out of dollars," says Barry Eichengreen, economics professor at the University of California, Berkeley.
The danger for a DXY reversal is that the US so mismanages the virus that the stock market bubble pops. If that unwieldy thing can be kept aloft, I'd expect DXY to keep falling. There are already signs that will create its own problems. The Lunatic RBA and it's austere cousin, the ECB, are dropping a deflationary atom bomb on their respective economies with the predictable result that their equities markets have stalled out:

But so long as the US keeps the stimulus flowing, I still expect DXY to fall much further over time. It is quite high relative to the recent past.
The immediate danger of a material reversal is therefore the stalled debate around extending unemployment benefits, threatening a material turn for the worse in an economy already operating about 20% below capacity. Also at the FT:
On Monday, Senate Republicans are expected to unveil their version of the stimulus legislation, which would partially allay fears of a fiscal cliff. They have already embraced Democratic demands for a new round of cheques to US households, worth up to $1,200 for every adult, which could offer a new injection of aid to many families. They also say they will extend the evictions moratorium.

But the renewal of jobless benefits will be a sticking point.

The Trump administration and many Republicans believe unemployment benefits are excessively generous and discourage Americans from returning to work. They are proposing to slash them by as much as a third and calculate them based on the aim of replacing up to 70 per cent of wages.

Democrats say this would still hammer the finances of many households and make it more difficult for states to administer compared with a fixed payment, leading to bureaucratic delays.
Sounds familiar. It would be pretty stupid in the circumstances and would be a throwback to the darkest days of the GFC, but stranger things have happened.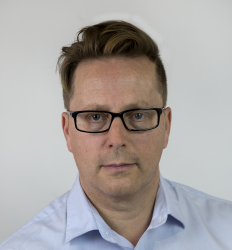 Latest posts by David Llewellyn-Smith
(see all)