The figures show that government VET spending has languished far below funding for schools and universities over the last decade, declining by 1% in real terms since 2005–06 to only $6.9 billion in 2017–18. Over the same period, real spending on primary and secondary schools increased by 23% from $42.7 billion to $52.9 billion—consistent with the growth in everyday operating costs due to both increasing student numbers and improved per capita spending (Pilcher & Torii, 2017). Meanwhile, government expenditure on universities increased the most of all education sectors, with a total $30.2 billion spent in 2017–18 — more than 45% above 2005–06 levels (in real terms). University spending growth escalated from 2012, when the government introduced uncapped funding based on enrolments— the same year that the VET FEE-HELP loans system was introduced. These contradictory policies have led to stark funding divergences between VET providers and universities, reflecting the failure of policy makers to create a more coherent and balanced tertiary education system…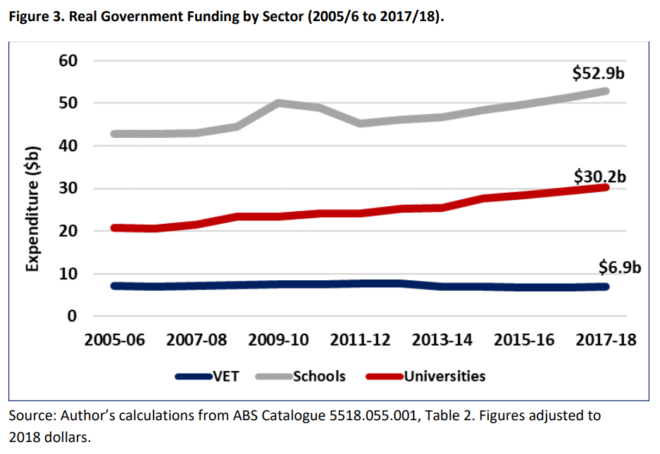 Despite years of significant funding pressure and policy confusion, the TAFE system continues to make a strong and disproportionate economic and social contribution to the Australian economy. The economic and social benefits arising from the direct activity of TAFE institutes, and the highly-skilled higher-earning workforce that the system has helped develop, are substantial…
Table 1 provides a summary of the annual impacts of TAFE across these key economic indicators. The total annual benefit (driven by the accumulated historic investment in the TAFE-trained workforce) is estimated at $92.5 billion. That represents around 4.5% of Australian GDP. Those benefits can be traced back to the extra employability, productivity and incomes (and associated savings on social benefit costs) demonstrated by the TAFE educated workforce…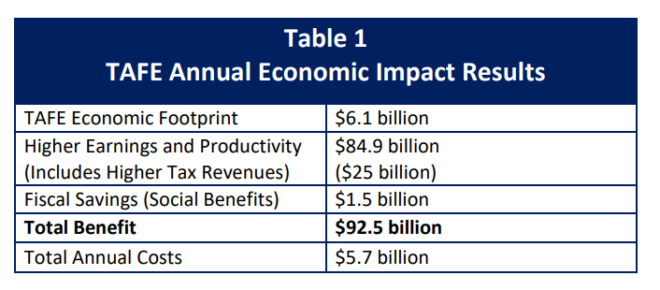 The overwhelming bias towards universities has left the Australian economy way oversupplied with university graduates and with skills in all of the wrong places.
This has hollowed-out the Australian economy, as noted by the Mackenzie Institute:
…the institute condemns the 2008 Bradley review – which spawned Australia's recently abandoned demand-driven system of higher education funding – for producing a glut of graduates and exacerbating the funding decline in vocational training, particularly among public technical and further education colleges.

The paper blames the Bradley review for cultivating one of the worst skills mismatch profiles in the world. It cites figures showing that Australia ranks sixth among 33 Organisation for Economic Cooperation and Development nations for "high skills" development, but 27th for technical skills…

"Australia has never had more graduates than now, yet we have a sluggish economy, stagnant wage movement and low productivity. Many of the occupations that provide low return to graduates would once have been taught in VET with better outcomes, and at a much lower cost"…
Rather than pouring more taxpayer funding into dead-end university degrees, governments must direct their focus towards publicly run TAFEs.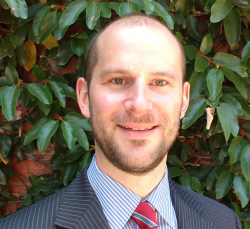 Latest posts by Leith van Onselen
(see all)