McKinsey has warned that a second wave of COVID-19 induced job losses could affect between 270,000 and 640,000 Australian workers by March.
The consulting firm expects sectors such as retailing and construction to be hardest hit as government support measures are scaled back.
McKinsey forecasts that an additional 215,000 jobs could be lost in the retail sector by March, on top of the 42,000 that were shed in the June quarter. The construction sector in turn faces the loss of up to 205,000 jobs by March, having shed 46,000 jobs in the three months to June:
Unlike other sectors such as tourism, where the bulk of jobs have already been lost owing to the direct effects of lockdowns and physical distancing restrictions, retail and construction would suffer from "permanent structural changes" and "business cycle shock".

In total, between 270,000 and 640,000 jobs could be lost between June and March 2021 — on top of the 740,000 lost up until July — as federal government assistance and with it household income and employment fall away, the firm's analysts say.

"The sheer size of this shock means the COVID-19 crisis could reverberate through the economy for a decade," said Simon Kennedy, a senior partner at McKinsey in Sydney. "As generous government stimulus policies are relaxed and the reality of a prolonged recovery sets in, construction is expected to weather a heavy business cycle shock."

Retail and construction have lost 42,000 and 46,000 jobs over the three months to the end of June, but face total losses up to 215,000 and 205,000 by March next year…

"As sales shift online, the employment profile of Australia's retail industry is expected to change permanently, as fewer customer assistants will be required to deliver each dollar of revenue"…
Those are frightening projections that, if they come true, could see Australia enter a prolonged depression akin to the 1930s.
They also highlight why government's must step up to fill the deep demand hole across the economy.
Australia's private sector was already in deep recession prior to COVID-19, with household consumption, dwelling investment and business investment all falling: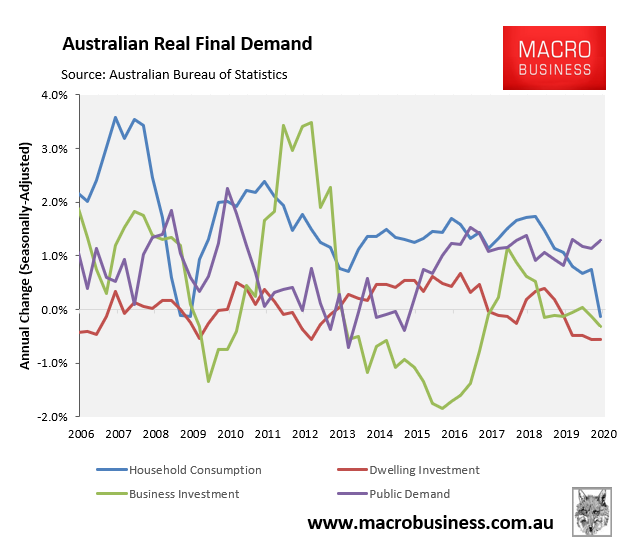 Now government spending is the only thing standing between Australia experiencing a prolonged and painful depression.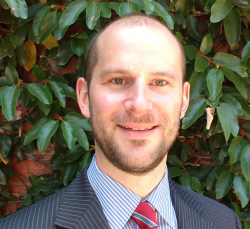 Latest posts by Leith van Onselen
(see all)