Earlier this week, Roy Morgan Research reported that around one third of employed Australians have been working from home (WFH), with 36% of capital city workers WFH: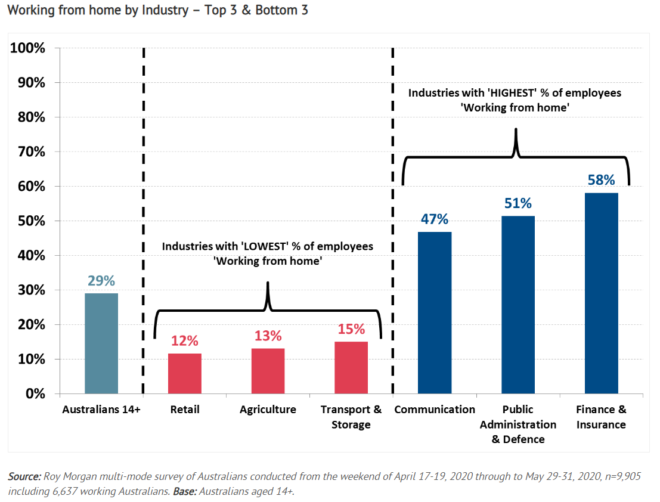 As shown above, so-called 'knowledge' industries concentrated in Australia's CBDs have been most impacted by WFH.
The impact on CBD occupancy rates has been dramatic, according to The AFR:
State government directives to work from home if possible have sent occupancy to as low as 5 per cent across Melbourne city offices, according to figures collated by commercial agency JLL across the portfolio of office towers it manages.

In Sydney and Brisbane, where restrictions have eased, occupancy was around 20 to 30 per cent by the end of last week.

The decision by National Australia Bank this week to mothball two entire Docklands buildings, leaving just a skeleton crew in place while other staff consolidate into a third tower on Bourke Street, has sharpened minds across the corporate sector on how much space needs to be occupied over the longer term.
As has the impact on office rents:
Office rents took a hammering in the Sydney and Melbourne CBDs over the June quarter…

In Sydney's CBD, prime gross effective rents fell 8.6 per cent from $1075 a square metre to $984 a square metre… Over the June quarter in Melbourne's CBD – where the standard measure excludes outgoings – net effective rents in the prime market fell by 5.4 per cent from $454 to $430 a square metre…

Incentives as a proportion of rent rose from 21 per cent to 27 per cent in Sydney quarter-on-quarter. In Melbourne, incentives rose from 29 per cent to 33 per cent.
COVID-19 has undoubtedly facilitated a culture shift whereby many people are finding themselves more productive WFH. Companies have also adapted to WFH quickly.
A new normal will likely emerge with a hybrid mix of some WFH and office work.
This will reduce the primacy of CBDs and facilitate a dispersion of economic activity – both positives for productivity and living standards.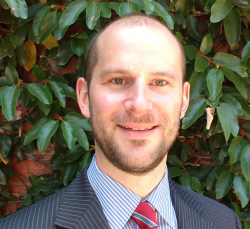 Latest posts by Leith van Onselen
(see all)