by Chris Becker
Well, if you open up your economy again – and damn the COVID-19 torpedoes – you're going to get a recovery, and that's what the June non-manufacturing ISM print showed overnight, providing yet another catalyst for US stocks to head higher.
The texture from ISM:
The ISM Non-Manufacturing Report on Business PMI for June climbed to 57.1%, up 11.7 points from the May reading of 45.4%, surpassing the 50% no-change mark for the first time since the pandemic hit the U.S. This is the largest single-month increase in the index since its debut in 1997.

The business activity index registered 66%, up 25 percentage points from May's figure of 41%. New orders stood at 61.6%, up 19.7 percentage points compared with the prior month.

The employment index, despite increasing by 11.3 percentage points, remained in contraction territory at 43.1%.

"Respondents remain concerned about the coronavirus and the more recent civil unrest; however, they are cautiously optimistic about business conditions and the economy as businesses are beginning to reopen," said Anthony Nieves, chair of the Institute for Supply Management Non-Manufacturing Business Survey Committee.
More from Bill McBride at Calculated Risk: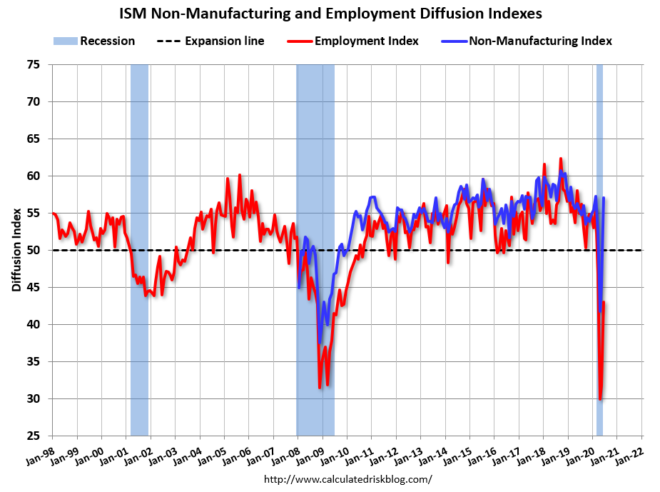 Everything is awesome.
Latest posts by Chris Becker
(see all)