by Chris Becker
The vampire squids are out this weekend at Goldman Sachs with a revised forecast on US economic growth, both for the year (down -4.6% instead of -4.2%) and the rebounding Q3 quarter (up 25% vs 33%) in response to the growing breakout of COVID-19 (aka TrumpFlu aka WTFUSA). In summary, they see a continued rebound this quarter going into the US fall (where the actual flu season will ramp up) and the presidential election in November, but at a reduced rate compared to their last note, and a very optimistic view of a return to normalcy thereafter (nearly 6% annual GDP growth in 2021 and lowered unemployment to only 9%).
The problem is that predictions are very difficult, especially about the future, and indeed the future trend of the pandemic in the US, with new cases going exponential for the last few weeks in the south and mid-West, now surpassing 50,000 cases per day and on the way to 100K per day according to Dr Fauci. Alarmingly, the positivity of these cases are getting very high even as testing increases, meaning there is a staggering amount of community transmission out there not being included in the numbers: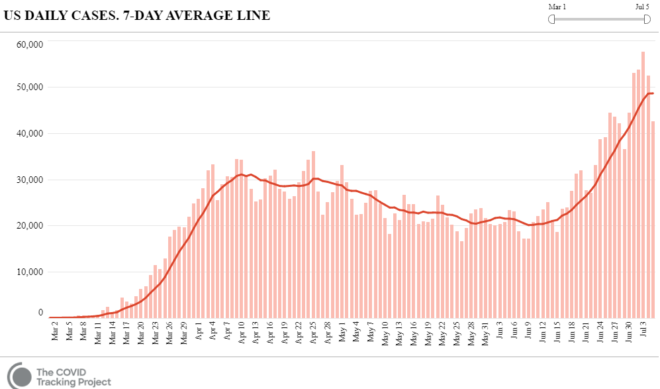 With several US States now backtracking on their negligent too early opening up, its obvious that economic activity will contract further again, and even more as the backtracking turns into panic mode as they go full "Italian" into the fall flu season, with most hospitals already near capacity throughout the South and Mid-West. More lockdowns loom: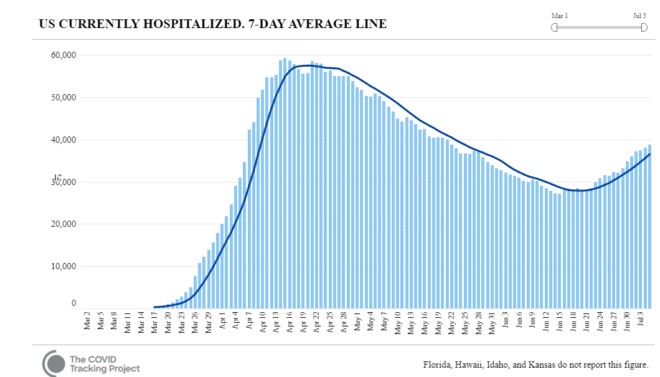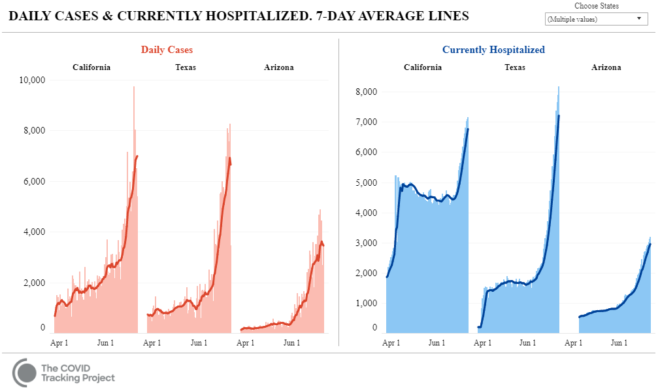 With an incoherent and largely absent federal strategy in dealing with the virus, coupled with an irrational fear of both experts and a gross inability to take responsibility for their actions, its extremely difficult to be certain of containing this new wave of infections in the United States, from both a public health and economic viewpoint. The disparate reactions across the various States, including more social distancing, closing of public spaces or even broad lockdowns and mandated face mask wearing is very hard to predict.
GS
contend that a simple Federal government mandate for face masks could "potentially substitute for lockdowns" that would strip away another 5% of GDP growth. The problem with that analysis is the political ramifications shown throughout this crisis, as politics and "feelings" have silenced science and public health policy from the top down in US society, making it impossible to enforce any reasonable measures.
This matters for Australian investors because each of those States above – now facing exponential growth of the coronavirus and near capacity hospitals that will require severe lockdowns probably before the month is out – are each a bigger economy than our own. The US economy feeds the global one and if it stumbles now as the rest of the world gets out of its own economic quagmire, forget about mild reductions in recession forecasts. Think a "D" sized global recession.
Latest posts by Chris Becker
(see all)