Australia's youth have been some of the biggest victims of COVID-19.
Not only has youth unemployment spiked to around triple the rest of the labour market: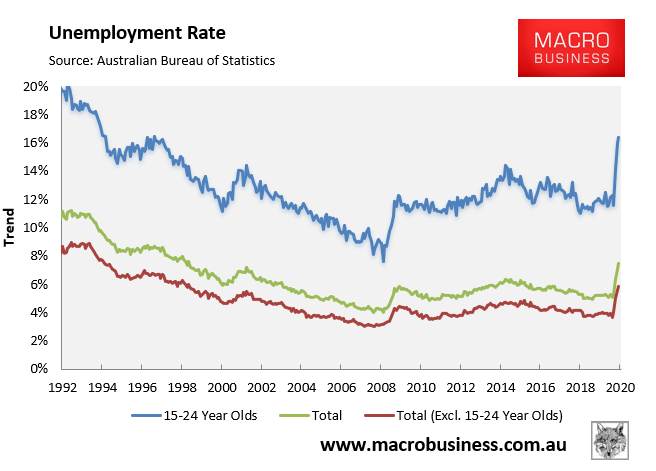 Australia's youth have lost jobs at roughly four times the rate of the rest of the labour market: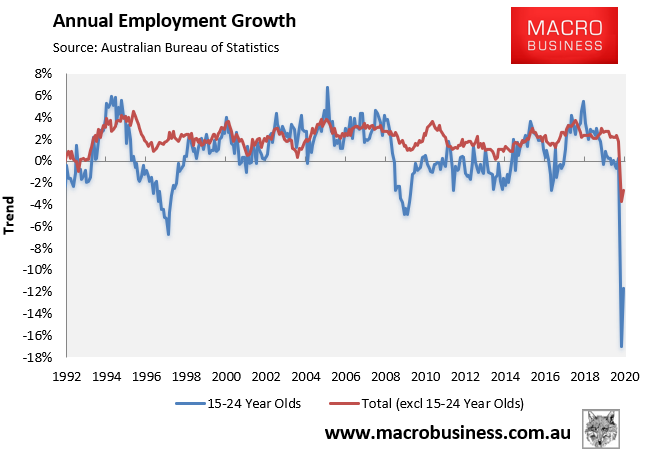 And youth underutilisation (i.e. unemployment and underemployment combined) is running at an unprecedented 36%: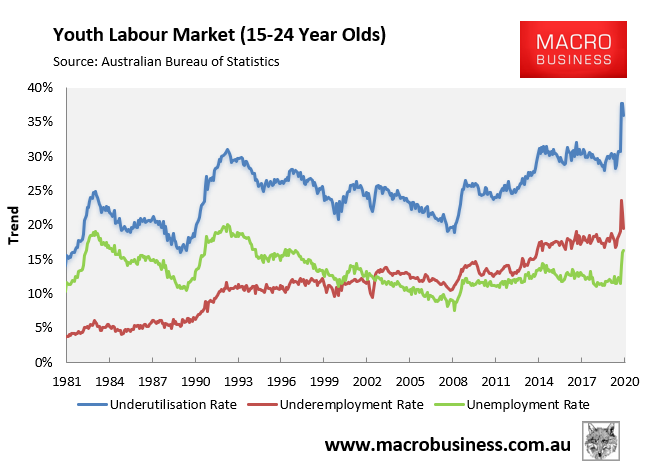 To add further insult to injury, Australia's youth are facing the prospect of repaying the massive budget deficits being accumulated to buttress the Australian economy: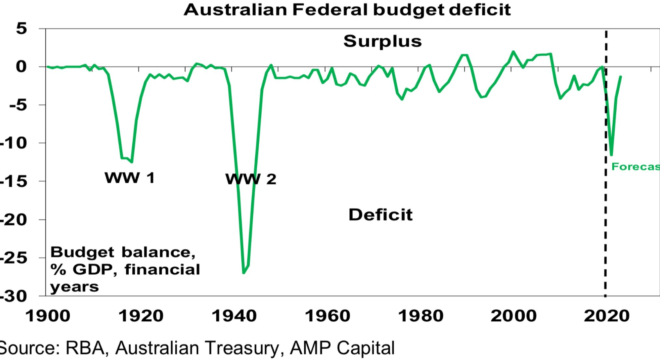 Given these facts, it was curious to hear ABC Chair Ita Buttrose saying Millennials "lack resilience":
"[Younger workers] seem to lack the resilience that I remember from my younger days".

"Whether that's because of bad parenting, I don't know, and I don't want to go down that path and offend young parents but I am an older parent, and we older parents have very set views about resilience and, you know, I think it's something we need to foster in everybody from a very young age."
These comments have inflamed the Millennial generation, who yesterday vented their spleen across social media.
The best rebuke came from satire site, the Betoota Advocate:
The chair of a media organisation made up of predominantly inner-city based baby boomers and technologically illiterate gen-X public servants has today offered her thoughts on the current standard of young people entering the workforce…

As Buttrose points out, the easily bruised 20-somethings did not exist in her day, when majority of the media workforce was unionised and there was literally 20,000 jobs going for human interest reporters, who never needed to upskill because they literally just had to print shit onto a newspaper and people would buy it.

Buttrose, 78, was referring to her journalistic career which started as a copy girl on The Australian Womens Weekly, which was then owned by the Packer family – who were well known for not tolerating any dead wood.

Buttrose, who was paid a liveable wage that allowed her to comfortably buy a property for the cost of one year's salary, said in those days, not hearing from someone like a Packer was good because "no news means good news".

However, in a media landscape still dominated by board members who are the same age as Buttrose – with a workforce mostly made up of 50+ lifers who really want to just pretend the internet doesn't exist – millennials can be difficult to manage…

Buttrose now holds the position of Chair of the public broadcaster, an organisation well known for hoarding some of the most unemployable boomers in the public service…
Millennial Michael Tanner also nicely encapsulated his generation's plight:
University graduates are scrambling for jobs, which see thousands of applicants for a handful of positions; while casual workers, overwhelmingly young, are excluded from JobKeeper because they have a casual job, when the gig-workforce had long since removed any job security.

The ranks of young people facing long-term unemployment lie deep, and the numbers of those who will never buy a house are greater still. Financial security remains a pipe dream. Economic scars borne early in a career cut deeper than those later in life. Losing one's job is estimated to result in a 20% fall in lifetime earnings, with research suggesting that wages are still lower 20 years later.
To be fair, Millennials don't help their own cause. They are the strongest supporters of 'open borders' and mass immigration, and are usually the first to howl 'racism' or 'xenophobia' whenever there are calls to lower immigration levels back to historical levels.
In supporting mass immigration, Millennials are helping to consign themselves to working in low-paid 'gig economy' services jobs and renting shoebox apartments for the rest of their lives.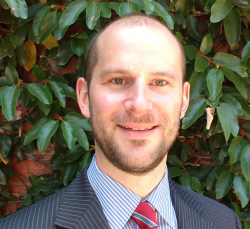 Latest posts by Leith van Onselen
(see all)