Over recent weeks, we have witnessed incessant lobbying from universities over funding, whereby they have demanded a return to the Gillard Government's failed demand-driven system:
Universities face turning away hundreds of thousands of students next year as applications to study surge but available places remain fixed…

Professor of education policy at Melbourne University Frank Larkins said higher education activity is counter-cyclical to the economy and the employment impact of COVID-19 meant rising demand was inevitable…

But universities face a dilemma because they don't have many more places to offer. The government abandoned the demand-driven system in 2017 and universities can offer only as many places as the government will subsidise.
More here:
"As a nation, we have a duty to the next generation – as well as older Australians – to ensure they don't miss out on a university education," said chief executive, Catriona Jackson.

"We urge the government to increase the number of university places to meet that local demand. A skilled workforce will be vital to Australia's recovery."
Forgotten in this funding debate are Australia's TAFEs, which have been badly defunded over the past decade, as reported yesterday by The ABC:
The Productivity Commission's 2020 Report on Government Services (ROGS) found that while vocational education had better employment outcomes than those of universities, its money had been cut.

The ROGS report found expenditure by all governments dropped by more than 20 per cent, or $1.6 billion, from its 2012 peak of $7.65 billion.

Spending per student is also at a decade low in every state except Tasmania…

A report released by Victoria University's Mitchell Institute in December last year also found vocational education was unsustainable, with funding at its lowest level since 2008 and state contributions shrinking.

"Most states and territories are spending less in real terms on VET recurrent funding than they did 10 years ago … overall investment in VET is still trending downwards," the report found.
The overwhelming bias towards universities has crippled funding for VET:
And this has left the Australian economy way oversupplied with university graduates and with skills in all of the wrong places. Because while university participation ballooned: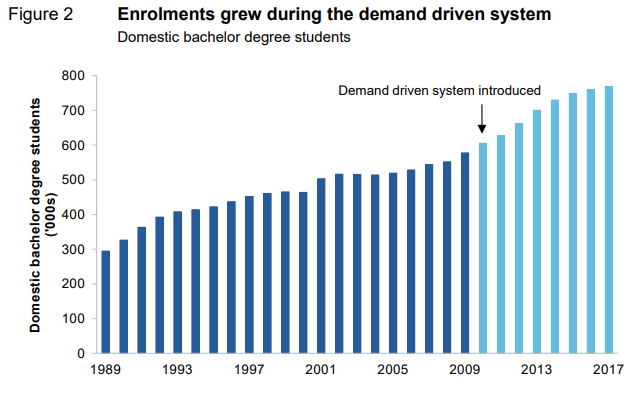 Participation in vocational education and trades plummeted: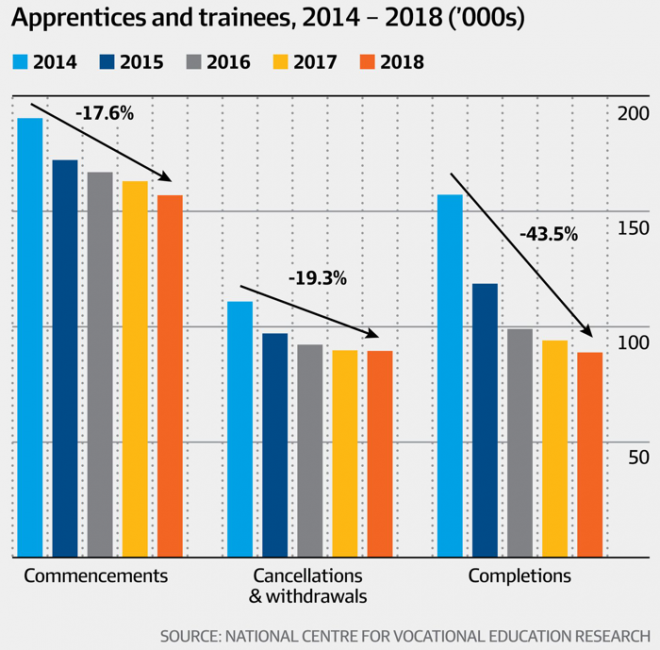 Accordingly, the Australian economy has been hollowed-out, according to the Mackenzie Institute:
…the institute condemns the 2008 Bradley review – which spawned Australia's recently abandoned demand-driven system of higher education funding – for producing a glut of graduates and exacerbating the funding decline in vocational training, particularly among public technical and further education colleges.

The paper blames the Bradley review for cultivating one of the worst skills mismatch profiles in the world. It cites figures showing that Australia ranks sixth among 33 Organisation for Economic Cooperation and Development nations for "high skills" development, but 27th for technical skills…

"Australia has never had more graduates than now, yet we have a sluggish economy, stagnant wage movement and low productivity. Many of the occupations that provide low return to graduates would once have been taught in VET with better outcomes, and at a much lower cost"…
Rather than pouring more taxpayer funding into dead-end university degrees, governments must direct their focus towards publicly run TAFEs.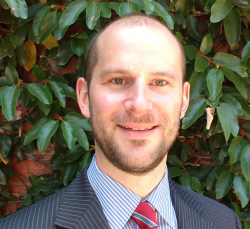 Latest posts by Unconventional Economist
(see all)