The Council of Small Business of Australia (COSBOA) has advised unemployed Australians to start applying for jobs or risk missing out once the JobSeeker supplement expires in late-September:
"The message we want to get out is the earlier you start looking for a job, the better off you'll be at the end of September," said COSBOA chief executive Peter Strong.

"There are still some jobs available right now but there will be a lot of competition once everyone starts applying for them at the same time, maybe even all on the same day. If you start looking now you can avoid being part of that competition"…

The Council also noted some industry association members voiced concerns that they were struggling to fill casual and part-time roles right now.

"This could be because people are content with the JobKeeper or JobSeeker payments that they're receiving and don't feel motivated to look for more work," the Council stated…

"There are small businesses out there that need staff, including service stations, cafes, restaurants, shops and hotels. Not every business out there is losing money – some are doing well but many can't find the staff they need."
Australia's real unemployment rate is 14.5%, according to Roy Morgan Research: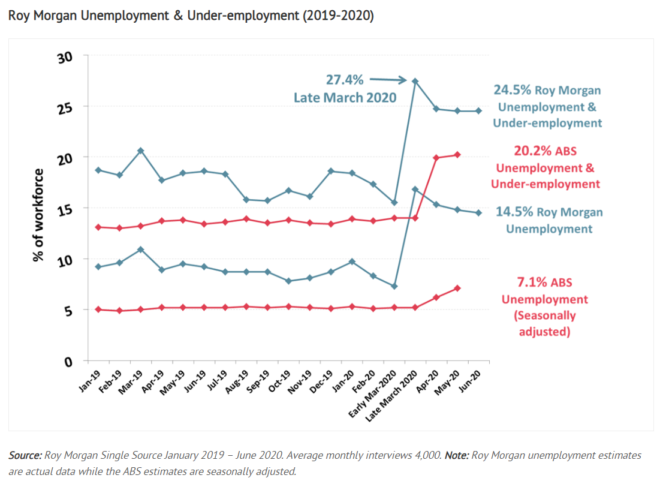 Having more people applying for jobs won't magically create jobs, especially when Seek job applications are already swamping available positions:
The figures show that at the end of June, the number of applicants per job was 16% higher than in February, while candidate availability was about 30% higher than in February. This is despite the fact that the JobSeeker unemployment benefit was temporarily doubled due to the virus, and suggestions that this has resulted in some businesses finding it hard to recruit staff:

The measure – known as "candidate availability" – hit 40% above February levels in April, when the website recorded its lower point of job ad volume growth, and was still about 30% above pre-pandemic levels earlier in June.

…experts noted a high number of job applications is notable given the suspension of Centrelink mutual obligations, which usually forces jobseekers to apply for up to 20 jobs a month…
The economy needs more demand to soak up the spare capacity. This necessarily requires a massive government stimulus effort, including lifting JobSeeker, public housing investment and infrastructure investment.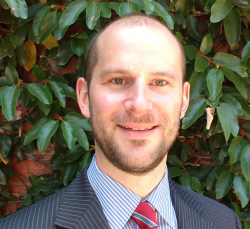 Latest posts by Leith van Onselen
(see all)