In yesterday's press conference at Parliament House, Prime Minister Scott Morrison dismissed concerns around the crash in mortgage commitments, driven by investors: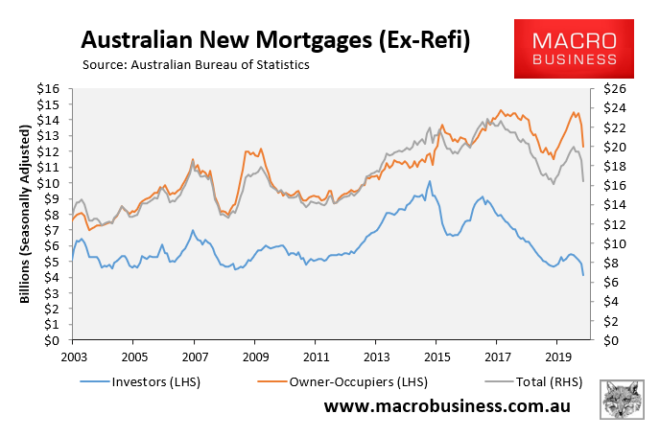 Below is the transcript, with my emphasis added in italics:
Journalist: Home lending figures came out today. Huge plunge, double-digit plunge. This is a time with record low interest rates as well. We've also seen a couple of months of sliding house prices. Do you have any concerns about the housing market? And what can the Government do to avoid a house price collapse?

Prime Minister: Well, the thing about the Australian housing market is that demand has always outstripped supply, particularly in those markets which have been most heated and we're talking largely about the eastern seaboard markets there. I mean, the situation in Perth and Adelaide has been a bit different. But even down in Hobart more recently, we've seen an undersupply of housing and oversupply of demand. And that has always been what's driven the housing market. It hasn't been driven by speculative investor bubbles or speculative credit, things like that, which we've seen occur in other countries. And I think one of the problems about the commentary about the housing market is too often the analysis has appropriated the conditions of other places and applied them to Australia and that application has been completely misguided. Of course you're going to see a resistance, a concern amongst consumers during the times we're experiencing right now. It would be surprising if we did not see that. But I think, fundamentally, the structural position of the housing markets in Australia would tell a far more stronger tale in terms of their resilience. That's why I welcomed particularly yesterday the decisions by the banks to be able to continue to roll over and defer payments in relation to debts. That's important. That's one of the many changes that have been important to date and will be important later in the year and we're working through very similar issues. So, I think it would be presumptive, or a little premature is probably the better word, to be making medium or even short-term forecasts about the Australian property market at the moment.
The below chart plots investor mortgage growth against dwelling price growth: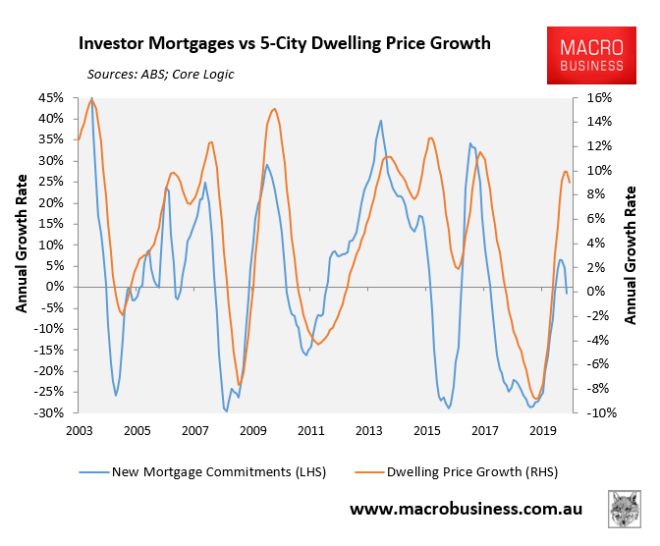 As you can see, the correlation is incredibly strong, with investor mortgages typically leading prices.
This data directly challenges the Prime Minister's claim that the Australian housing market "hasn't been driven by speculative investor bubbles or speculative credit".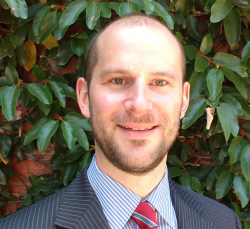 Latest posts by Leith van Onselen
(see all)