Here is the true "gas-led recovery". At Domain:
The head of the nation's top commercial gas user, fertiliser maker Incitec Pivot, says a dramatic weakening in the global oil price outlook should pressure east-coast gas producers to offer much cheaper contracts.

After oil giants BP and Royal Dutch Shell slashed their outlook for Brent oil prices in expectation the coronavirus-led energy slump could linger for years, Incitec Pivot managing director Jeanne Johns said it was clear the industry consensus was that oil and liquefied natural gas cargo prices, which are tied to oil, would remain "lower for longer".

"There is now little doubt the price of LNG exported from Australia will remain low in coming years, as economic activity is suppressed due to the pandemic and the recovery taking longer than anticipated," Ms Johns said on Wednesday.

"This development should see the price of natural gas fall substantially for domestic customers across the east coast, providing much-needed relief to businesses and households who are paying some of the highest gas prices in the world."

…Now, as coronavirus lockdowns cause energy prices to fall, business leaders are voicing frustration that gas giants have not dropped their long-term contract prices closer to spot prices of less than $5 a gigajoule in the south-eastern states or the Asian LNG cargo spot prices of less than $2.50 per million British thermal units.

Industry figures told The Age and The Sydney Morning Herald gas prices being offered on long-term contracts remained between $8 and $9 a gigajoule.
Since the cartel formed and began to ship the cheap gas offshore, it has forced major consumers (95% of east coast volumes) to link their contracts to Brent oil at around a 14% slope. Here's the chart: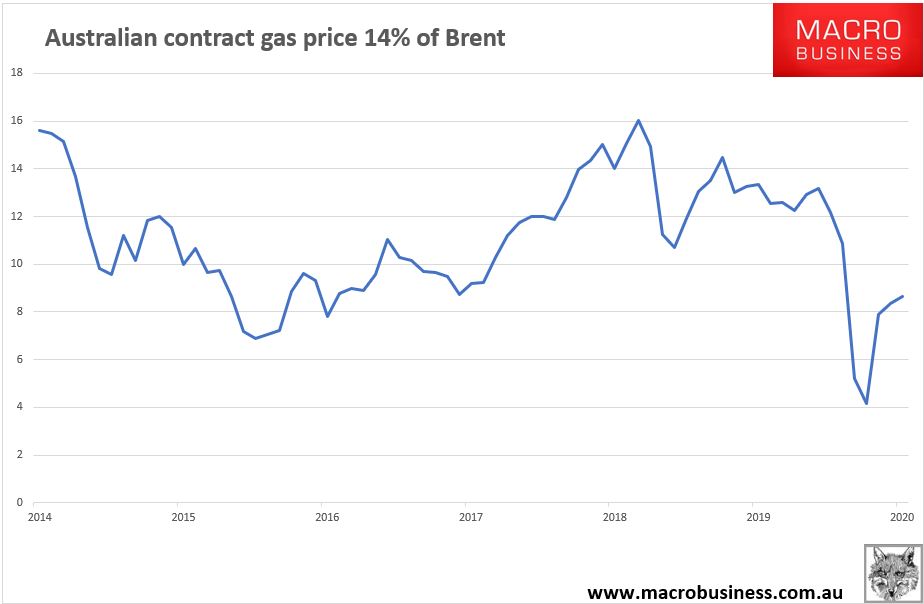 This is barmy. Why would a gas-rich producer expose itself to an oil price based around energy importers in Europe AND, moreover, expose itself to currency risk?
I can tell you why. Market power.
A cartel doesn't care how stupid its host nation is. It's only goal is to illegally maximise profits via as much as widespread discriminatory pricing that it can force.
Our gas cartel has succeeded in this spectacularly, forcing a foreign pricing mechanism into the market, totally divorced from local production costs, ensuring that not even amid an historic oil and gas crash and structural glut, that Australian businesses and consumers will pay world-beating prices for both gas and electricity.
This is ScoMo's only "gas-led recovery". The reserved new supply in Narrabri that he is pushing is within the cartel so it will simply shift =more volumes offshore from unreserved acerage resulting in zero price depreciation.
Indeed, these prices are below the cost to produce the new gas so prices will have to keep rising.
LNG imports won't solve it, either, given they will also arrive around $10Gj.
The only solution is to force the gas cartel to leave its cheapest reserves here and break the contracts. The hilarious part about it is that LNG clients globally are breaking these Brent-linked contracts amid the glut and what were 14-15% slopes of Brent are now lucky to be 9%.
Yet here we are, the producer of the gas, stuck with onerous 14% Brent-linked gas straight up the cloaca.
What has happened to the Centre Alliance gas reservation deal, which was supposed to be in force on July 1, is anybody's guess.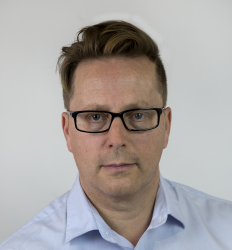 Latest posts by David Llewellyn-Smith
(see all)