CoreLogic's research director, Tim Lawless, expects Melbourne's housing market to be "significantly disrupted" from the six week lockdown:
Over the previous lockdown period, which was in place between late March and mid-May, housing market activity was significantly disrupted.

The previous lockdown period saw real estate agent activity across Victoria slump by almost 70% before gradually improving post-Easter, with a sharp rise in activity once lockdown policies were eased around mid-May.

The drop in real estate agent activity foreshadowed a sharp drop in new listing numbers across Melbourne. Between mid-March and early-May the number of new listings added to the Melbourne housing market more than halved, to be 34% lower compared wit the same time a year ago. As restrictions were eased and consumer sentiment recovered to more normal levels, new listing numbers increased and were tracking 18% higher than a year ago through the first week of July.

With advertised stock levels falling and a plunge in consumer sentiment, the lockdown period also saw sales activity drop to the lowest level since the early 1990's (excluding the seasonally slow January months). CoreLogic's estimate of home sales dropped by 8.1% in March before plunging by 38.1% in April. As restrictions eased and both sellers and buyers became more confident, the number of home sales has picked up over the past two months to be 59% higher than the April low.

Auction results provided a further signpost of the housing market's performance through the lock-down period, with Melbourne clearance rates falling to just 20% in early April after consistently tracking around the mid-70% range prior to March 2020. The drop in clearance rates was influenced by a substantial number of withdrawn auctions, while the large proportion of successful auctions (around 80%) were actually sold before the auction was held signaling a lack of vendor confidence to test the market under the hammer. Since restrictions were lifted, clearance rates have returned to the early 60% range, and the proportion of withdrawn auctions and 'sold priors' have normalised.

Melbourne also saw home values starting to trend lower from April, recording a 2.3% drop in dwelling values over the June quarter, which has been the largest decline to-date across the capital cities through the COVID period.

Looking forward, the six-week lockdown period will result in renewed downwards pressure on Victoria's economy, including a worsening in labour market conditions, especially in those industries such as food and accommodation services and the arts and recreation services, that have proven to be extremely sensitive to strict social distancing measures. Consumer sentiment readings, which are highly correlated with housing activity, have already been dragged lower due to the acceleration in Victoria's virus curve, and will likely fall further as consumers react negatively to the economic and social implications of the lockdown along with increased uncertainty.

If the housing market's performance through the previous lockdown is anything to go by, it's highly likely that Melbourne property transaction activity will see a sharp drop over the next six weeks, with both a material decline in new listings as vendors lose confidence in testing the market, and a lower number of sales as buyers retreat to the sidelines…

The downturn in Melbourne home values has been mild to date, and dwelling values were continuing to fall after restrictions were lifted amidst rising market activity. A return to a shortage of advertised supply should help to insulate home values from material declines, as will persistently low interest rates, ongoing government stimulus and forbearance measures for distressed borrowers which will help to keep urgent sales off the market.

Once the restrictions are lifted in six weeks-time there is likely to be a level of pent-up demand which will see housing activity improve, as it did when previously when social distancing measures were relaxed or lifted.
I am more bearish on Melbourne property than Tim Lawless.
The second lockdown will shatter confidence in Melbourne and will likely cause many small businesses to shutter for good, raising unemployment.
Melbourne's quarantine failure has also scuttled any reboot of international students and immigration, which will hit Melbourne property especially hard.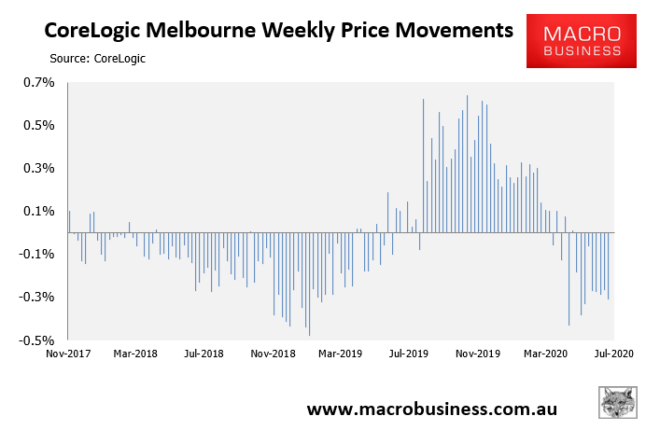 A re-run of the last bear market looks like a good bet.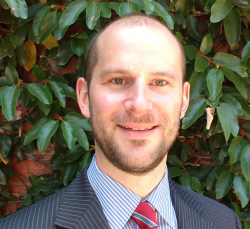 Latest posts by Leith van Onselen
(see all)