See the latest Australian dollar analysis here: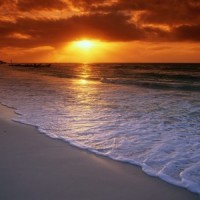 By Chris Becker 
Wall Street and the rest of the risk complex are truly dicing with danger, with European stocks slumping on Friday night while US bourses barely kept above key support levels as rising US/China tensions, and concerns over the spreading Trumpvirus in the US and the lack of any fiscal measures weighed everything down. The USD remains the punching bag in the currency arena, with gold finally pipping the $1900USD per ounce level, while other commodities – normally falling in these situations – are being held up as King Dollar is smashed to the ground. Asian stocks will have a hard time starting to the trading week with these headwinds….
Looking at share markets in Asia from Friday's session where the Shanghai Composite sold off sharply after being down over 2% before the lunch break and then was bludgeoned to fall nearly 4% to 3196 points, making a new monthly low. In Hong Kong the Hang Seng Index was looking to follow a similar path but eventually closed a little over 2% lower to 24705 points. The daily chart shows support at the 25000 point barrier has been broken and key ATR support coming up sharply as momentum heads into negative territory: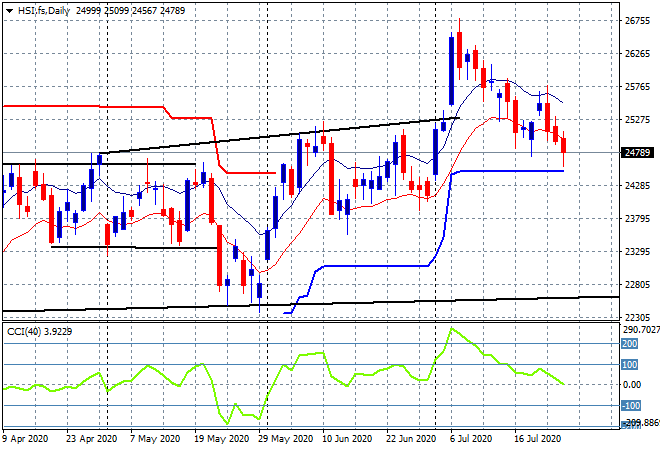 Japanese stocks were closed again but will reopen today with the Nikkei 225 futures falling well below the 22500 point level in the co-ordinated risk off move from Friday night. I've been contending that buying conviction remained doubtful for awhile now and that the daily price pattern remains tight, indicating downward volatility is coming soon: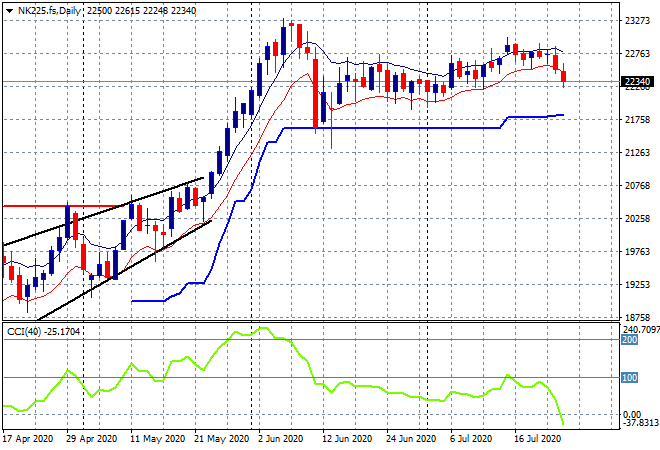 The ASX200 fell just over 1% to close just above the key 6000 point psychological level. SPI futures however are down nearly 30 points or 0.5% so I would expect that level to break as the Wall Street wobbles upset the "everything is awesome" meme currently taking hold locally, as the Victorian COVID blunder expands. Note the low moving average is coming under pressure with momentum about to rollover, with the former June high never under threat: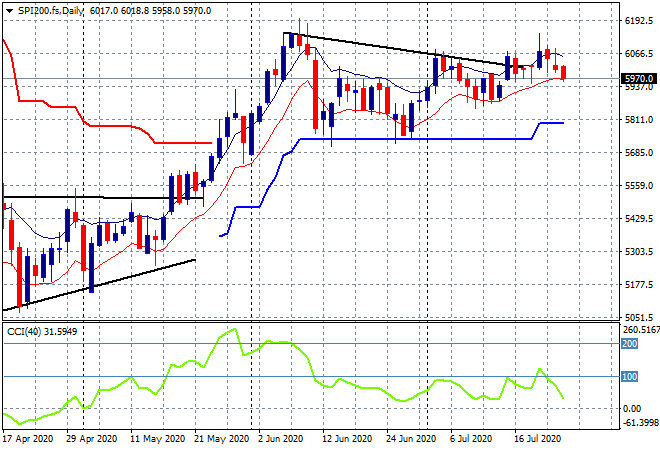 European markets had some good economic reports to cling onto but the much higher Euro and Pound Sterling are weighing down combined with unease over the US stock bubble. The German DAX was the worst, but only just, falling a little over 2% 12838 points. Last week I noted how price was getting ahead of itself above the high moving average as momentum slowly rolled over, but this may turn into a wider correction so watch for a substantial close below the low moving average: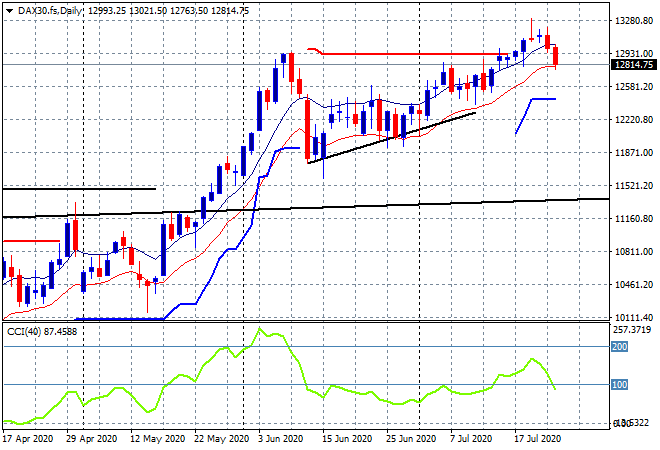 Wall Street is failing to gain traction as the narrowness of the bubble is weighing the whole edifice down. All three bourses retreated in lockstep with the "broader" S&P500 down 0.6% to 3215 points to crack its recent winning streak. The daily chart shows how price has pulled back to the lower edge of the trendline from the late June lows after recently making a new high. Momentum has rolled over but for now this key market remains in a short term swing move only, not a corrective phase – but watch this space: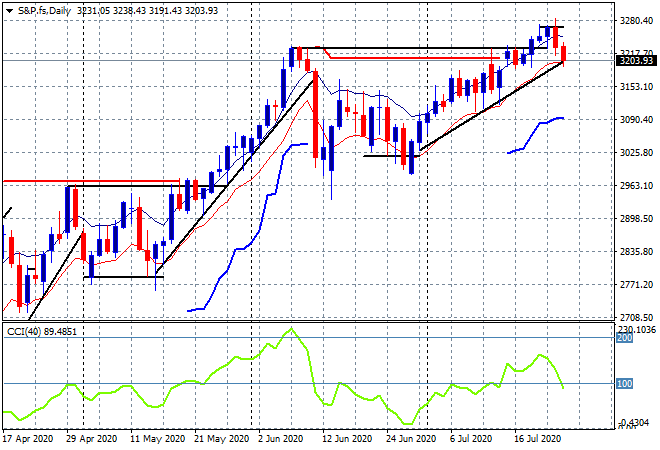 The real chart to watch remains the four hourly NASDAQ chart as price fell below key support at 10450 points and then barely came back on Friday night. How long can the five major tech stocks sustain this?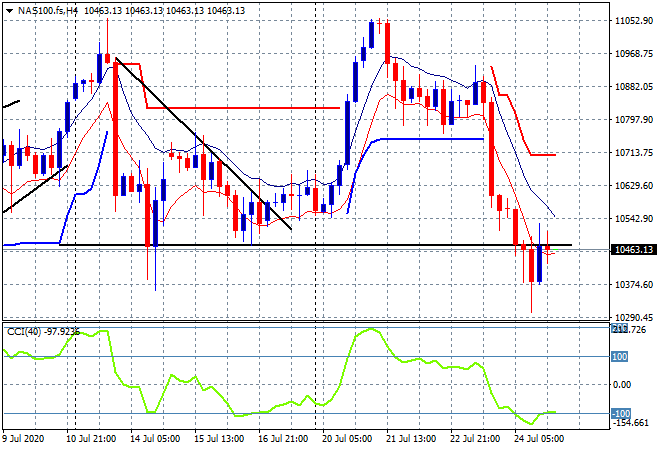 Currency markets remain volatile as the USD bears continue to win the day, with Euro closing well above the 1.16 handle on Friday night and not looking to stop anytime soon. This move highlights how being "overbought" or "oversold" sometimes doesn't matter for currencies as they can continue upwards or downwards as necessary. While momentum is slowing down, it still remains in very positive territory, so worse case for now is a small retracement back to the moving average band just above the 1.16 handle: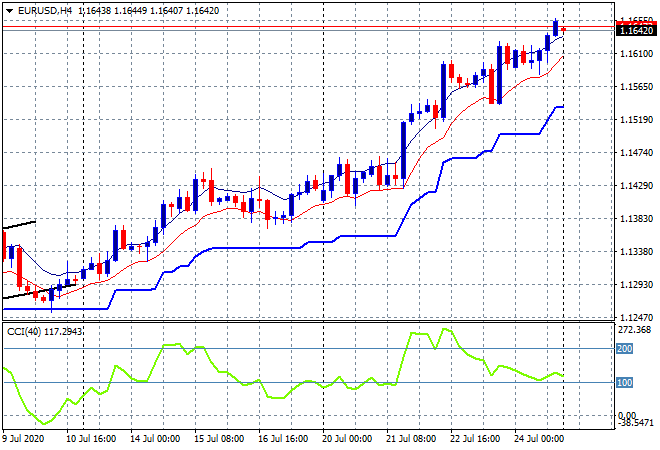 The USDJPY pair was crushed again, falling through the 106 handle after recently pushed well below the weekly lows at the 106.70 level. A late rebound should see it open this morning just on the 106 level but this may not hold as Japanese traders return to their desks after a very long weekend: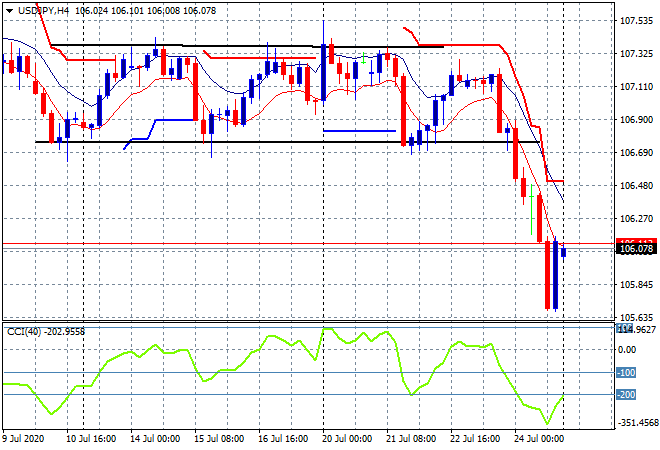 The Australian dollar had the quietest night as it continued to follow the risk off mood in stocks and risk assets, and slowed its mid week descent into the lower end of the 71 handle, with a brief look below, where its likely to open this morning. Four hourly ATR support at the 70.60 level is the area to watch this week combined with momentum for a potential move below: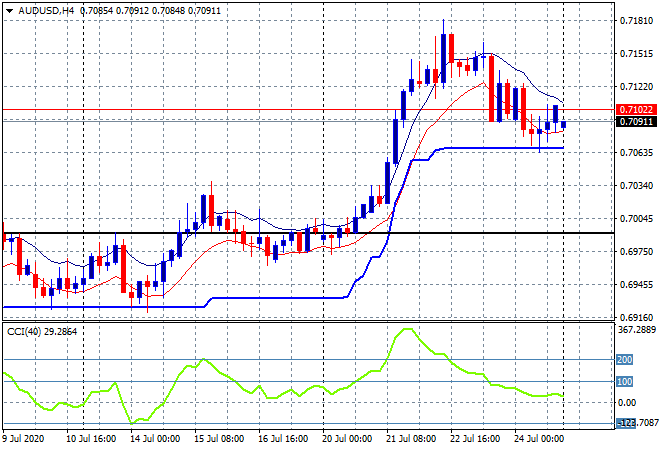 Oil futures were relatively stable given the lower USD with with the Brent marker still unable to get back near the $44USD per barrel level, closing the week out just below as price remains listless. Daily momentum had been pushed into the overbought mode and support has been very firm, but this is looking tiresome, so be prepared for a violent breakout either way soon: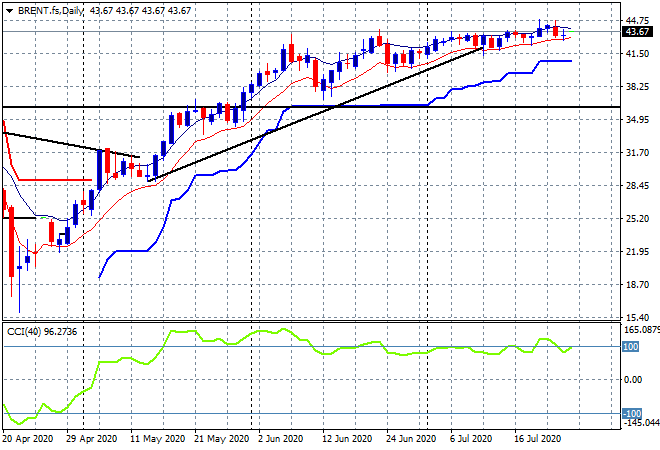 Gold – and silver – continue to make a new daily/weekly/monthly/yearly highs, with the former closing just above the $1900USD per ounce level in another very strong move on Friday night as it gets completely overblown! This keeps the shiny metal well past the 2011 closing high but not the intrasession record high at $1920 – but only just. Note how the daily sessions are reducing in relative size as momentum slows down, yet remains extremely overbought. I would not be surprised by a profit taking move sometime soon, which will surely be used to re-enter the uptrend:
Glossary of Acronyms and Technical Analysis Terms:
ATR: Average True Range – measures the degree of price volatility averaged over a time period
ATR Support/Resistance: a ratcheting mechanism that follows price below/above a trend, that if breached shows above average volatility
CCI:  Commodity Channel Index: a momentum reading that calculates current price away from the statistical mean or "typical" price to indicate overbought (far above the mean) or oversold (far below the mean)
Low/High Moving Average: rolling mean of prices in this case, the low and high for the day/hour which creates a band around the actual price movement
FOMC: Federal Open Market Committee, monthly meeting of Federal Reserve regarding monetary policy (setting interest rates)
BOJ/Abenomics: Bank of Japan, economic policy/direction enacted by PM Shinzo Abe
DOE: US Department of Energy  Uncle Point: or stop loss point, a level at which you've clearly been wrong on your position, so cry uncle and get out!
Latest posts by Chris Becker
(see all)