The lack of planning and foresight to cope with the immigration deluge into Australia's big cities never ceases to amaze.
In the 15 years to 2019, Melbourne's population ballooned by an insane 1.4 million people, representing a 39% increase: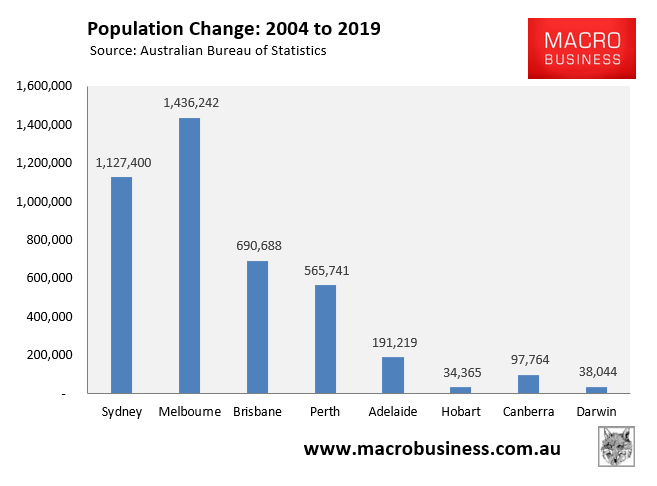 And the predictable result has been the crush-loading of all manner of economic and social infrastructure, from roads to public transport, to schools and hospitals.
Today, we have received yet another example of this madness, with schools in Melbourne's migrant-stuffed western suburbs bursting at the seams and unable to keep up with demand:
Schools in Melbourne's outer west are so full some students are being forced to travel for hours a day to classes suburbs away…

Wyndham Council mayor Josh Gilligan said the ratio of schools to children in the municipality's growth areas was half that of Melbourne overall.

"Wyndham people are not asking for special treatment," Cr Gilligan said.

"They just need a fair share to ensure their kids have a fair go in life.

"Compared to the rest of Melbourne, Wyndham has not been getting its fair share of schools."

Cr Gilligan said new schools were urgently needed in Tarneit, Truganina and Manor Lakes…

Wyndham schools are some of the most overcrowded in the state.

One primary school has eight prep classes and many schools have makeshift classrooms…

Wyndham is one of Australia's fastest growing municipalities and is expected to double in size by 2041, making it bigger than Canberra is today.
According to Peter Goss, School Education Program Director at the Grattan Institute, Victoria requires 220 new schools in the decade to 2026 merely to keep pace with projected student enrolments: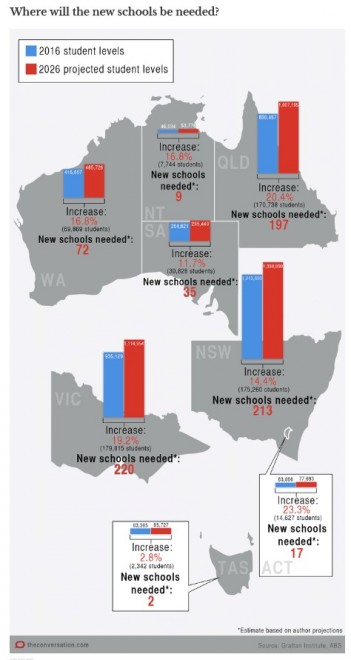 Good luck with that.
When I worked at the Victorian Treasury in 2006, the Government had recently released "Melbourne 2030", which projected that Melbourne's population would reach 5 million people by 2030. In 2010, the Government released "Melbourne Beyond 5 million", which projected that Melbourne would add one million people in 15 years and warned that the city was not ready for this growth.
As we know, Melbourne smashed those projections, hitting 5 million people in 2018, 12 years earlier than projected in Melbourne 2030, with the city's population swelling to 5.1 million as at 2019.
The crush-loading was projected to get worse according to Infrastructure Australia recent modelling. This predicted that traffic congestion, commute times, and access to jobs, schools, hospitals and green space would all materially worsen as Melbourne's population surges to a projected 7.3 million people by 2046: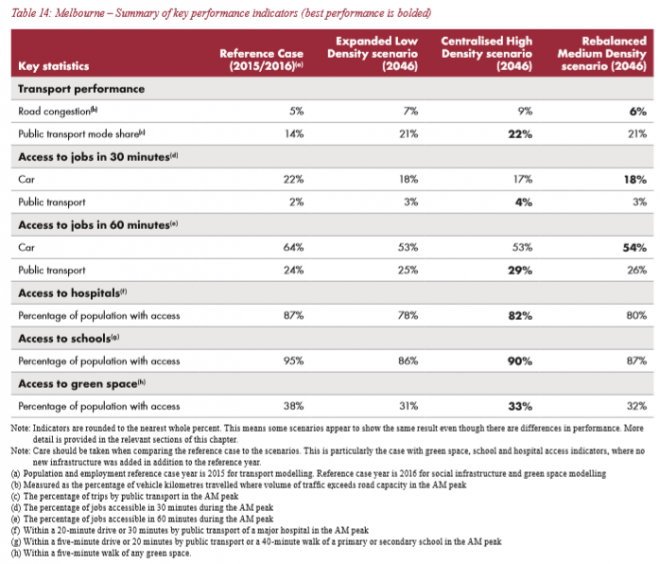 One of the biggest positives to arise from COVID-19 is that it will stifle immigration and population growth, in turn giving governments an opportunity to catch-up on infrastructure.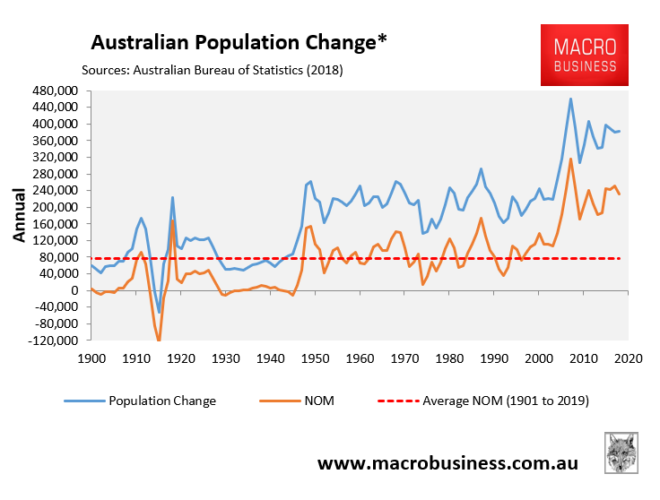 Let's hope immigration never returns to the crushing levels witnessed over the past 15 years.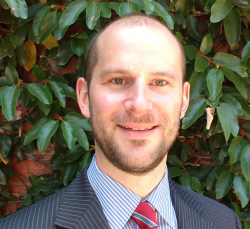 Latest posts by Leith van Onselen
(see all)