by Chris Becker
With yet another industrialised nation announcing a record government deficit (Canada this time with $300bn, close to our own $240bn), and central banks furiously papering up over massive cracks in the global economy in the wake of the coronavirus pandemic, it's no wonder that the Minsky Metal is on a tear, almost hitting $1800USD per ounce overnight: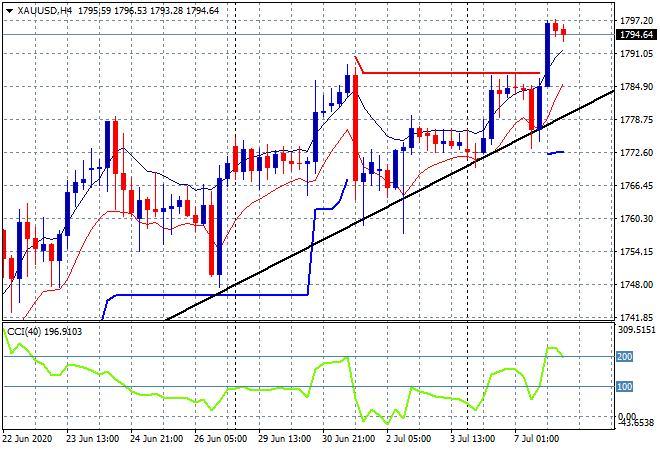 But like all short term moves, this needs to be placed in context, because gold is bearing (sic) down on a near decade high, after being in a bear market for half that time. The weekly chart (with 200 day moving average in pink, a good proxy showing the medium term trend direction) below shows how through the first half of the Trump administration it hovered just above its recent lows, and only really took off midway through last year, predating the pandemic: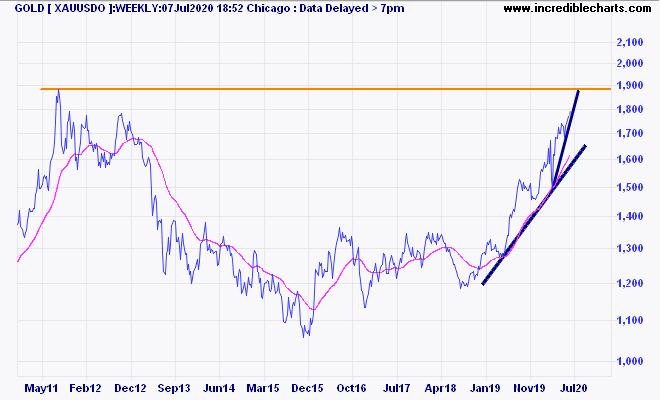 Indeed, the current trend (upper thick blue line) is in a near bubble like condition, particularly when you compare it in an analog fashion to the post GFC rally up to $1900 in 2011. So while current monetary and sentiment conditions are suggesting a return to the record and decade high, momentum is overbought considerably in the short term, requiring a pullback to ca. $1700 or so (the lower thick blue line).
Both for holders of the precious metal in AUD, its already in a bull market, having surpassed the record high in early 2019, past $1800AUD per ounce and now only off its recent record highs after the rally in AUD took some shine off. This may well be a good entry point as price is closer to the bull trend line (thick blue line):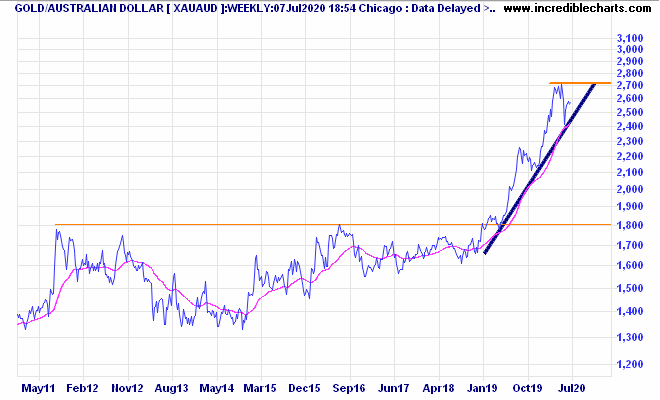 In the short term, gold price in AUD has retraced to its 200 day moving average (the light blue line below all price action) but momentum is picking up in the short term (CCI green below) with a breakout possible above $2600AUD: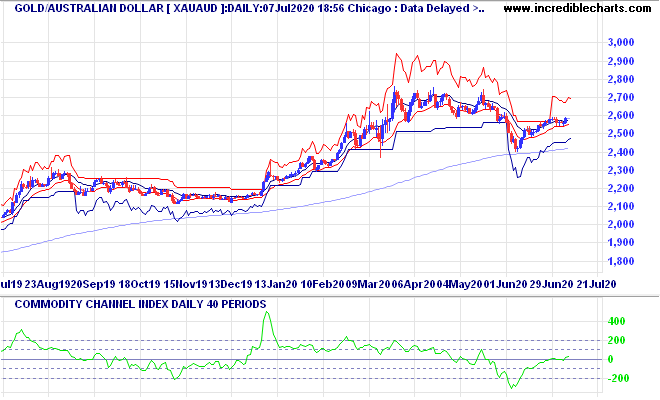 Notably, gold in AUD doesn't have the same correlation as its USD cousin during the pandemic, where it sometimes closely matched equity markets, so keep watching those catalysts around AUD and coronavirus, as the Minsky Metal continues to prove its worth as part of insurance in your portfolio.
Latest posts by Chris Becker
(see all)