The Morrison Government yesterday announced that it would extend the deadline for financially stressed households to withdraw $10,000 from their superannuation savings by three months to 31 December 2020:
Eligible citizens will now have until December 31, 2020, to make an application to withdraw up to $10,000 from their superannuation balance.

The announcement was part of the July Economic and Fiscal Outlook released on Thursday by Treasurer Josh Frydenberg…

"The government is extending the application period for the measure … to increase the scope for individuals who may still be financially impacted by coronavirus to access early release in the coming months," Treasury said.

"While superannuation helps people save for retirement, the government recognises that for those significantly financially affected by the coronavirus, accessing some of their superannuation today may outweigh the benefits of maintaining those savings until retirement."
As usual, industry superannuation funds are up in arms:
Super funds were caught off guard as Treasurer Josh Frydenberg on Thursday pushed out the closing date for access to the release of early super from September to end-December. While a $10,000 withdraw cap remains in place for this financial year, the extension would coincide with an expected peak in unemployment of 9.25 per cent which would see more members rush the scheme…

Hostplus chief executive David Elia warned of the impact of the super extension on member outcomes and investment in the economy, saying the need to hold more cash would limit the upside to returns…

Sunsuper chief investment officer Ian Patrick also flagged that pushing out the scheme would, to an extent, weigh on the fund's investment decisions, as he raised concerns about the possibility of a third tranche of early access…

Association of Superannuation Funds of Australia chief executive Martin Fahy expects up to $40bn by year's end.
According to APRA's latest weekly report, $25.3 billion has so far been withdrawn early from Australia's superannuation system, with industry super funds hardest hit: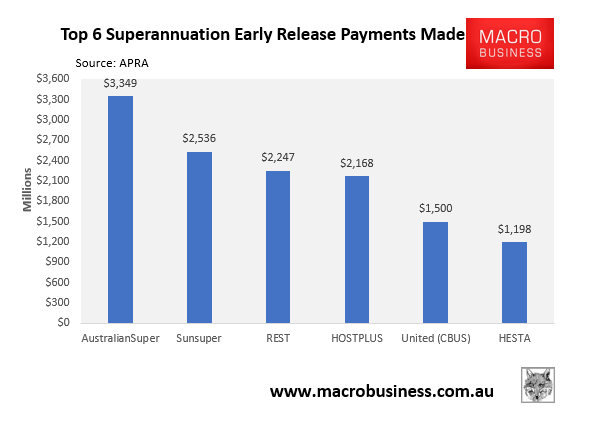 This helps to explain why industry funds like Hostplus and Sunsuper are so concerned.
That said, the forecast $40 billion of withdrawals needs to be put into perspective. This is a drop in the ocean relative to $2.5 trillion total superannuation pool as at end-March 2020: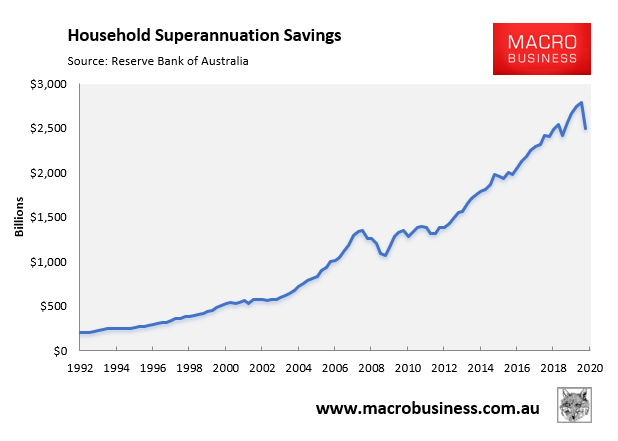 In other words, the superannuation industry should stop complaining.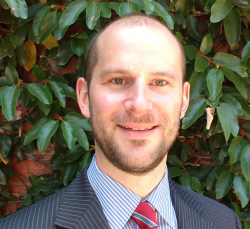 Latest posts by Unconventional Economist
(see all)