According to the latest mortgage deferral data from the Australian Bankers Association (ABA), repayments on nearly 500,000 mortgages have been deferred for six month, totaling $175.6 billion: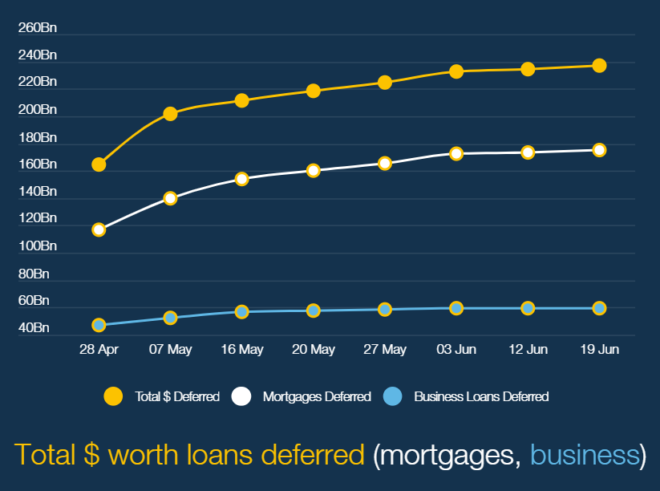 That equates to an average mortgage size of $350,000 that has had repayments deferred by Australia's banks.
On Tuesday, comparison site Mozo warned that many mortgage holders could be forced to sell their homes once mortgage repayment holidays and emergency income support ends:
Almost half of all homeowners (43 per cent) will struggle to meet their loan repayments after their JobKeeper payments end, according to Mozo.

And, with the Australian Banking Association reporting that $175.5 billion in loans has been paused due to Covid-19 hardship, that means the potential default figure could be up to a whopping $75 billion.

"As a nation of mortgage holders we look set to walk off a financial cliff when government and industry support programs end," Mozo spokesperson Tom Godfrey said.

"With many Australians finding themselves out of work and many more having to accept reduced hours, JobKeeper and the banks' mortgage holidays are critical in ensuring people can stay in their homes."

The research also found 53 per cent of mortgage holders were worried they could be forced to sell their home if they're unable to meet their repayments in six months.

What's more, 38 per cent of Aussies on JobKeeper said the payment wasn't enough to cover their current bills, let alone when the payments would end in September.

"It's clear the Federal Government's JobKeeper payments are proving a vital lifeline for many paying down their home loans. But when these payments end and the banks' eventually turn off the hardship support tap, the mortgage market could start to crumble," Godfrey said.
The situation has obviously worsened now that Melbourne has been placed into another hard lockdown. Many small businesses are unlikely to survive, leaving owners financially ruined and driving-up unemployment.
The ABA has at least provided a glimmer of home, offering eligible customers a four month extension on their mortgage repayment holidays:
Customers with reduced incomes and ongoing financial difficulty due to COVID-19 will be contacted as they approach the end of their deferral period, to ensure that wherever possible they can return to repayments through a restructure or variation to their loan.

If these arrangements are not in place at the end of a six month deferral, customers will be eligible for an extension of their deferral for up to four months…

A deferral extension of up to four months will not be automatic, it will be provided to those who genuinely need some extra time. Many customers may need less than four months to either restructure their loan or get back into full repayments.

Banks will work with customers to find the best options to restructure or vary their loan.
Alongside probable extensions to JobSeeker and JobKeeper, the day of reckoning for mortgage holders can be delayed, but it cannot be avoided altogether.
I am still expecting a wave of forced sales and mortgage defaults towards the end of the year as Australia's economic recovery falters.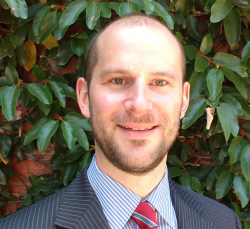 Latest posts by Leith van Onselen
(see all)