The Australian Treasury has released a new report claiming that the sharp rise in unemployment associated with COVID-19 may have long-lasting effects on Australia's youth:
This paper explores the effects of labour market conditions at graduation on an individual's work‑life over the following decade. Australians graduating into a state and year with a 5 percentage point higher youth unemployment rate can expect to earn roughly 8 per cent less in their first year of work and 3½ per cent less after five years, with the effect gradually fading to around zero ten years on…

Given their greater sensitivity to changing economic conditions (Figure 1), those graduating in a recession likely face worse career prospects in the near term. It is less clear whether this initial setback has lasting consequences, though there are a range of reasons to think that it might. For example, the human capital of recent graduates may depreciate if their skills become redundant or are lost while they are not being put to use in a well matched job. After an initial setback, climbing back up the career ladder will take time, and may be difficult if employers fail to recognise the role of bad luck in early career struggles. These initial setbacks may be particularly damaging given the critical role of the early phase of the career — with estimates that almost 80 per cent of lifetime wage increases occur within the first decade of an individual's career (Murphy and Welch 1990). Finally, there may be 'psychological' scarring with graduates adjusting down their aspirations when faced by a shock during a particularly formative period…


The aggregated data provides suggestive evidence for labour market scarring in the early years of an individual's career. In Figure 2 we show the mean earnings of graduation cohorts at various points in their working life, alongside the youth unemployment rate at the time of graduation. The three sharpest rises in youth unemployment rates — in the early 1990s, and early and late 2000s — all coincide with flat growth in subsequent earnings. This is most apparent in initial graduate earnings, but there are suggestive echoes in later years. In particular, earnings for these same cohorts in 2 and 4 years' time, indicated in the solid and dashed orange lines respectively, also appear to suffer relative to earlier cohorts…

Overall, a picture emerges whereby shocks that hit workers at the start of their careers are more important than those that hit later…
The Productivity Commission (PC) also released research this week showing that young people found it much harder to secure employment in occupations they aspired to in the decade after the GFC:
This paper investigates labour market scarring that might have occurred over the period 2008 to 2018 — specifically whether young people entering the labour market during and following the GFC had a harder transition into employment than those entering earlier, and whether that experience could have longer term impacts on the labour market outcomes for this cohort.

We show that from 2008 to 2018, young people had more difficulty getting jobs in the occupations they aspired to. And if they started in a less attractive occupation, it was even harder than before 2008 to climb the occupation ladder. This suggests that poor initial opportunities could have serious long-term consequences…

We find that the probability of employment for people aged 20-34 fell after 2008, but recovered by 2017 (figure 1). For people aged 35-64, the probability of employment stalled relative to the period of high growth before 2008, but recovered after 2015. (In contrast to younger people, there was no appreciable decline in their probability of employment.)…

However, the recovery appears to be driven by an increase in part-time employment. Full-time employment of people aged 20-34 fell between 2008 and 2014 and did not recover to 2008 levels (figure 2). Thus, if we think of part-time and full-time as crude measures of job quality, we see a decline in the quality of jobs for people aged 20-34.

Full-time employment has been in long-term decline since the 1980s for people aged 20-24, coinciding with them spending more time in education. That decline paused briefly during the boom (from 2001 to 2008). That said, the decline in full-time employment after 2008 occurred primarily for people aged 15-24 who were not studying (PC 2020), which suggests that it was driven by a weak labour market rather than by a preference for more education.

Wage rates after the GFC

Looking at young people's wage rates paints a bleaker picture…

This paper has shown that the weak labour market from 2008 to 2018 is reflected primarily in young workers finding lower-scored occupations and earning lower wage rates than earlier generations…

The data used pre-dates the COVID-19 recession, but the paper's findings are of heightened salience in our present circumstances. Many young people have experienced unemployment recently, and are likely to face a reduced set of job opportunities as a result of the recession. This scarring could last some time. Also, while some young people might choose to pursue further study, and return to the job market when conditions are more favourable, this paper suggests that, if labour markets continue to be weak, additional education can lead to a mismatch between existing job opportunities and aspirations…
As we know, Australia's youth have been hardest hit by the COVID-19 downturn.
Not only has youth unemployment spiked to around triple the rest of the labour market: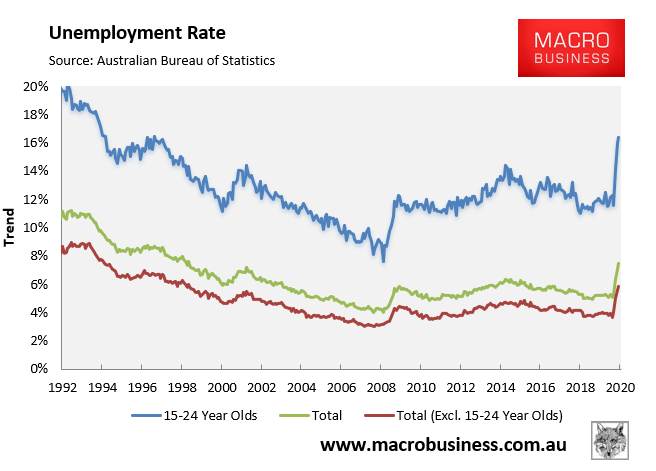 Australia's youth have lost jobs at roughly four times the rate of the rest of the labour market: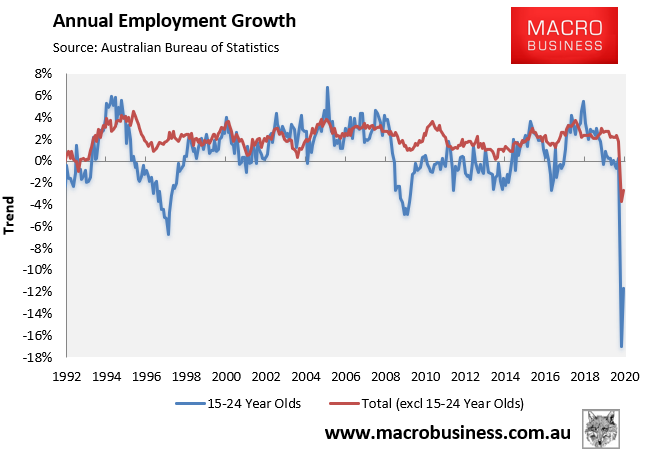 And youth underutilisation (i.e. unemployment and underemployment combined) is running at an unprecedented 36%: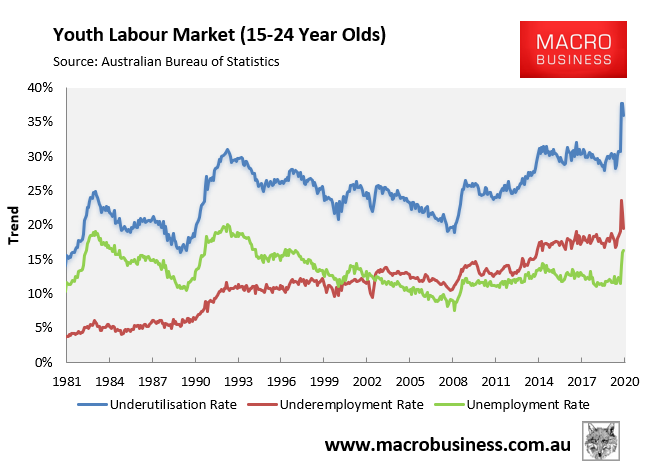 The job scaring mentioned above by the PC is also shown clearly in the table below, which compares youth labour market outcomes versus the rest of the Australian labour market since the GFC:

As you can see, total youth employment is down 10.0% since the GFC, with full-time jobs down a whopping 28.1%. This compares to jobs growth of 19.9% and 16.1% across the rest of the labour market.
What has already been a lost decade is turning into a lost generation.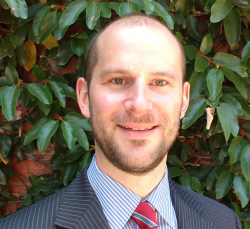 Latest posts by Unconventional Economist
(see all)