See the latest Australian dollar analysis here:
DXY was down last night:

The Australian dollar was firm:

As were EMs:

Gold was hit but held the break out line:

Oil was soft but has a decent looking chart:

Copper is off and running on falling inventories:

Miners were soft:

EM stocks popped:

With better junk:

Bonds were sold:

Stocks rose:

Wesptac has the wrap:
Event Wrap

The US Federal Reserve's FOMC minutes of the 9-10 meeting revealed a long discussion on policy tools, including forward guidance, asset purchases, and yield curve control (YCT). On the latter, "all participants agreed that it would be useful for the staff to conduct further analysis of the design and implementation of YCT policies as well as of their likely economic and financial effects." The Committee appeared to prefer forward guidance and large scale asset purchases.

US ADP employment slightly disappointed estimates of 2.9m with a reading of 2.4m in June, although gains were broad based, and May was revised substantially from -2.8m to +3.1m. June ISM manufacturing survey beat expectations, moving into expansion territory at 52.6 (a 14-month high, and vs est. 49.8, prior 43.8). New orders rebounded to 56.4 (from 31.8), and production surged to 57.3 (from 33.2), although employment remained low at 42.1 (32.1). Final Markit PMI remained below 50 at 49.8 (flash 49.6). May construction spending was soft at -2.1%m/m (est. +1.0%m/m, prior revised to -3.5%m/m from -2.9%m/m).

Eurozone final June PMI rose to 47.4 (flash 46.9, 39.4 in May). Markit refer to the improvement as a strong initial recovery in a more upbeat write-up than their prior reports. It still said that the level is indicative of a contraction in activity of some -2% (annualised) and cautions over the sustainability of the rebound.

German May retail sales posted a surprise surge of +13.9%m/m (ave. est. +3.5%m/m). May unemployment also rose less than expected by 69k to a rate of 6.4% (est. 120k to 6.5%, prior 6.3%).

Event Outlook

Australia: The trade balance for May is likely to post a sizeable surplus given softer demand for imports. Both Westpac and the market expect an increase to $9.0bn from $8.8bn in April.

Eurozone: The market expects the unemployment rate to rise to 7.7% in June. It would have been much higher in the absence of extensive government support to limit the brunt of COVID-19's impact (prior: 7.3%)

US: The April trade balance plunged to the lowest level in almost a decade, and May is expected to be weaker again (prior: -49.4bn, market f/c: -52bn). The market anticipates non-farm payrolls will see job gains accelerate from 2509k in May to 3090k in June. Westpac instead expects a rise of 2000k for the month. Both Westpac and the market expect the unemployment rate to fall to 12.5% in June (prior 13.3%), although participation poses a material risk in coming months. Economic slack will act as a material headwind for wages growth ahead, hourly earnings expected to fall 0.5% in June after May's -1.0%. The downtrend for initial and continuing jobless claims remains in place, though the recent flaring up of new cases and uncertainty around  local government finances raises considerable risks for coming weeks.
So, bonds sold on Fed caution around YCC. But that did not bother stocks.
European PMIs and the US ISM improved but they are directional not positional and output is still far down from 2019 levels. ADP employment was well below consensus and job gains were mostly in sectors now shutting down.  None of that bothered stocks.
Then there was Apple closing another 33 stores in US states and this, via Goldman:
States that have re-imposed stricter policy:

Florida: on-site alcohol sales prohibited at bars. Restaurants may continue in-person service.
Texas: restaurants must return to 50% occupancy limits, down from 75%. On-site alcohol sales prohibited at bars. Certain hospitals in large metro areas must postpone non-critical elective medical procedures. Further reopening plans placed on hold.
California: for 15 counties on the state's "monitoring list," on-site alcohol sales prohibited at bars. Restaurants may continue in-person service.
Arizona: the governor issued an executive order closing bars, gyms, movie theaters and water parks.

States that have postponed reopening plans or placed them on hold indefinitely:

Nevada, June 15: the governor said in a press conference the state is still "in the middle" of the pandemic and is not ready to move to its third phase.
Michigan, June 23: the governor announced the state would not move into its fifth phase, as expected, until new data show such a move is appropriate.
North Carolina, June 24: the governor announced the state will remain in its second phase of reopening for three more weeks and also imposed mask-wearing requirements.
Arkansas, June 25: the governor said in a press conference that the state is "on pause at two-thirds…until we feel comfortable [lifting] additional restrictions."
Delaware, June 25: the governor delayed the third phase of reopening, which was scheduled for June 29, and plans to reevaluate in the next few days.
Idaho, June 25: the governor announced the state had not met the necessary criteria to move forward to its next phase and will remain in its fourth phase and adopt a regional reopening approach.
Louisiana, June 25: the governor extended the state's second phase of reopening by four weeks, saying the data are "crystal clear" that the state is not ready to move forward.
New Mexico, June 25: the governor said in a press conference that the state will "pause a week or more" and that if new case counts increase further, the state may "slow reopenings, or worse."
New Jersey, June 29: the governor said in a press conference that the state will not move forward with reopening in-person dining this week because of worsening virus conditions in other states.
40% of the US is now back into lockdowns of various strength. The implications for the "recovery" and earnings are obvious. That did not bother stocks.
And so the Australian dollar rose: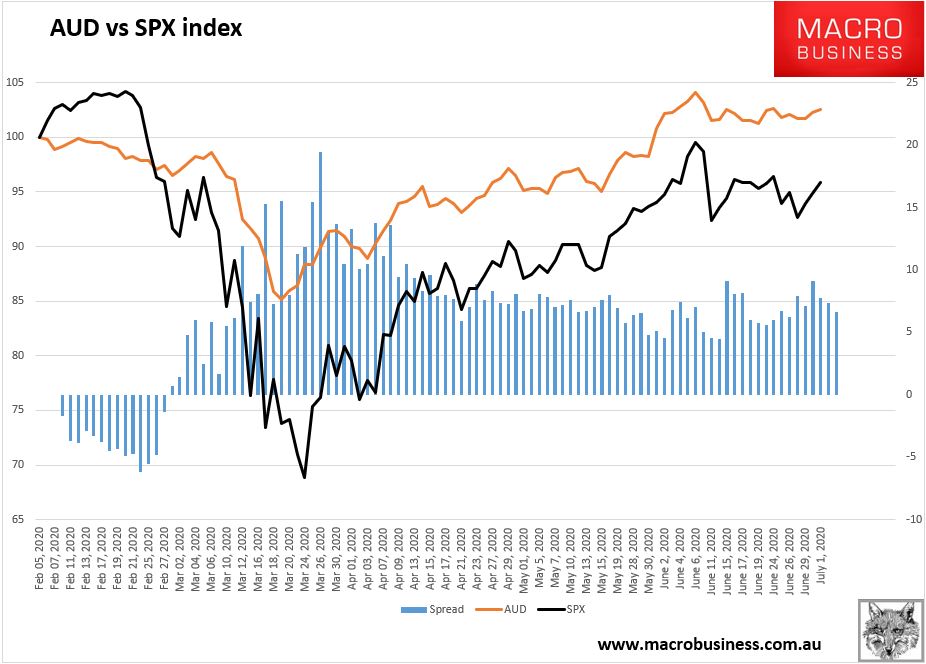 Don't look for rationality here.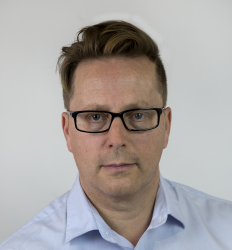 Latest posts by David Llewellyn-Smith
(see all)