Finance Brokers Association of Australia managing director, Peter White, has warned that Australia's property market faces a gigantic supply glut as the tapering of emergency income support and mortgage repayment holidays causes a wave of forced sales:
"The reality is that despite government assistance, some people may not see secure employment or their business recovering in the near future, and the recommencement of mortgage payments will be a burden they cannot bear"…

"There is no advantage in holding off and hoping, when we don't know what the market will likely be after the stimulus payments stop"…

"There may be a glut of property suddenly on the market."
Digital Finance Analytics' (DFA) latest mortgage stress data showed that 1.47 million owner occupied mortgage holders are experiencing financial stress, equating to 39.1% of borrowing households: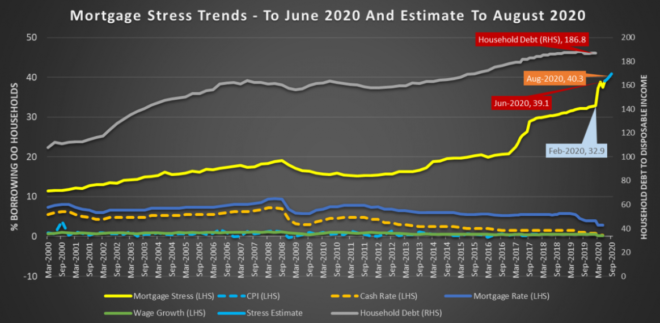 The situation is even worse for property investors, with more than half of those with a mortgage (51.3%) "underwater from a cash-flow perspective" and "caught in the financial crisis headlights", according to DFA.
In addition to potential forced sales, Australia's army of negatively geared property investors are also facing ballooning supply from the massive pipeline of apartments still under construction, especially across Sydney and Melbourne: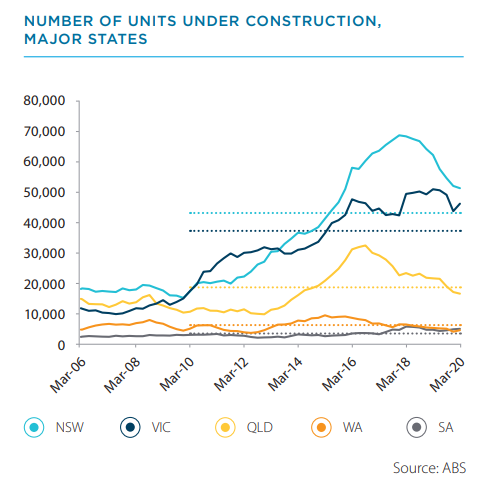 With immigration collapsing, vacancy rates swelled and rents sunk over the June quarter across investor hotspots such central Sydney and Melbourne, according to CoreLogic: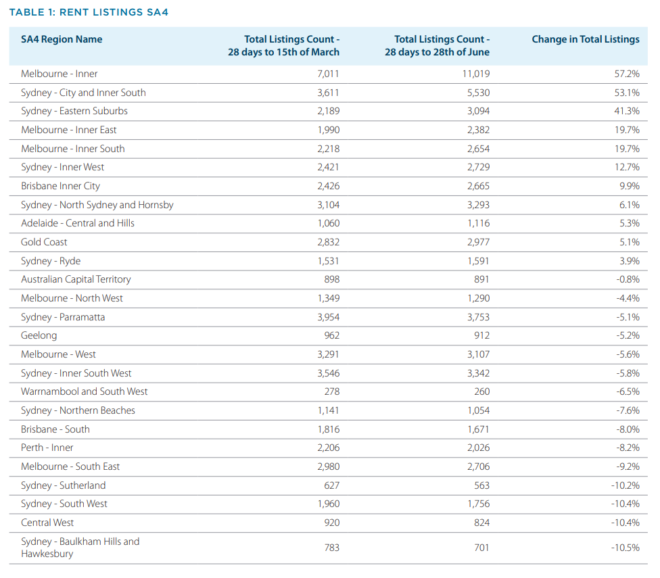 Dwelling prices are of course also falling, meaning property investors across Australia's two major cities are facing twin busts – falling income (rents) and falling equity (values).
Given Australia's international border is likely to remain closed for the foreseeable future, thus meaning minimal immigration, both prices and rents should also continue to fall.
How long will investors, many of whom are suffering from job/income losses, hold onto loss-making properties when the prospects for capital growth are so slim?
Australia's property market faces the prospect of a feedback loop developing as falling prices and rents causes stressed property investors to sell, in turn driving further price declines and forced sales.
Highly geared property investors in Sydney and Melbourne should consider selling before the market gets even worse.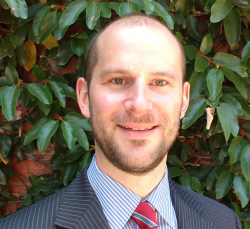 Latest posts by Unconventional Economist
(see all)