APRA have given another reprieve in the fight to stop Australian households defaulting on their mortgages with another payment holiday/restructure period extension, pushing out the fantasy of mortgage repayments for another four months:
The confirmation of the waiver follows the announcement that lenders will extend the repayment holidays of customers who have deferred home loans or business loans for up to another four months if they need it.

Australian Prudential Regulation Authority chairman Wayne Byres confirmed that deferred loans that are extended or restructured before March 31 would be regarded as "performing" for capital and regulatory reporting purposes in the announcement.

"These measures are designed to incentivise ADIs [authorised deposit-taking institutions] to continue to support their customers through an extended period of uncertainly, while at the same time facilitating the restructure of eligible loans in a measured and timely manner," Mr Byres said.

"The Australian banking system has the balance sheet strength to be able to provide ongoing support to customers temporarily impacted by COVID-19. This will help to avoid unnecessary hardship and foreclosures."
The regulator said it expects all lenders to put in place a "comprehensive plan" that demonstrates how they intend to work through the large number of deferred loans with a view to avoiding the operational bottlenecks that were evident during the first wave of deferrals.
UBS contend that its slightly more complicated than a blanket reprieve, with different reactions from the big four banks:
CBA described these extensions as being "more nuanced", with ANZ stating this will be on a case-by-case basis.
Currently around 10% of all Australian mortgages and 15% of business loans are on deferral.
While 'extending and pretending', moving to interest only or restructuring the loan may be in the best interest of the customer and the bank near term, we believe it is difficult to argue that any loan that has not met scheduled repayments for 10 months has not seen a Significant Increase in Credit Risk (SICR) and should be treated as a Non-Performing Loan.
We continue to believe the market will look through any reclassification to calculate 'Real NPL' and 'Real CET1' ratios.
Whereas Moody's Vice President, Daniel Yu, had the following to say about the announcement:
"APRA's extension of its relaxed capital treatment for loans with coronavirus-related repayment deferrals provides banks with greater flexibility to manage potential losses and continue supporting customers. At the same time, the action highlights the large number of borrowers that have been impacted by the current economic disruption, significantly raising risk for Australian banks' asset quality."
The financials exREIT Index (XXJ) fell over 1% on the announcement and keeps banks well under pressure following their slump in March: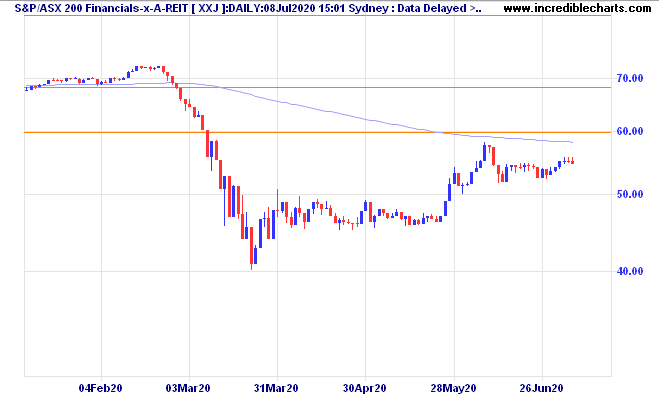 Latest posts by Chris Becker
(see all)