PwC partner Stephen Longley expects a surge in retail collapses once the federal government's JobKeeper wage subsidy scheme ends in late September.
Longley has been appointed administrator of retailer PAS Group, which went into voluntary administration on 29 May. Meanwhile, KPMG restructuring partner James Stewart forecasts the use of what he terms 'tactical' administrations, whereby the owner of a business has decided that it needs to be repaired and feels that restructuring it through the administration process is the best way to achieve this:
"I do think people will look at the administration process as a way of restructuring or just fixing the balance sheet," said PwC partner and PAS Group administrator Stephen Longley…

"Whether it be retail or industry generally a lot of organisations have gone into hibernation and it's been easier to go into hibernation than it will be to re-emerge after hibernation – the ramp-up period will be harder on cashflows," Mr Longley said…

Mr Stewart and Mr Longley said government support packages put in place during the pandemic, including JobKeeper wage subsidies, the six month moratorium on insolvent trading laws and the code of conduct for landlords and small and medium sized tenants had helped many retailers avoid collapse. Insolvency activity was currently at historically low levels, despite the prolonged retail malaise and the record drop in spending in April.

However, Mr Longley expects more retailers, particularly in the hospitality sector, to collapse after the JobKeeper package winds up in September, with activity likely to spike in November/December and remain elevated during calendar 2021 unless new stimulus measures are put in place…

"COVID is effectively turbocharging five years of disruption into three months," said Mr Stewart.
Retail's problems have been a long time in the making.
Australian households have received no real income gains for seven years: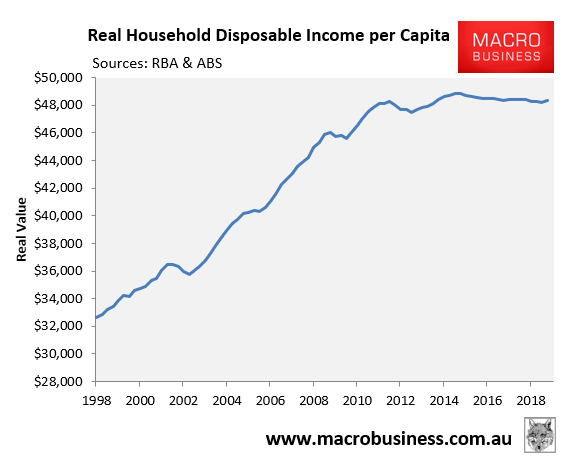 They are also carrying one of the highest debt loads in the world: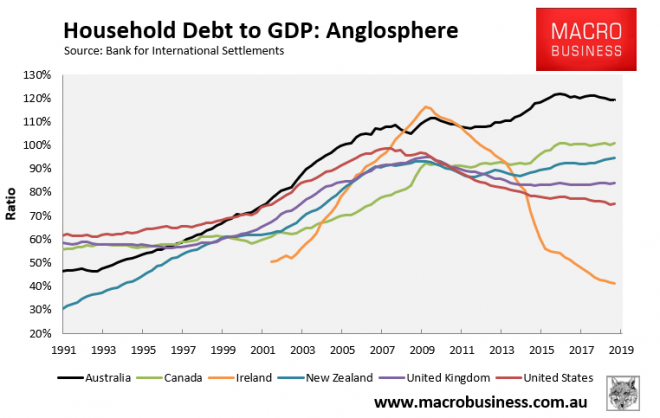 In the absence of income growth, alongside gargantuan household debt, there is little capacity for Australian households to continue increasing their spending, despite interest rate cuts, tax cuts, and rising house prices.
Instead, Australian households are dis-leveraging and paying-down debt: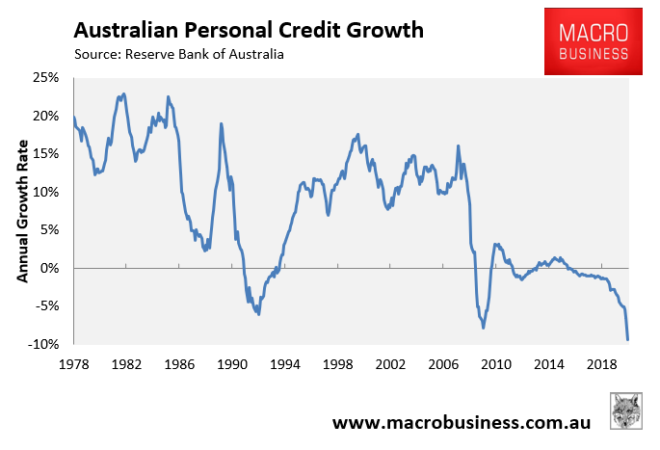 And mortgage equity injection is also around the highest in living memory: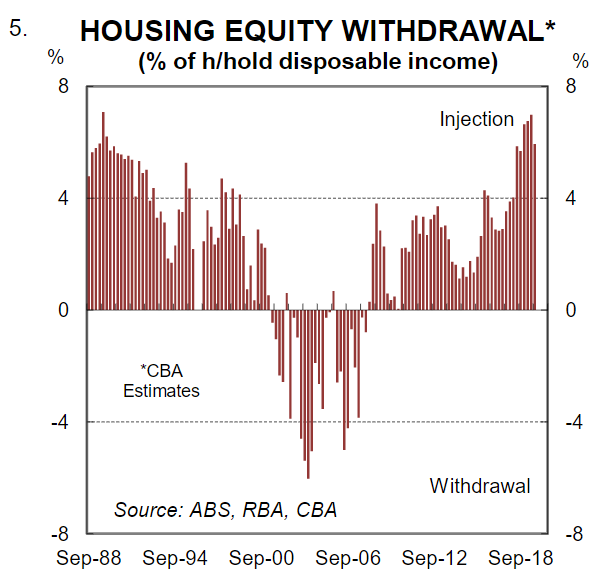 Adding to the malaise, consumers have also shifted their retail purchases away from bricks-and-mortar to online and digital platforms.
As James Stewart says above, COVID-19 has merely accentuated retail's demise by "effectively turbocharging five years of disruption into three months".
The changes are mostly structural and won't simply go away once lockdowns ease.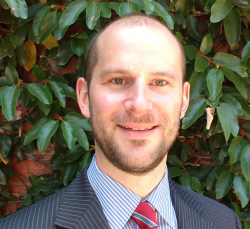 Latest posts by Leith van Onselen
(see all)