Transaction data released by illion and AlphaBeta indicates that low-income earners have been 'carrying the economy' during the COVID-19 pandemic.
Illion CEO Simon Bligh says low-income earners are continuing to outspend high-income earners in both essential and discretionary spending, showing that the federal government's stimulus packages have been successful in reducing the impact of the coronavirus.
However, Bligh warns that the nation will be "staring down the cliff face" when these packages end in September:
While high-income earners tightened their purse strings and "completely retreated" as the coronavirus swept through the country, people earning less than $65,000 a year did the opposite.

Immediately after the federal government's Coronavirus Supplement first hit bank accounts, low-income earners increased their discretionary spending by 10 per cent above normal levels.

Since then, they have continued to spend on discretionary goods and services at a rate 20 per cent higher than the baseline recorded on November 4.

Meanwhile, high-income earners – defined as those earning above $104,000 a year – reduced their discretionary spending by more than a third (36 per cent)…

Low-income earners have been carrying the Australian economy on their back since March," he said.

"They continue to outspend high-income earners across both discretionary and essential spending.

"When September hits, we will be staring down the cliff face. Mortgages will need to be repaid, those in hardship will clamp down on discretionary spending, having a significant impact on the economy"…

"Turning off the tap could leave many households struggling to pay their bills and many of the businesses in slow-to-recover sectors, such as tourism and hospitality, unable to survive," the report said.

It would also put a handbrake on the recovery as households anticipate the income shock by saving, and businesses try to minimise avoidable costs by holding back on employing workers."
This data highlights, yet again, why JobSeeker cannot be allowed to fall back to its pre-COVID level of $40 a day.
JobSeeker recipients would spend almost every dollar they receive. Thus, this form of income support would provide the greatest 'bang for the buck' of any form of economic stimulus.
Household consumption – the biggest driver of domestic demand (~55%) – had already cratered to recessionary levels before the COVID-19 shutdown: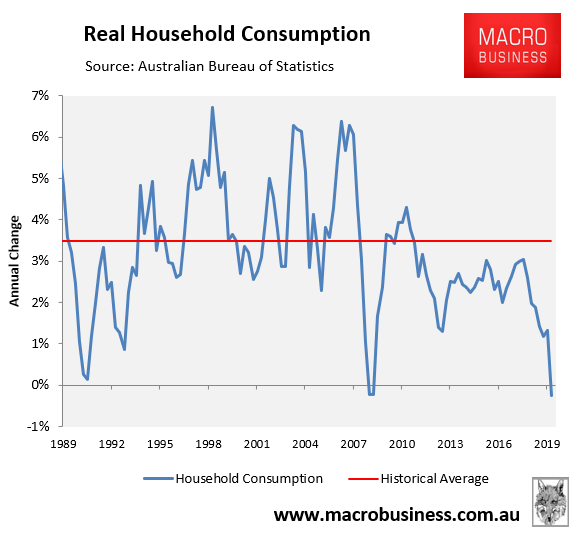 Therefore, household consumption would crash further if several million Australians were thrown into poverty surviving on $40 a day. This, in turn, could result in a long austerity-driven depression for the Australian economy.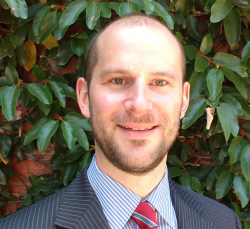 Latest posts by Unconventional Economist
(see all)