The Morrison Government's new homes and renovation subsidy will be named "HomeBuilder" and will given up to $25,000 to eligible households to build or substantially renovate their homes:
The scheme will give $25,000 grants to eligible homeowners, but recipients will need to spend at least $150,000 of their own money…

The grants will be means-tested to exclude couples making more than $200,000 per year and individuals making more than $125,000 per year, while limits will also be placed on the value of the property the grants go towards.

New builds will be capped at $750,000, while renovations can cost anywhere between $150,000 and $750,000, but will only be subsidised if the house being altered is valued at less than $1.5 million.

The scheme will not apply to investment properties or owners who intend on building or renovating on their own without the help of builders…

The Government has forecast the HomeBuilder program could cost up to $688 million, which would translate to about 27,500 people or couples successfully applying for the grants.
I believe this policy is a stupid idea and a waste of money. The funds would be far better spent on building public housing, given:
There is a massive homelessness problem in Australia; and
Stimulus would not be wasted on people that were going to buy a new home or renovate anyway.
Domain gives a nice example of my second concern while claiming that rumours of the grants have already ignited a "land frenzy":
Buyers eyeing off the federal government's multibillion-dollar construction package are already purchasing land in anticipation of receiving at least $20,000 assistance, industry pundits report…

Jamie Martin, sales manager at Providence South Ripley in south-east Queensland, said he had "never seen anything like it", as people lined up over the weekend to secure a block of land.

"We've seen visitor numbers double overnight and our traffic over the weekend tripled," he said.

"Buyers are wanting to get a foot on a block in anticipation of the announcement. People aren't sitting on their hands. It's a land frenzy."

For Alastair Hills and his wife Kimberley, they hope to qualify for a grant, having just signed on a house and land package at the Providence Estate just two weeks ago.

Mr Hills said having access to extra cash to start their build, if they qualified, would be extremely helpful…

Metricon Homes has seen a substantial boost in the number of inquiries, with chief executive Mario Biasin reporting record numbers.
As noted above, Alastair Hills and his wife Kimberley had already signed on to purchase a new home. Thus, if they receive the grant, it will have cost taxpayers without stimulating any new construction.
This is a key problem with HomeBuilder. According to the HIA's own forecasts, around 112,000 homes were to be built over the next financial year before the subsidy was announced: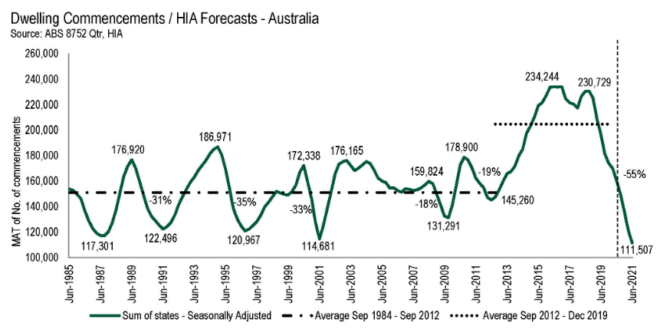 Therefore, a lot of money will be given to buyers that would have purchased a new home anyway.
By contrast, spending money on public housing provides far more back for the buck, as shown by SGS Economics modelling:
The federal government could save almost 20,000 jobs a year if it builds more social housing, new modelling suggests.

Constructing 30,000 social and affordable homes over the next four years would generate a steady pipeline of jobs for tradies that would otherwise run out of work.

These tradies would then buy their lunch from neighbouring cafes and shops, and create extra work for scaffolders, planners and surveyors.

This large 'economic multiplier effect' explains why committing to a pipeline of 30,000 social homes over the next four years would save between 15,540 and 18,050 jobs a year, according to SGS Economics and Planning…

Mr Rawnsley said the peak number of jobs saved would be in 2021-2022, which is "when we think the overall residential sector will fall off a cliff"…

"So getting 5000 to 10,000 social housing units under construction in that period will save, depending on how bad the economy gets, up to 30,000 jobs during that financial year."
The big winners from HomeBuilder are large developers, who will be able to inflate the cost of their house-and-land packages, while also clearing their inventory.
It's another wasteful policy aimed squarely at the Coalition's property industry mates.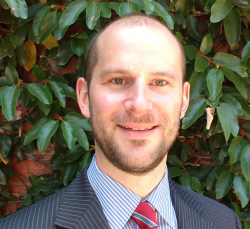 Latest posts by Leith van Onselen
(see all)