Yesterday's overseas arrivals and departures data from the ABS reported a record 99% monthly decline in overseas arrivals, with only 2,250 people arriving into Australia in April: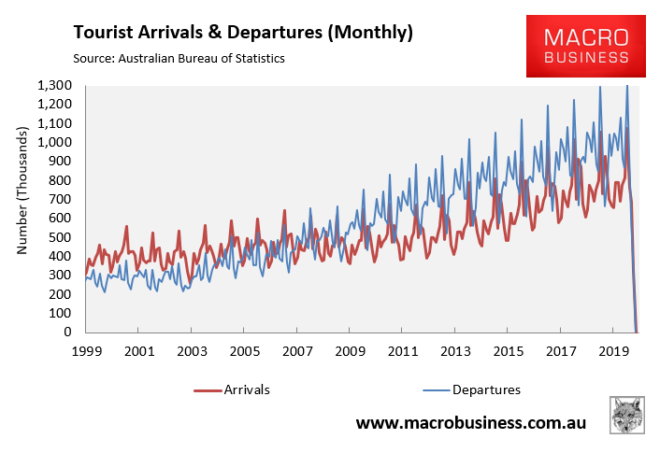 This has prompted Australian Tourism Export Council MD, Peter Shelley, to warn that Australia's export tourism industry is facing a "deep and protracted downturn" from COVID-19:
"This is the beginning of what will be a deep and protracted downturn for our export tourism industry and there is absolutely no end in sight," Australian Tourism Export Council Managing Director Peter Shelley said of the figures.

"COVID has simply decimated our $45 billion export tourism industry which now faces a very difficult future with many businesses unlikely to last the distance while there is so much uncertainty surrounding the reopening of international borders.

"The commercial challenge of meeting the costs of fixed overheads over 12 months without revenue will be a bridge too far for many" he said, reiterating the industry's desire to see an extension to JobKeeper beyond September.
I don't believe that the outlook is as dire as portrayed by Peter Shelley, given international departures also collapsed.
As shown in the above chart, international departures (primarily Australians holidaying overseas) generally outnumbers international arrivals (primarily foreign tourists holidaying in Australia). Therefore, while the international tourism market has dried up almost completely, this should be mostly offset by a big lift in domestic tourism.
Indeed, according to the above article:
In 2018-19, more than 10 million Australians took overseas trips, spending $65 billion.

The majority of these trips were for holiday purposes – 5.6 million trips, equivalent to $43.2 billion.
That's $43 billion that could potentially be tapped by domestic tourism operators, which largely offsets the $45 billion of lost tourism export earnings.
Of course, with the Australian economy experiencing a sharp deterioration in both unemployment and incomes, there is likely to be less spending on holidays anyway. But this is true also for other areas of the Australian economy, as it is for other nations, most of whom are experiencing even bigger economic downturns.
Rather than keeping JobKeeper, as advocated by Peter Shelley, the Morrison Government should simply permanently lift to JobSeeker. This would provide a universal safety net that catches all Australians, irrespective of what industry they work in.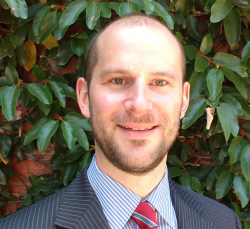 Latest posts by Leith van Onselen
(see all)