Deloitte Access Economics has forecast that the coronavirus pandemic will see the Australian retail sector's turnover fall by 1.4% in 2020.
Deloitte partner David Rumbens says the easing of lockdown restrictions has boosted retail spending in May and June, but he warns that this upturn may not be sustained. In particular, factors such as the looming withdrawal of stimulus measures such as the JobKeeper scheme may impact on discretionary spending later in the year:

"Australian retailers are facing the fight of their life in 2020″…  Hundreds of thousands have lost their jobs and "spending behaviour has been tipped on its head," according to Deloitte Access Economics partner David Rumbens…

"Overall we're probably going to see reasonable sales growth through May and June and into the next financial year."

But it might not last, he said.

"As we go on through the year, some of what's supporting that spending growth – JobKeeper, other government supports – as that starts to get pulled away, then we might start to see some of that discretionary spending also pull away," Mr Rumbens said.

"More worrying is the longer-term risk from weak population growth," he adds in the report.

"Migration has been an important support for retail spending over the past decade, but with borders closed there is potential for this tailwind for growth to turn into a headwind."
A 1.4% decline in retail turnover seems highly optimistic given turnover fell by 0.3% in the year to September 2019: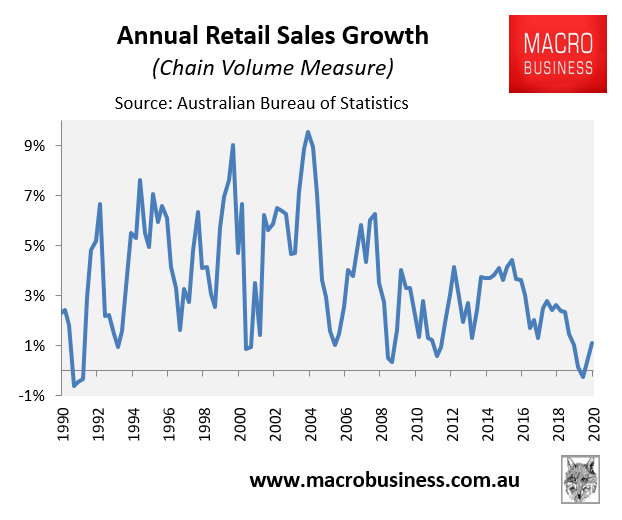 The economy is obviously far worse now and immigration – which typically adds around 1% to Australia's population growth – has plummeted to around zero.
2020 will be a retail apocalypse.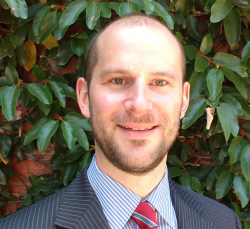 Latest posts by Leith van Onselen
(see all)