Following on from MB's preliminary report at the 5-City level, CoreLogic has released its full dwelling value results for May, which reports that Australian dwelling values declined by 0.4% over the month, with capital city dwelling values declining more sharply by 0.5%: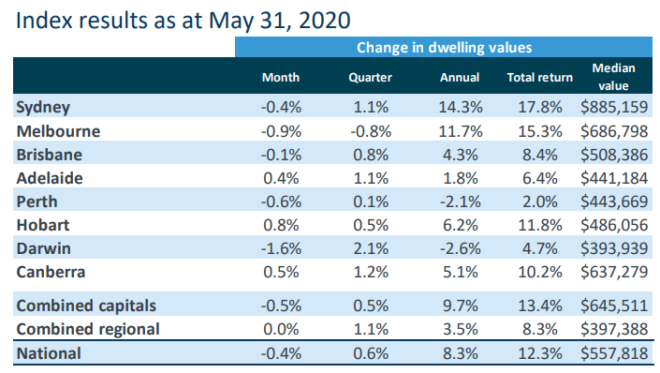 As shown above, the smaller capitals experienced mixed conditions in May, with rises in Hobart (+0.8%) and Canberra (+0.5%) offset by a big decline in Darwin (-1.6%). Values across Australia's regional areas were also flat.
According to CoreLogic, the decline in dwelling values was driven by the premium (top 25%) end of the market:
The most rapid decline in housing values is across the top quartile of the Melbourne and Sydney markets. Melbourne's most expensive quartile of the market recorded a 1.3% drop in values over the month, compared with a 0.6% fall across the broad 'middle' of the market and a 0.3% fall across the most affordable quartile. Similarly, in Sydney, the top quartile was down 0.6% while the lower quartile posted a 0.1% increase in values.

According to Mr Lawless, these were also the sectors of the market recording the most significant rise in values during the most recent growth phase. "Melbourne's top quartile values are still 13.9% higher than they were a year ago, while Sydney's top quartile is up 16.5% over the year."
Meanwhile, rents also declined over the past two months, which continues to weigh on yields:
The national rental index rose 0.2% over the month, following a 0.4% decline in April. The May rise was not enough to reverse a weakening trend, with every capital city except Perth recording a fall in rents over the past two months.

Unit markets are looking weaker than house markets over the past two months, with unit rents falling 0.8% since March across the combined capital cities while house rents were steady.

Inner city apartment rents are looking precarious due to an imbalance between demand and supply. "With a large amount of new inner city, high-rise apartment projects recently completed, and stalled migration and foreign student arrivals, inner city unit rents are likely to fall more substantially than other sectors of the market. The weakness in rental demand is likely to be compounded by significant job losses and income reductions across the hospitality, tourism and arts sectors, in which a larger portion of workers typically rent," said Mr Lawless…

According to Mr Lawless, there is a strong chance that rental rates will fall more than housing values, placing downwards pressure on rental yields. "The double whammy of higher supply and less rental demand, especially across unit markets, is likely to place further downwards pressure on yields. In Sydney gross rental yields are already around record lows and Melbourne isn't far behind."
Looking ahead, CoreLogic sees both upside and downside risks for the housing market:
Tim Lawless said, "While downside risk remains, the trajectory of the housing market is looking healthier than what we were expecting a bit over a month ago. The virus curve has been flattened more quickly and effectively than even the best case scenario forecasts, meaning some of the most restrictive policy settings have been either lifted or relaxed. Consumer spirits have lifted, vendors are starting to test the market and buyer numbers have risen."

In closing Mr Lawless said, the broad theme we are seeing in much of the housing data is a mixture of resilience and recovery. "Housing values have been remarkably resilient to date. If history is anything to go by, housing values have generally weathered periods of extreme uncertainty quite well, and the trend to date looks very similar. Although home values haven't materially fallen, buying and selling activity has been significantly impacted. In May, the sharp falls in both listing numbers and buyer activity are starting to reverse in line with improving consumer sentiment."

While the immediate indicators are showing resilience or improvements, the longer term view of housing market conditions is much less certain. "Once stimulus measures start to taper and repayment holidays expire, this is where we could see a rise in mortgage arrears, and the potential for a lift in distressed sales.

Despite the recent recovery in certain indicators from very low levels, it is hard to ignore job losses of almost 600,000 across the economy over April. With the cash rate at its effective lower bound, improved employment conditions will be a factor in steadying purchasing capacity for housing, and the servicing of mortgage debt". Mr Lawless said.

Central to the outlook for distressed sales will be what shape the Australian economy is in late this year. Encouragingly, the RBA governor recently noted in his evidence to the Senate Select Committee on COVID-19, that the economic downturn may not be as severe as earlier thought, with the current economic trajectory somewhere between the RBA's best case and base case scenarios.
That's a fair assessment. The outcome will depend largely on how the economy rebounds as it opens back up.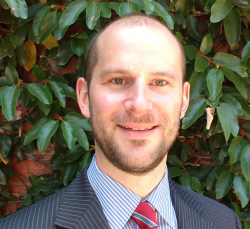 Latest posts by Leith van Onselen
(see all)