Just like the old housing bubble, via Bloomie:
China's property market is shaking off the coronavirus effects as a gradual economic rebound and the further relaxing of centuries-old permits boost demand beyond the major hubs of Beijing and Shanghai.

…The fragility of China's economic recovery from the outbreak and sky-high home prices haven't shaken investors' long-standing belief that real estate is a safe bet. Even as consumer demand and private-sector investment in the world's second-biggest economy remain weak, property prices rose in May at the fastest pace in seven months.

…In China, some of most frenetic buying has been in a few of the country's booming regional centers in the east and south. Blame it on the "hukou."

This passport-style system of regional permits dating from the 11th century is intended to limit migration by restricting employment and home buying to local residents. Yet several city governments further relaxed residency requirements in response to the virus, boosting migration and real estate demand.

Right after the March reopening, the eastern city of Suzhou reduced tax-paying thresholds for hukou. Non-residents now only need to pay tax for six months to obtain residential status, a quarter of the previous time. Jinan, the provincial capital in northeastern Shandong, wiped out almost all hurdles for hukou in early June.

"The biggest cities are lowering their bars for admission of talent, which together with the natural draw of such cities is set to boost their housing demand," according to a report by Bloomberg Intelligence analysts Kristy Hung and Patrick Wong.

The dizzying migration to these regional hubs is showing little signs of easing. Hangzhou, a city of 10 million people where Alibaba Group Holding Ltd. is based, added 554,000 residents last year, 10 times the population growth in China's biggest city of Shanghai.

These measures, which Nomura Holdings Inc. calls "stealth easing" for the property market, have stoked confidence for developers. Armed with cheaper funds, builders have been snapping up land plots, breaking price records in cities like Shanghai, Guangzhou and Shenzhen since February.
Blah, blah. Let's not try to spin this as new. Like all previous cycles, it's the stimulus of last resort: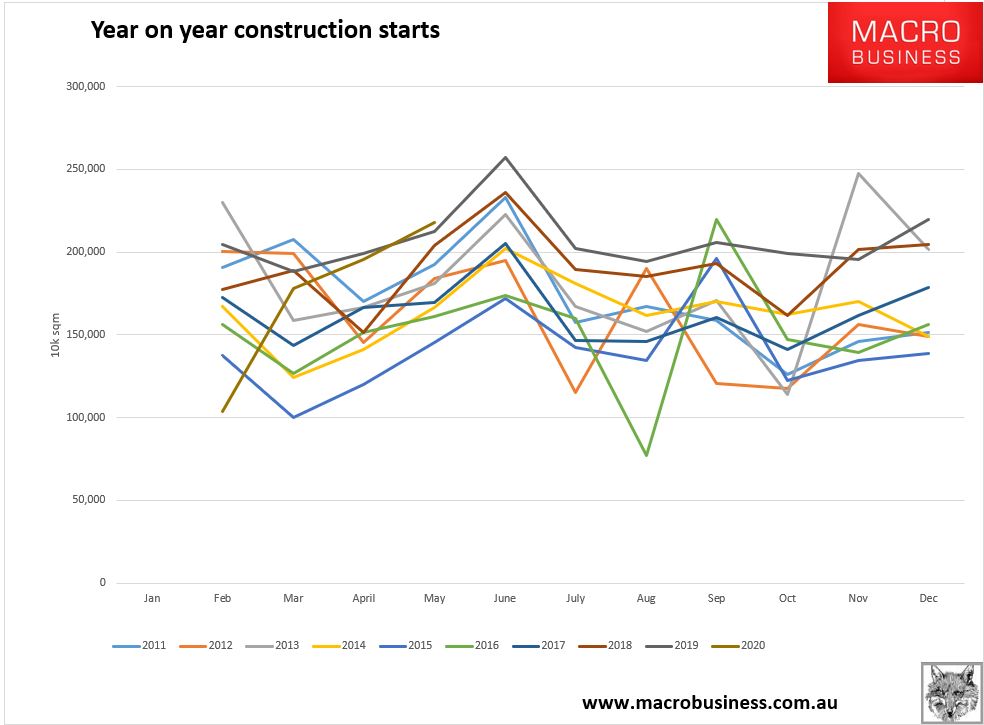 Leading to preposterous misallocation of resources: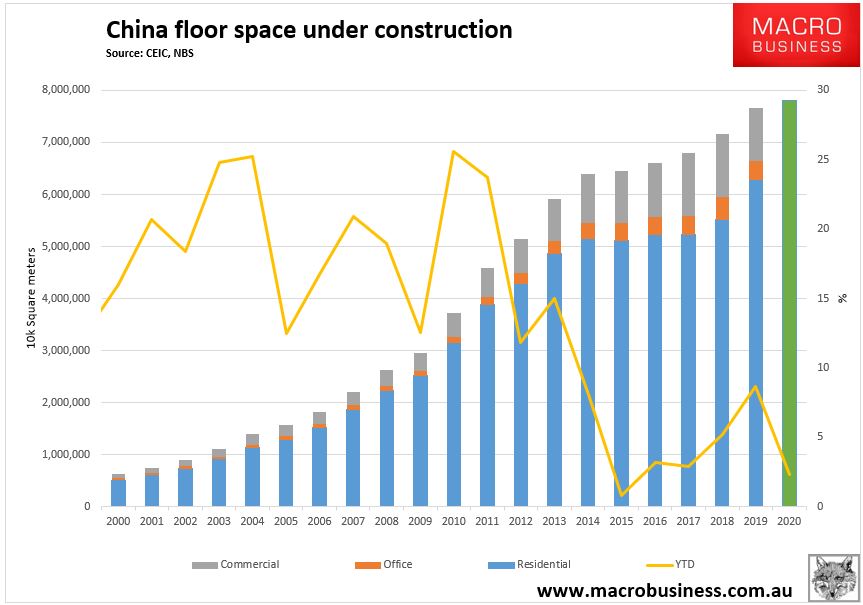 The contribution to growth is immense:

Even though urbanisation is already slowing and 70m empty apartments pretty much covers the rest:

And so, we see another round of Chinese unbalancing good for Aussie iron ore.
Until it isn't through the 2020s.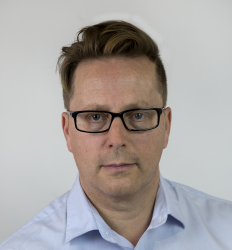 Latest posts by Houses and Holes
(see all)