Data from Canstar shows that Australian banks reduced the interest rates on a range of savings accounts and term deposits by up to 75 basis points in May, sending them to near zero:
Retirees and savers are wearing the costs of a home loan price war…

Canstar financial services executive Steve Mickenbecker attributed the race to the bottom on rates to two key factors.

Mr Mickenbecker said the major banks have been forced to respond to cut-throat competition in the home loan market…

As a result, this forces lenders to cut deposit and savings rates to maintain their net interest margin…

"It's great news if you're a borrower, not such great news if you're a depositor," Mr Mickenbecker told The New Daily…

Data from financial regulator APRA shows Australians plunged more than $15 billion into their accounts in April, coinciding with more than $14 billion in withdrawals under the early super access scheme…

"The [banks'] demand for deposits is lessened, so therefore it's very hard to get a decent rate of return on whatever savings you have," Ms Tindall said…

Mr Mickenbecker believes rates across the board will soon – if they haven't already – "bottom out", as banks face little external pressure to make further cuts.
The below charts, which uses aggregate deposit data from the RBA, illustrates the situation: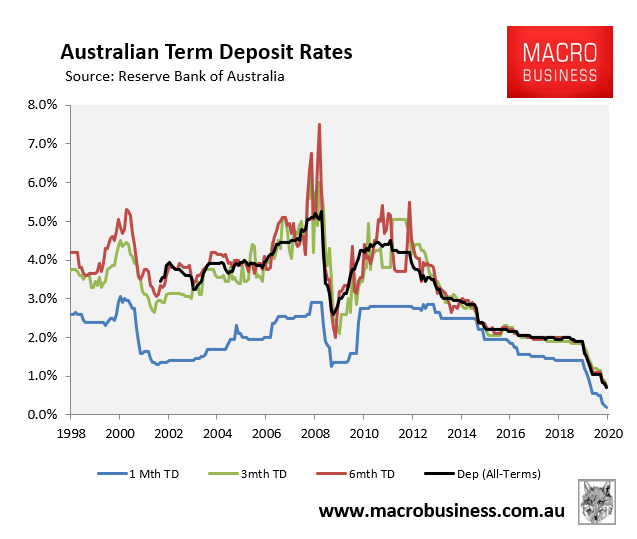 The problem facing the RBA is that monetary policy becomes ineffective when bank deposit rates hit their lower bound. While the RBA can theoretically cut the cash rate another 0.25%, the banks cannot cut deposit rates much further without compressing their net interest margins (i.e. the spread between deposit and lending rates).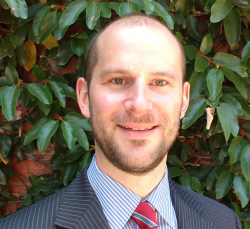 Latest posts by Leith van Onselen
(see all)