The Australian Bankers Association (ABA) has updated its loan deferral data to 19 June, which reveals that 779,458 loans have been deferred across Australia, including 485,063 mortgages: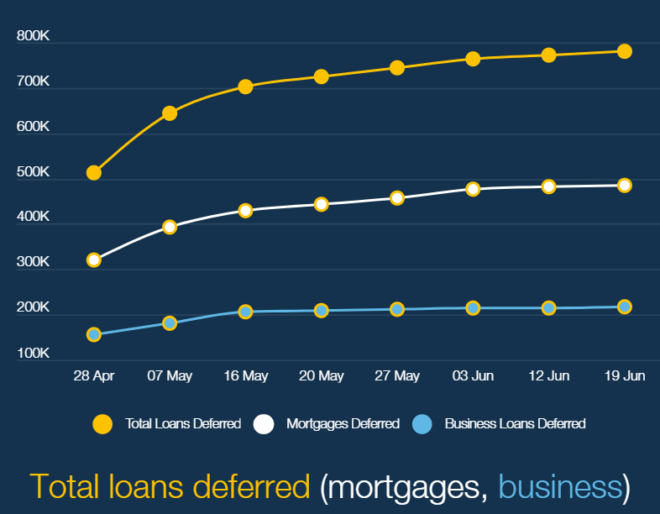 In value terms, $236.7 billion of total loans have been deferred, including $175.6 billion of mortgages: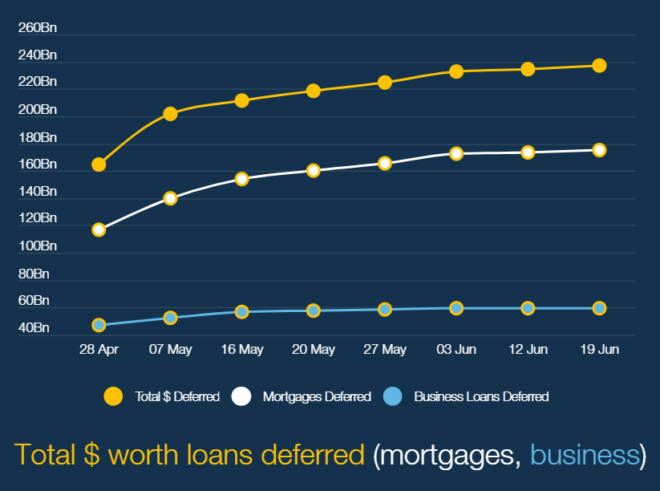 According to the ABA, one in fourteen mortgages are currently being deferred by Australia's lenders for up to six months.
The huge number of loan deferrals continues to raise concern that Australia faces a repayment cliff once the grace period is over:
Australia's banks have given six months' grace to thousands of customers… The big question now is what happens when the scheme runs out in September – because it is clear that the economic slump induced by the crisis has some way to run…

The looming economic cliff edge is causing alarm throughout the country, including at Sydney's Martin Place, where the Reserve Bank's experts have been preparing for the worst…

"The bigger issue is what happens at the end of the six-month pause if someone still can't make their mortgage repayments. The clock is ticking for these customers who haven't been able to regain employment and probably feel like they're on borrowed time" [ RateCity research director Sally Tindall said]…

In addition, mortgage stress is on the rise, with 37.5% of homeowners under pressure as opposed to 32% before the crisis, according to research by Martin North at Digital Finance Analytics…
This could also coincide with the withdrawal of emergency income support like JobKeeper and JobSeeker, in the event that the Morrison Government sticks to the legislated late September expiry date.
A loan repayment cliff coinciding with a welfare cliff is obviously a scary prospect for both the Australian economy and the property market, which are currently existing in an artificial bubble.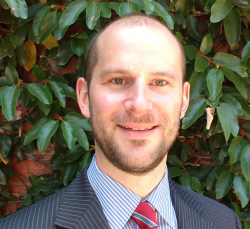 Latest posts by Leith van Onselen
(see all)