See the latest Australian dollar analysis here:
DXY was down overnight as EUR surges:

The Australian dollar is wow:

Goldis still poised but can't break through:

Oil to the moon:

Even first managed a puff of dust:

Miners going vertical:

EM stocks vertical:

Junk vertical:

Bonds were soft:

Stocks vertical:

The AUD is now making stocks look pedestrian: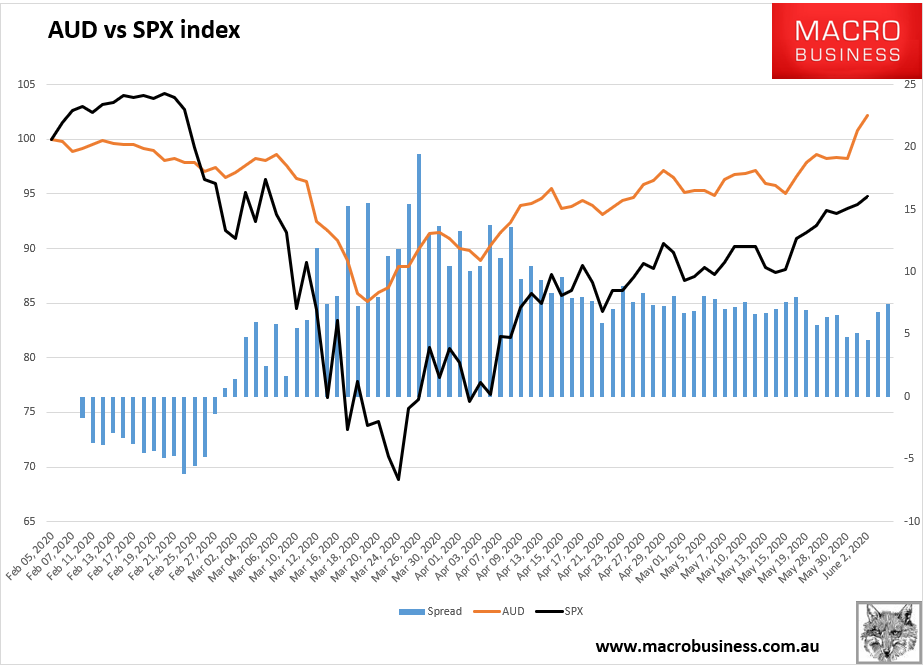 Westpac has the wrap:
Event Wrap

Germany's coalition continue to debate a major stimulus package slated for early June with media suggesting in excess of EUR100bn of increases to household payouts, wage support and regional and business support.

UK April private credit fell to a record low -GBP7.4bn, below the average estimate of -GBP4.9bn, reflecting a sharp slide in mortgage approvals (from 56k on March to 15.8k in April) as well as consumer credit contraction. Household deposits rose sharply (+GBP16bn) in April, indicating greater savings propensity during the pandemic. Key will be whether this will fuel a lift in consumer demand as lockdown easing continues.

UK-EU post-Brexit negotiations resumed today, but the level of divergences in views and stances still appear too great to overcome by the scheduled end of discussion on Friday. However, there does seem to be an air of potential compromise from early media reports.
Although the EC Summit on 18-19th June was scheduled to address the progress towards a potential end of the current transition period, the heavy agenda now facing the Summit would suggest that there may be another Summit post the UK PM Johnson's consultations with EC President von der Leyen later this month.

Event Outlook

Australia: The Q1 national accounts will be released. The opening quarter of 2020 was a tumultuous one – social distancing guidelines and travel restrictions disrupted activity, and business surveys reported a sharp drop in conditions over March. Westpac is forecasting GDP to contract by 0.4% in the quarter, leaving it just 1.3% higher than a year ago. Dwelling approvals are also out. Although approvals held up in March, this will not be the case in April. The lockdown, combined with an unwinding of the recent high-rise spike, could see an extremely sharp fall. Westpac is looking for a print of -15.0%. The May AiG PCI (construction) index fell 16.3pts in April, led by apartments and commercial building. At 11:10 AEST, RBA Assistant Governor (Financial System) Bullock will speak on the evolution of banking and payments.

Asia: May Nikkei service PMIs will be released for Japan, Hong Kong, Singapore and India. China's Caixin PMI is also out.

Euro Area: The April PPI is set for another contraction (market f/c -1.8%) which would drag the annual pace down to an estimated -4.2%yr. Alongside this, the unemployment rate for the bloc is expected to jump to 8.2%, with a further deterioration to follow in coming months.

US: Westpac anticipates that the ADP employment change will show 8000k jobs were lost over May. Factory orders (market f/c -13.4%) and durable goods orders (final, market f/c -17.2%) should confirm that investment and related orders cratered in April. Finally, the May ISM non-manufacturing survey is expected to reveal a modest recovery to 44.4.
This is not the post-GFC environment relived. It is something else altogether. It is pure bullish hysteria, printed up and distributed by monetary and fiscal authorities everywhere. Greed unleashed upon nothing. A fakeflation disconnected from all sense and sensibility.
Sit back and admire the sheer folly of it. The global recovery is worse than garbage. It's non-existent. The v-shape is dead. We're looking into an interminable climb out of the abyss lumbered by permanent, structural damage to demand, including Australia, plus a shunting shock to supply as China exits global supply chains.
Unemployment is huge. The violence of it is exploding. Earnings are headed to the gallows through 2021.
But, like the cleverly constructed mind-trap of faith and Christianity, the more doubts you have, the more virtuous belief becomes. Faith is its own reward. Problems equal stimulus. Accidents equal more money. Crises equal new sources of largesse.
Monetary and fiscal authorities, the high priests of fakeflation, are conducting a Jedi-like chorus of mass greed mind-control.
It is going to blow-off and blow up, Australian dollar included.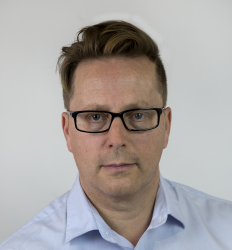 Latest posts by David Llewellyn-Smith
(see all)