The 'Big Australia' lobby continues to hit back at Kristina Keneally's call to lower immigration post COVID-19, which has run at extraordinary levels since the mid-2000s: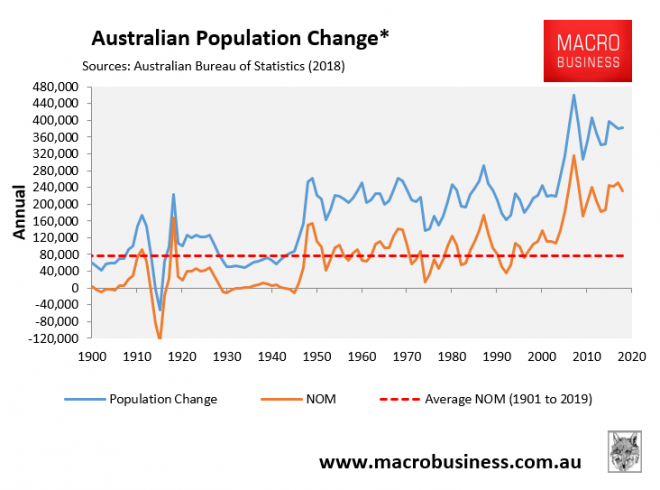 Over the weekend, The Age's View called for a lift in permanent migration post COVID-19:
About half of our permanent visas go to temporary visa holders who want to stay here and contribute. Yet we have made it harder for them to do that…

The government must provide greater support to those on temporary visas. We cannot turn our back on them. But we must also reconsider the temporary skilled worker visa scheme, particularly when it does not lead to permanent residency. It creates a situation that is unfair – for the sum of us.
Federal Labor backbencher, Julian Hill, also called for a "kickstart" to immigration via a lift in the permanent migrant intake:
Julian Hill – who sits on the Parliament's Joint Standing Committee on Migration… said that far from cutting the flow of permanent migrants, "Australia will continue to need permanent migrants to build a life here, helping to boost demand and pay down Australia's post-COVID debt", as well as slow down the ageing of the population…
Whereas former ANU economics professor, Andrew Leigh, demanded a "strong immigration program" to protect the rent-seeking university sector:
"If we want a strong higher education sector, a strong immigration program is essential," he said.

"Turning off the migration tap is not just disastrous for the finances of universities but also for their academic mission. We need to be open to migration."
While Australia's net overseas migration (NOM) has recently been driven by the strong increase in the stock of temporary migrants: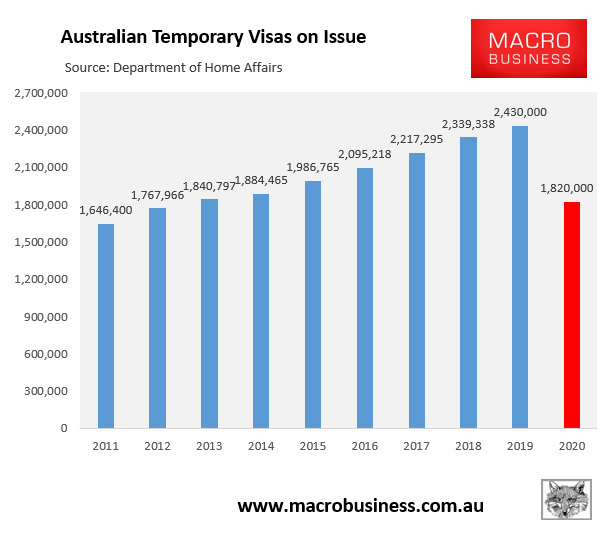 Over the long-term, Australia's population growth is driven overwhelmingly by permanent migration.
To illustrate why, consider the 2016 Census. This revealed that Australia's population increased by a whopping 1.9 million people (+8.8%) in the five years to 2016, driven by a 1.3 million increase in people born overseas (i.e. new migrants):

Over the same period, the stock of temporary migrants increased by a relatively modest 448,818 people. The rest (850,000) were permanent migrants.
Moreover, temporary residents are by definition temporary. Therefore, unless they can convert to permanent residency, they will have to leave eventually.
Thus, it is the permanent migrant intake that is the key driver of Australia's population growth since this is what grows the population base over time both directly, as well as indirectly as these new Australian permanent residents have children (counted as 'natural increase').
To really hammer the point home, let's conduct a quick thought experiment. If Australia theoretically slashed the permanent migrant intake to zero, there would be three broad impacts on population growth:
It would reduce the flow of temporary migrants, since many migrants enter Australia on temporary visas first hoping to transition to one of the many permanent non-humanitarian visas handed out each year (capped at 160,000). Eliminating permanent visas eliminates the probability of gaining permanent residency and, therefore, the incentive to come to Australia in the first place.
The temporary migrants that cannot transition to permanent residency because the permanent intake has closed would have to leave Australia, thus significantly lowering net overseas migration (NOM) and population growth.
Fewer permanent residencies means less migrants having children, thereby reducing natural increase as well.
In short, if the permanent migrant intake was hypothetically reduced to zero, then temporary migrants would have to leave, inflows would roughly match outflows (over the longer-term), and NOM and by extension Australia's population would barely increase: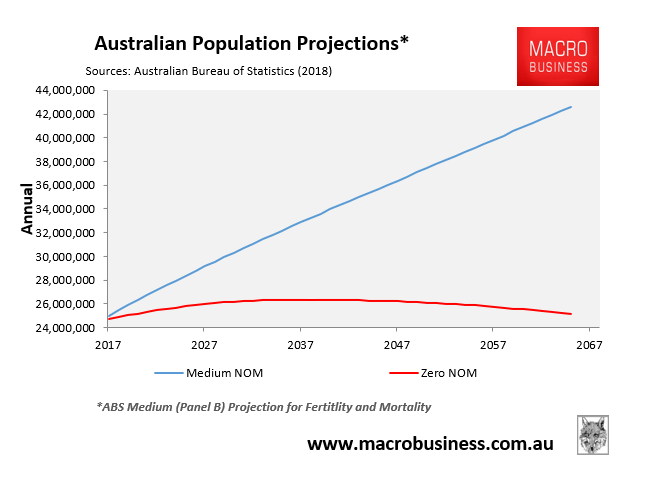 Andrew Leigh's claim that "a strong immigration program is essential" to bolster university finances is tacit acknowledgement of these facts. If the carrot of permanent residency was removed, international student temporary visas numbers would collapse since there would be no longer be any incentive to study in Australia.
Thus, while slashing temporary migrant numbers is vital, we cannot lose sight of the fact that permanent migration numbers must also be slashed, since they are the primary driver of Australia's unsustainable population increase over the long-term.
In short, both temporary and permanent migration must be cut.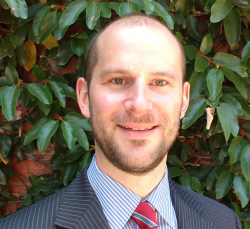 Latest posts by Unconventional Economist
(see all)