Australia's universities continue to cry poor over the reduction in international student numbers, signaling heavy financial and job losses:
While universities across Australia have different exposures to the coronavirus-induced downturn, revenue is estimated to drop by $3 billion this year collectively.

That could cause the loss of up to 21,000 jobs, with 7,000 estimated to be research-related academic positions.

The head of Universities Australia, Catriona Jackson, said the revenue hit would be felt for years.

"If you lose international students for this year, then you don't have a second year … third year, the year after," she said.

"Those international student markets may never recover."
However, Prime Minister Scott Morrison showed little sympathy yesterday, refusing to bailout the sector:
[Morrison] raised doubts over universities' claims that they faced multibillion-dollar losses because of the pandemic's impact on international education.

"Sure, we'll be working with the higher education sector, but I note 80 per cent of international students that come to Australia are here," he said. "They are here. The way it's talked about you'd think that they weren't, but about 80 per cent are here."
Morrison makes a good point. A 20% loss of international students is hardly disastrous given the monumental boom experienced over the past six years.
As shown in the next chart, international student enrolments at Australia's universities soared by 212,000 (92%) in the six years to December 2019: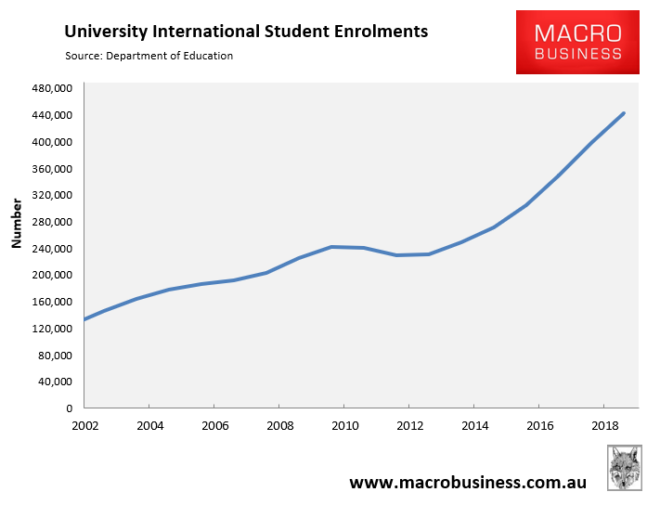 Moreover, annual tuition fees received from international students soared by $7.1 billion (143%) over the same six year period: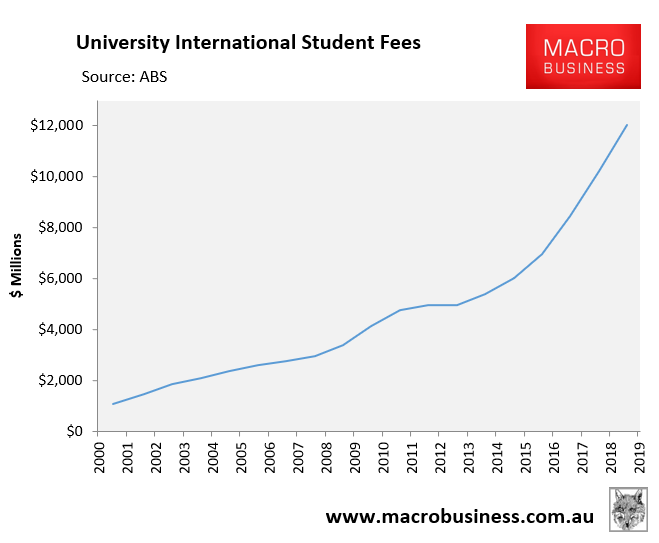 Thus, Australia's universities have little justification for crying poor, given international student enrolments and fees remain at historically high levels.
Let's be honest: most of the bounty from international students has gone into bloating universities' administrations rather than improving teaching quality:

And this has seen student to teaching staff ratios soar: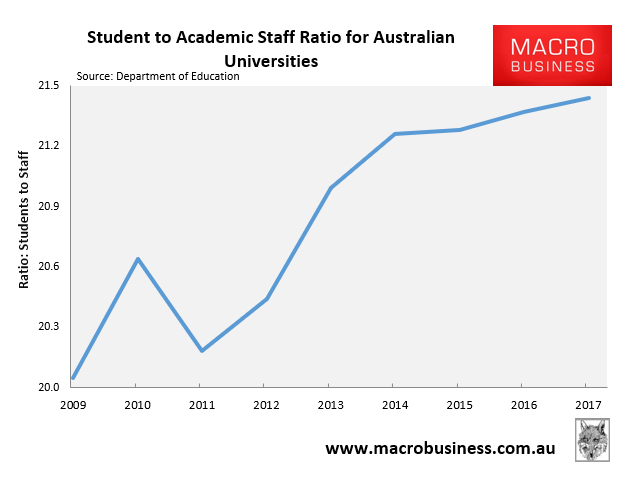 Clearly, the universities have a lot of administrative fat to loose.
They should focus on improving entry and teaching standards, rather than building empires.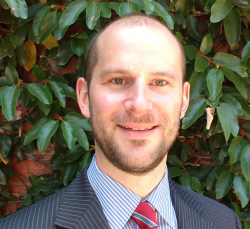 Latest posts by Leith van Onselen
(see all)