The education lobby has been caught out exaggerating the collapse in international students, which according to Department of Education data, is actually not that large:
Only about 121,000, or 20 per cent, of some 606,000 primary student visa holders were stranded outside Australia on 17 May…

The figures, which have not been released publicly, show that the situation is slightly worse in higher education and the English-language teaching sector – a key feeder stream for universities – than in schools or vocational colleges.

Some 22 per cent of higher education students and 29 per cent of English students were outside Australia on 17 May. And 39 per cent of students from China – easily the most lucrative source country for universities – were stranded offshore.
So, total international student enrolments are only down 20%, which comes after total enrolments soared by 432,000 (82%) to a whopping 960,000 in the six years to December 2019: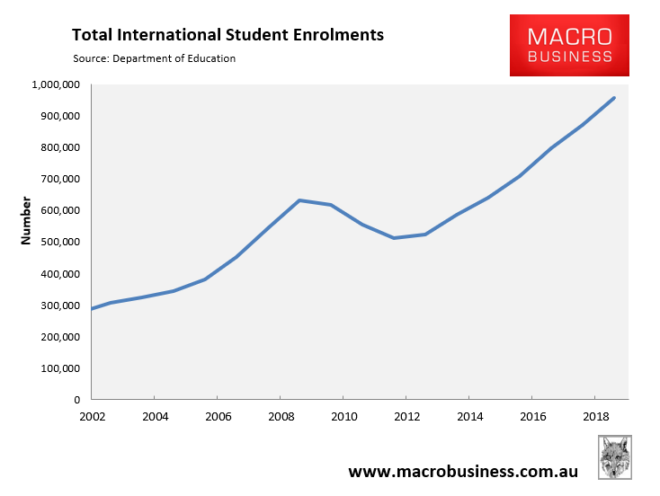 And annual tuition fees from international students soared by $9.1 billion (133%) over the same six year period: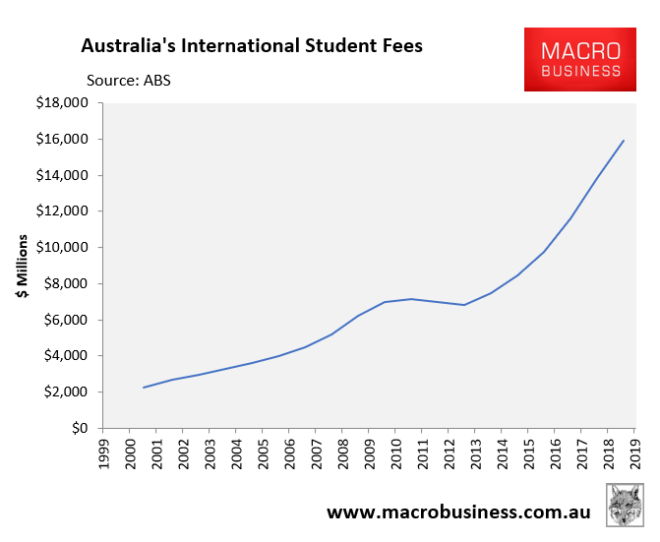 So basically, international student enrolments have merely fallen back to around 2017 levels, which were historically high and had Australia's international student concentration dwarfing other developed nations, according to Associate Professor Salvatore Babones: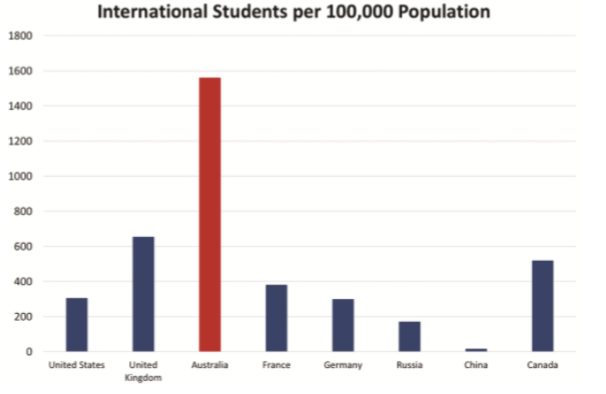 As expected, the CEO of the International Education Association of Australia, Phil Honeywood, claims that the data understates the situation because it doesn't account for the growth that would have occurred if COVID-19 had not arrived, which the industry had budgeted for:
The International Education Association of Australia said the figures underplayed the impacts of the entry bans because they did not reflect the full intake that providers could have expected if the pandemic had not occurred.

Phil Honeywood, the association's chief executive, said the data excluded students planning to start courses after semester one, along with thousands of people who typically arrived on working holiday or tourist visas and stayed on for study. In recent times, "onshore" applications for visas have driven the growth in degree-level enrolments from China and India.
Australia's mayors are also having a grand whinge, claiming that our crush-loaded CBDs will die without continued growth in international students:
Capital city mayors are calling for new foreign students to be ­urgently allowed into the country, saying that international education arrivals are needed to kickstart CBD economies.

NSW, Victoria and South Australia are preparing to present Scott Morrison with plans to take small batches of foreign students to get the education industry back on its feet…

Brisbane lord mayor Adrian Schrinner told The Australian the return of foreign students would be key to getting the city's economy back to health…

"Supporting our international students requires an effort that ­expands across all three levels of government and I welcome any changes by the federal government to implement a more flexible process for assessing and renewing student visas"…

Melbourne lord mayor Sally Capp said she hoped the hotel quarantine system could be used to allow intakes and revive inter­national education — her city's No 1 export…

Sydney lord mayor Clover Moore called on the national cabinet to make foreign students first priority when slowly opening up Australia. "International students will play a major role in the economic and social future of our city, and I encourage state and federal governments to support the return of these students to our capital cities as a priority," she said.
Before the federal government even considers opening borders to international students, it should implement two fundamental reforms:
Financial requirements should be lifted significantly to ensure that students can support themselves throughout their courses and are not dependent on paid employment; and
English-language requirements should be raised to an advanced level.
These reforms would:
Raise the quality of student, given most would come to Australia for the primary purpose of studying, rather than to gain backdoor immigration;
Maximise export revenues per student, given tuition fees and living expenses would be paid for by funds from abroad, rather than money earned here;
Limit competition in the labour market, thereby increasing opportunities for younger Australians; and
Reduce wage theft and exploitation, given international students would no longer need to work illegally in 'cash in hand' jobs.
Returning to 'business as usual' will only further degrade entry and teaching standards, entrench CCP influence, and add capacity to an already oversupplied jobs market.
Australia should instead aim for a smaller, sustainable intake of higher quality international students that better balances costs and benefits.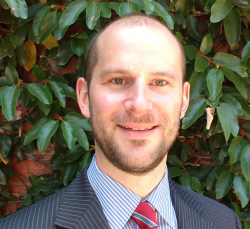 Latest posts by Unconventional Economist
(see all)