Drip, drip, drip:
Fitch Ratings – Sydney/Singapore – 12 May 2020: Fitch Ratings has downgraded the Insurer Financial Strength (IFS) Rating of Genworth Mortgage Insurance Australia Ltd's (GMA) main operating subsidiary, Genworth Financial Mortgage Insurance Pty Limited (GFMI) to 'A' (Strong) from 'A+' (Strong). The Outlook is Negative.

KEY RATING DRIVERS

The rating actions are based on Fitch's current assessment of the impact of the coronavirus pandemic, including its economic impact, under a set of ratings assumptions described below. These assumptions were used by Fitch to develop pro forma financial metrics for GMA that Fitch compared with both the ratings guidelines defined in its criteria and the previously established rating sensitivities for GMA.

The downgrade reflects the impact of the pandemic-driven economic fallout on the Australian lender's mortgage insurance (LMI) provider's financial performance and earnings metrics, which we expect to fall outside our criteria guidelines for IFS 'A' mortgage insurers under our pro forma analysis. GMA reported a net loss of AUD126 million in 1Q20. This included a COVID-19-related deferred acquisition cost write-down of AUD182 million following a periodic liability-adequacy test. Losses from its investment portfolio also weighed in on the result.

The Negative Outlook reflects potential pressure on GMA's financial performance and earnings, and its business profile as a result of measures aimed at slowing the spread of the coronavirus. GMA's combined ratio was 86% in 2019 compared with an average of 71% over 2016-2018. We expect the ratio to remain elevated over the next two years even though the 2019 increase was partly due to GMA's review of its earnings curve in 2017, which extended revenue recognition to better reflect risk emergence. We expect underwriting performance to remain weak due to higher unemployment and a worsening housing market, the key drivers of higher claim frequencies and severity. Australia's high household indebtedness raises the sector's susceptibility to these factors. Fitch expects the Australian economy to contract 5% in 2020, with unemployment averaging 8% for the year.

Lenders' asset-quality metrics could take some time, potentially more than 12 months, to show significant signs of deterioration due to action taken by banks and authorities to support households, including widespread repayment deferments for affected customers. Nevertheless, Fitch expects a portion of borrowers to be unable to resume repayments once repayment deferments have ended, resulting in elevated impaired asset levels that will take much longer to resolve.

The rating reflects GMA's 'Very Strong' capitalisation and leverage metrics, which partly offset its earnings weakness. The impact of the financial-market disruption on capital under our rating assumptions is somewhat limited in light of GMA's low risky-asset ratio of 6% at end-2019. Coverage of GMA's regulatory prescribed capital amount dropped to 1.78x by end-March 2020 from end-2019's 1.91x due to the 1Q20 loss, but was well above Fitch's criteria guidelines for an IFS 'A' rating. The ratio benefitted from a lower risk charge in recent years as a result of reduced volume in the more capital-intensive business of insuring mortgages with a loan/value ratio of greater than 90%, which more than offset the return of excess capital to shareholders. GMA's financial leverage remained low at 12% at end-2019 (end-2018: 10%).

Fitch ranks GMA's business profile as 'Favourable' against other companies in Australia's LMI market. It is the largest LMI provider in Australia and maintains strong relationships with mortgage lenders. However, similar to the rest of the industry, GMA could see lower volume as a result of the economic downturn. Fitch scores GMA's business profile at 'a-' under its credit-factor scoring guidelines in light of this ranking.

GFMI is able to achieve a higher rating than the US-based life operating subsidiaries of its majority shareholder, Genworth Financial, Inc., due to the strength of Australia's regulatory framework and substantial minority shareholder base (48%). Fitch rates GFMI based on GMA's standalone credit profile.
Stock is trading at the bottom of its range:

Still dead man walking in my book.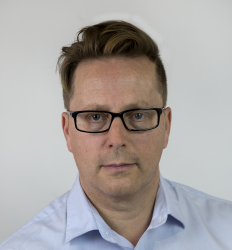 Latest posts by David Llewellyn-Smith
(see all)