University of Melbourne labour economist, Mark Wooden, says the federal government should use an upcoming review of JobKeeper wage subsidy scheme to fine-tune it. Other economists agree that the scheme should be adjusted so that it targets sectors of the economy that continue to be hardest hit by the coronavirus pandemic.
Meanwhile, Danielle Wood from the Grattan Institute claims Australia faces a "fiscal cliff" when stimulus measures such as JobKeeper end in September:
Treasury is working on transition options from the scheduled expiry in late September and will consider pulling back where it is clearly too generous.

The economy risks falling off a "cliff" when JobKeeper, other government payments and bank loan repayment holidays are due to expire in late September, meaning that a gradual tapering of the coronavirus crisis support will be required, economists said…

"Now the crisis appears to be diminishing, it is time to start fine-tuning the program without making it too complex," [Mark Wooden] said…

Grattan Institute budget policy director Danielle Wood said if the Treasury review found many recipients were operating near "business as usual", entities could be required to retest their eligibility…

She warned of a fiscal "cliff" in October, after $120 billion of government stimulus in the September quarter is due to roll off.
The below chart from the Grattan Institute tells the tail: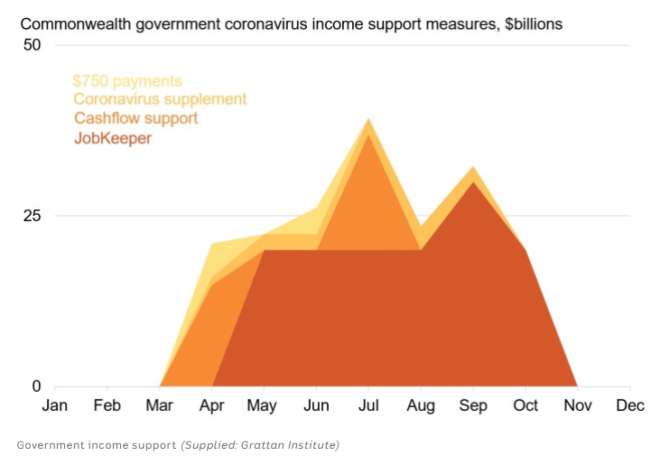 In a nutshell, the federal government will inject around $120 billion into the economy via JobKeeper and JobSeeker between July and September. Thus, any withdrawal of support needs to be carefully managed to avoid dragging the economy into a deep hole.
Regarding JobKeeper, Deloitte offers sound options to better target assistance post the late-September expiry date:
Phase JobKeeper out in line with a turnover measure over the short-term and in line with reopening steps. As turnover increases with economic activity, the JobKeeper payment steps down from $1,500 per fortnight to $0 until turnover begins to return to the pre-COVID levels. Just like the turnover drop made them eligible for JobKeeper in the first place, a turnover recovery could make them ineligible.

Or more simply, the payments could be withdrawn slowly from $1,500 a fortnight to lower amounts on succeeding fortnights: to $1,200, then $900, $600 and finally $300 – adding eight weeks and a further $20 billion to its cost – or potentially just using up the already 'unsubscribed' amount.

Even more narrowly, the government could take a targeted and more sectoral approach. For instance, it replaced JobKeeper with a $600 a fortnight supplement for just over three months (beyond September) for businesses that fit narrower criteria and have been hit the hardest: 20 workers or fewer, and working in industries such asair transport, food and accommodation and arts and recreation. Such a measure is estimated to cost around $1.5 billion – a much smaller share of the unsubscribed JobKeeper pie, but equally sustaining a much smaller share of the economy.
With regards to JobSeeker, I recommend maintaining it at its current $1,100 a fortnight level until total hours worked returns to more normal levels: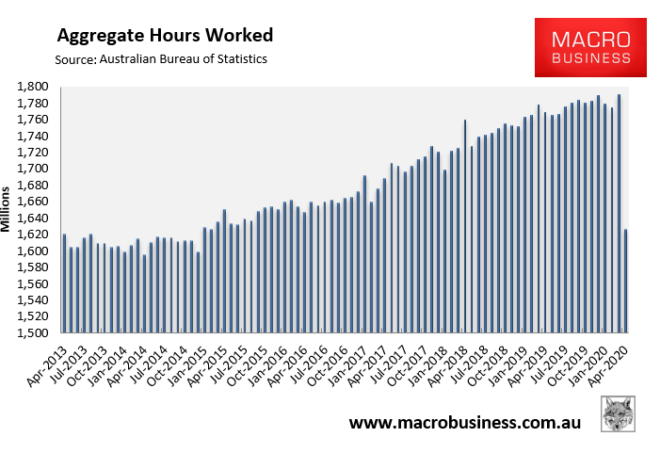 After that, JobSeeker should be raised permanently by $95 a fortnight, as recommended by ACOSS.
High-income tax cuts should also be jettisoned and replaced with traditional stimulus, including a massive infrastructure/social housing build-out to fill the hole left by lower consumer, business and dwelling investment.
The Morrison Government has done a reasonable job managing the initial emergency. The bigger test will be managing the recovery.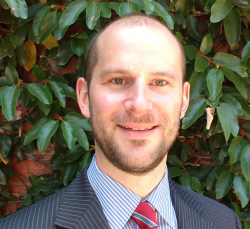 Latest posts by Unconventional Economist
(see all)